The 15 Best Jessica Chastain Movies, Ranked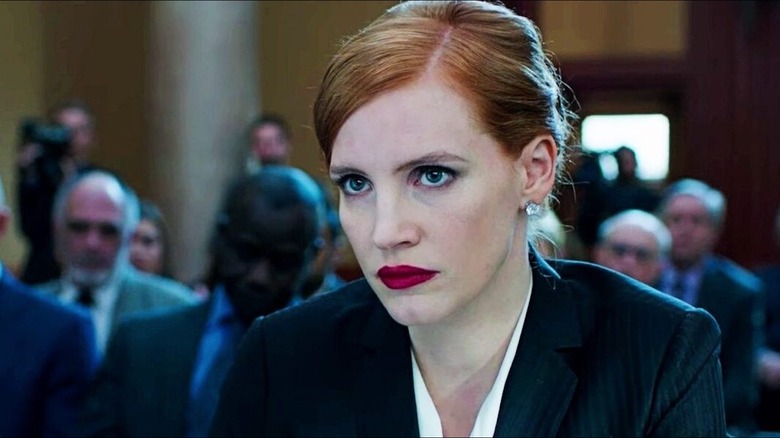 FilmNation Entertainment
Jessica Chastain has had quite the experience in Hollywood. After a long period of waiting for her big break, she exploded onto the scene in 2011 starring in "Take Shelter," "The Tree of Life," and "The Help," two of which were nominated for best picture that year. Chastain also earned her first Oscar nomination that year, which officially put her on the map. Chastain has starred in a lot of films over the last decade, and she's shown a real knack for playing complicated, career-driven women. Complex characters have been at the center of Chastain's career, and her penchant for multi-dimensional characters has allowed her to work with great directors like Terrence Malick, Christopher Nolan, and Kathryn Bigelow.
An actress at the top of her game, Chastain won the best actress Oscar for "The Eyes of Tammy Faye," a transformative performance that makes the actress's boundless commitment and dedication to her craft abundantly clear. In celebration of her impressive and varied career, we've taken a dive into her filmography to discover the very best movies she's starred in. Here are the 15 best Jessica Chastain movies, ranked.
15. Mama (2013)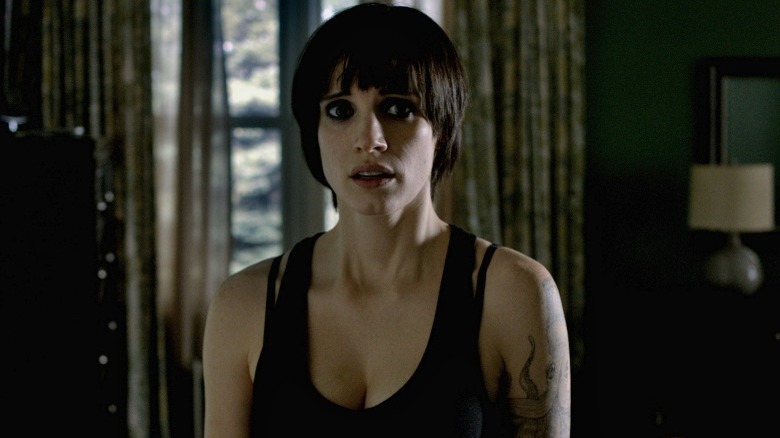 Universal Pictures
Annabel (Jessica Chastain) never dreamed of being a mother, but she's thrust into an unexpected maternal role in Andy Muschietti's "Mama." Chastain's character, who dons a preposterous wig, is dating Jeffrey (Nicolaj Coster-Waldeau), whose nieces went missing five years prior. The kids are finally discovered in a remote cabin in deplorable conditions and are brought into the custody of Jeffrey and Annabel. While the couple tries to make life normal for the two young girls, their strange behavior includes constantly referring to a mysterious unseen entity they call Mama.
For fans of Muschiett's "It" films, you'll definitely find something to love in "Mama," which uses a lot of similar techniques that are found in that Stephen King duology. While there are some noticeable logical leaps when it comes to the mythology of the Mama entity, the film is dripping with atmosphere and provides a lot of scares. It's fun to see Chastain play something so different, and she pulls off the gothy rocker type with remarkable success.
14. The Disappearance of Eleanor Rigby: Them (2014)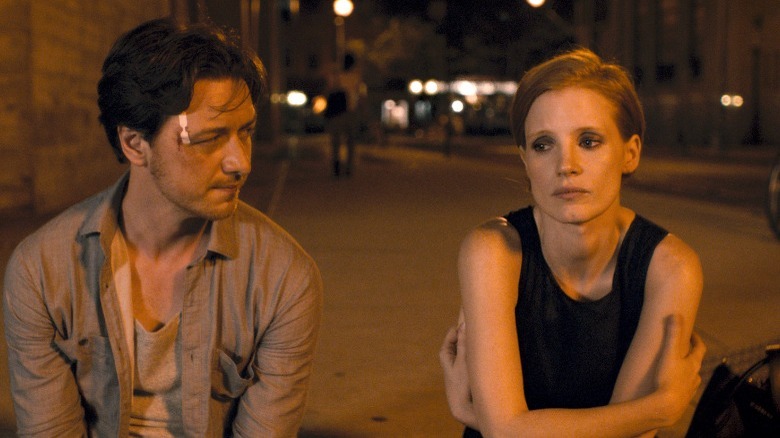 The Weinstein Company
Ned Benson really went all out for his directorial debut, making not one ... but three films. For "The Disappearance of Eleanor Rigby," the study of a couple reeling from the loss of their child, Benson made three versions: "Him," looking at the story from Conor's (James McAvoy) perspective, "Her" follows Eleanor (Jessica Chastain), while "Them" weaves their two perspectives together. You'd be forgiven for thinking that the film is actually about The Beatles, but Eleanor's parents named her because they met at what they hoped was going to be another rooftop concert that never materialized, and that's the only reference to the band in the entire film.
The cast is absolutely loaded, with William Hurt and Isabelle Huppert playing Eleanor's parents, while Viola Davis is Eleanor's professor, and Bill Hader is reliably scene-stealing as Conor's co-worker. Benson's film is elliptical, choosing to focus on a series of individual moments rather than a linear narrative, which is effective in conveying Conor and Eleanor's emotions, but less so at weaving together a compelling story. Still, Chastain is impressive as the frustrating Eleanor, delicately balancing a harsh, closed-off exterior with a deeply hurting person desperately seeking to reclaim their identity.
13. The Help (2011)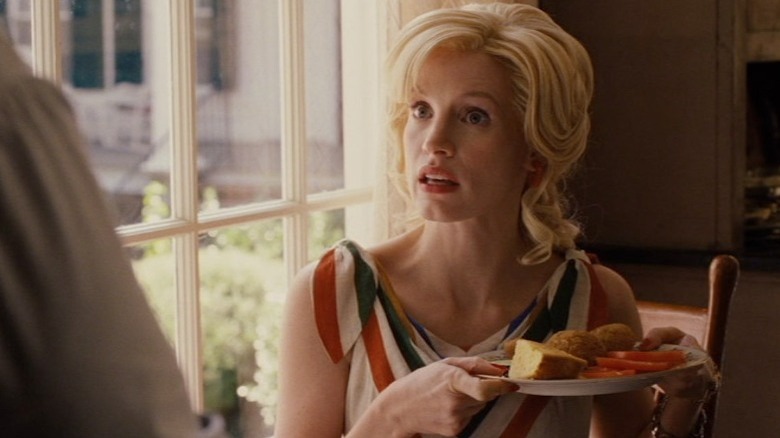 DreamWorks Pictures
"The Help" marked Jessica Chastain's first and most successful collaboration with director Tate Taylor (the second, "Ava," is an unfortunate dud). The film follows Skeeter (Emma Stone) in the 1960s who — upon returning to her hometown of Jackson, Mississippi — decides to write a book about the experiences of African American maids. The twist? The story will be told from their own points of view. Chastain has a strong supporting role as Celia, a woman who masks her immense sadness with a happy-go-lucky attitude. Chastain sparkles, and the film landed her very first Oscar nomination.
It's not a badly made film, but it is a cloying one, and it makes the unfortunate decision of serving a white savior narrative. There's a fascinating story at the center of "The Help" that focuses on the lives of Aibileen (Viola Davis) and Minny (Octavia Spencer), two of the maids living in Jackson. Instead, it filters their lives through the eyes (and pen) of Skeeter, a white woman who wants to make a difference. It's a tired and disappointing cliché to take the lives of people of color and filter them through a white lens, and that's something that "The Help" leans into heavily. Thanks to a stellar cast (there's a ton of Oscar-winning talent in the lineup), "The Help" manages to entertain and tell an interesting story but if the film took a greater interest in Aibileen and Minny's lives it could have been a great deal more impactful.
12. It Chapter Two (2019)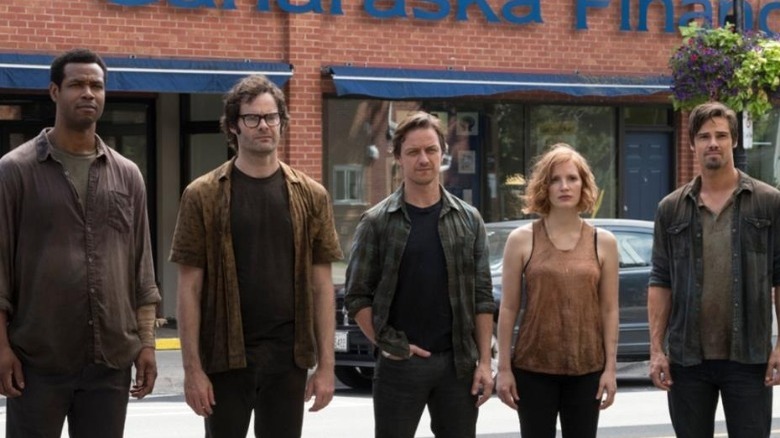 Warner Bros. Pictures
The Losers Club reunites in Andy Muschietti's "It Chapter Two," which takes place 27 years after the events of the first film. Terrifyingly evil clown Pennywise (Bill Skarsgård) is back with a vengeance to terrify the quiet town of Derry, Maine. As the only one who stayed in Derry, Mike (Isaiah Mustafa) puts out the call to everyone to come back and fulfill the oath they made as kids: to take down Pennywise once and for all.
The film struggles with pacing (it clocks in at a staggering 169 minutes) and repetition, as many scenes follow the same formula. Thanks to a deliciously deranged performance from Skarsgård and some impressive visual effects, "It Chapter Two" manages to successfully provide a lot of scares that were absent from the first film. This is a bigger, bolder, stranger, and bloodier film than the previous installment, and while it doesn't feel nearly as coherent, there's still plenty to enjoy here. As the adult Beverly (Sophia Lillis in the first film), Jessica Chastain is channeling a lifetime of trauma and abuse into an emotionally resonant performance. Chastain also went through some serious physical feats while shooting the film, and she helps elevate "It Chapter Two" above its predictable, repetitive nature.
11. The Eyes of Tammy Faye (2021)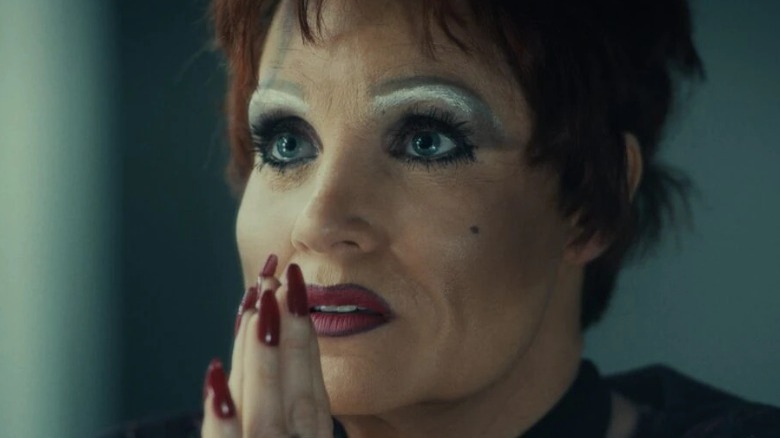 Searchlight Pictures
The film that landed Jessica Chastain a coveted Oscar (which allowed her to deliver a rather beautiful speech), "The Eyes of Tammy Faye" finds the actress undergoing a considerable transformation (thanks to some Oscar-winning hair and makeup). Chastain embodies Tammy Faye Bakker, who alongside her husband Jim (Andrew Garfield) became hugely successful televangelists, dominating airwaves with their preaching while building an enormous empire of lavish properties and outfits. When there's a meteoric rise, there's also a crushing fall, which is all detailed in the film.
There's no denying that Tammy Faye is important to a lot of LGBT+ people, as she preached acceptance and love to people with AIDS when those around her preached the exact opposite. Still, the film paints Tammy Faye as completely innocent and ignores the fact that she played a significant part in swindling her believers out of millions of dollars while she padded her own wallet. That's no fault of Chastain's performance, which is effective, committed, and all-around excellent, but the screenplay is muddled. It's a bit strange as to why this film was made at all, as it heavily borrows from the 2000 documentary of the same name. "The Eyes of Tammy Faye" feels like a film that is built as a showcase for a terrific actress (and in that regard it works), but it can't help but feel a bit hollow.
10. Madagascar 3: Europe's Most Wanted (2012)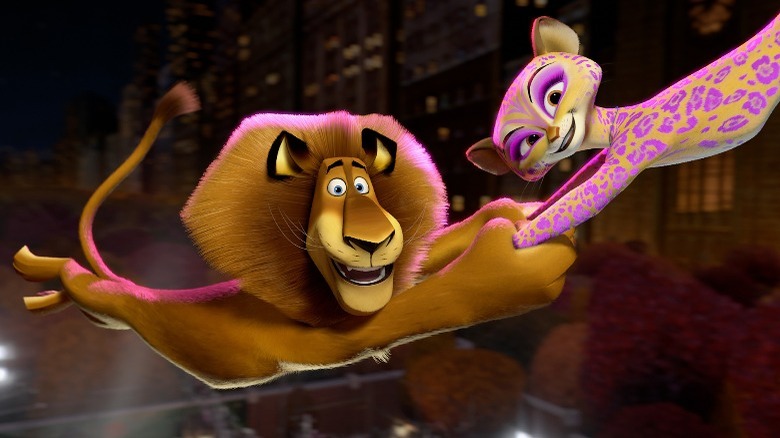 DreamWorks Pictures
When you think of Noah Baumbach, his wonderfully quirky films like "The Squid and the Whale" and "Frances Ha" likely come to mind. What you likely wouldn't expect is that Baumbach actually wrote the screenplay for the final film in the "Madagascar" trilogy, "Madagascar 3: Europe's Most Wanted." Yes, really! It makes sense, though, as "Europe's Most Wanted" is charming, thoughtful, and a delightful conclusion to the trilogy.
The third film finds our beloved zoo animals making their way back to Central Park, but before they get there they wind up in Europe. After some animated hijinks, an animal control officer (a wildly committed Frances McDormand) is hunting them down, so the gang finds refuge in a traveling animal circus. It's there that Alex (Ben Stiller) falls in love with the feisty trapeze artist Gia (Jessica Chastain). Did they really need to make another "Madagascar" film? The answer is a surprising and resounding "yes," as "Europe's Most Wanted" is a vibrant visual feast with great new characters and plenty of laughs and charm.
9. A Most Violent Year (2014)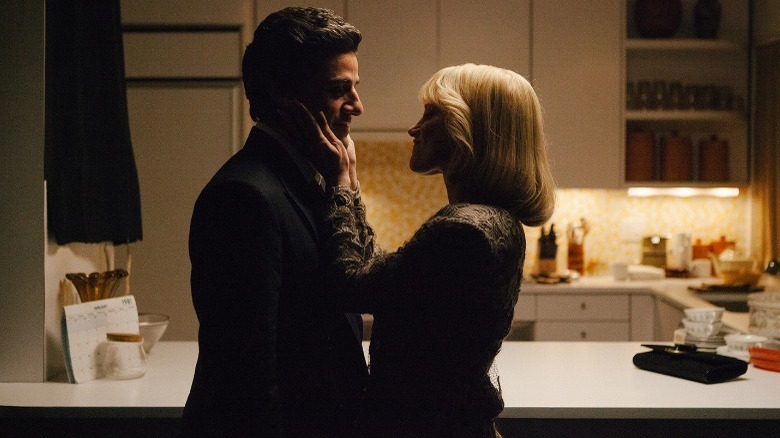 FilmNation Entertainment
With the backdrop of the especially turbulent  1981 in New York City (hence the title), "A Most Violent Year" is an incisive exploration of an immigrant business owner. Abel (Oscar Isaac) and his wife Anna (Jessica Chastain) run an oil heating company, which brings them moderate success. In a brutally violent city, they find that their attempts to expand their business are met with considerable threats to their employees, and their drivers are regularly attacked while making deliveries or have their trucks hijacked. The ferocity of Abel and Anna's competitors force the couple to take extreme measures to protect their business and their family.
Chastain captures the searing rage of Anna, who ultimately proves to be a great deal more ruthless than Abel is capable of being. Unfortunately, one of the film's bigger drawbacks is that there's not much more to Anna, who feels like her sole purpose is to drive Abel further into darkness and egg him on. There's a lot of richness to Abel's character, which makes it all the more disappointing that the same care hasn't been put into Anna. That said, it's a striking film that's filled with chilly period detail thanks to the lens of Bradford Young, and it more than earns its shocking cynicism that permeates throughout.
8. Molly's Game (2017)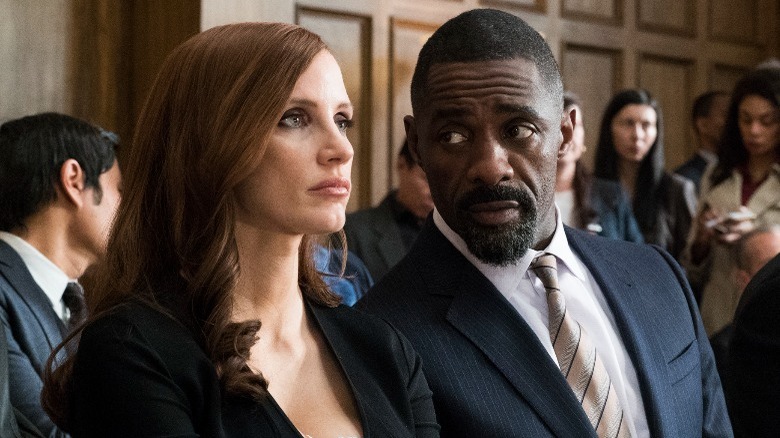 STXfilms
Aaron Sorkin is a screenwriter who has been parodied for his fast-paced walk and talk scenes, but when it works not many can craft more intriguing stories than Sorkin. As a director, he's been less successful, helming the forgettable "The Trial of the Chicago 7" and the unbalanced and bizarre "Being the Ricardos." It hasn't always been underwhelming: Sorkin's best tendencies all came together in his excellent directorial debut "Molly's Game." Despite a considerable 140-minute runtime, Sorkin's script moves things along with such breakneck speed and intimate understanding of its subject that time whizzes by.
Jessica Chastain stars as Molly Bloom, a former Olympic skiing hopeful turned high-stakes poker game runner whose clientele included major celebrities and members of the mafia. While Bloom experiences quite the rise, she eventually comes under investigation from the FBI, and she'll need the help of lawyer Charlie Jaffey (Idris Elba) to avoid a very likely prison sentence. It sounds wild, and it's only made wilder as "Molly's Game" is based on Molly Bloom's real-life memoir of the same name. The film relies on Chastain's steely performance to propel things forward, and few play super serious, extremely driven career women with as much gusto as she can.
7. The Martian (2015)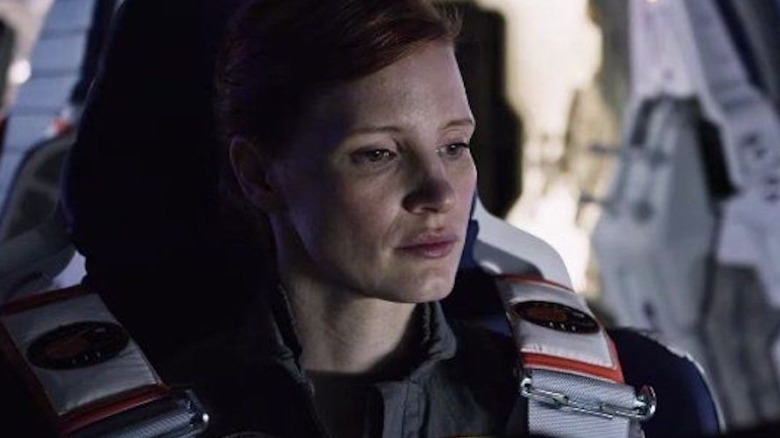 Universal Pictures
Ridley Scott's stunning sci-fi film "The Martian" finds Matt Damon sciencing "the sh*t out of this" as he attempts to survive on Mars for years on his own. With his food supplies lasting a couple of months at most, he'll have to grow his own produce in a landscape where it is notoriously impossible to create any. Meanwhile, back on Earth, a group of leading scientists at NASA, including mission commander and geologist Melissa Lewis, struggle to figure out a way to bring the stranded astronaut back to Earth. 
While "The Martian" is a certified sci-fi standout, it doesn't really feel like a Jessica Chastain film, as Damon is far and away the most dominant presence. That makes perfect sense, as the film centers around the fact that Damon's character is literally stranded in space alone. You'd almost be forgiven for forgetting Chastain (or indeed anyone else) is in the film, even though the cast is uniformly strong throughout. If you have forgotten what a strong presence Chastain has in the film, it's definitely worth revisiting "The Martian," as she excels in a role she's come to perfect over the years: a fiercely driven, results-oriented woman.
6. Crimson Peak (2015)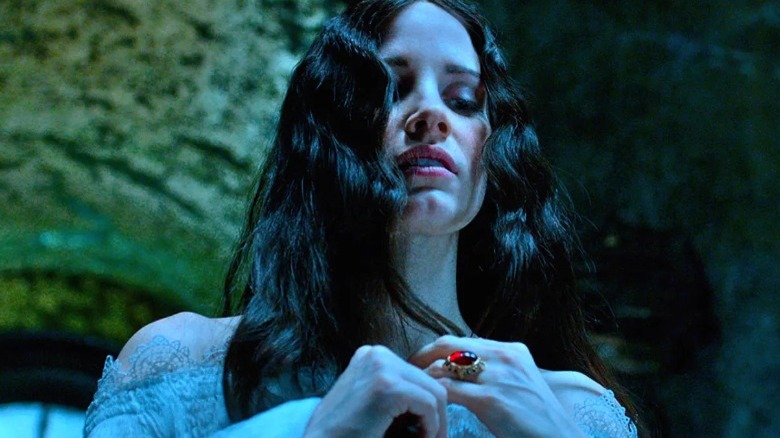 Legendary Pictures
While Jessica Chastain has shown her knack for horror in "Mama" and "It Chapter Two," she's reveled in playing the protagonist fighting evil. In Guillermo del Toro's "Crimson Peak," Chastain gets to dive into a delightfully villainous role as Lucille Sharpe. The film follows Edith (Mia Wasikowska), an American and an aspiring author. She finds herself falling for a mysterious stranger, Sir Thomas Sharpe (Tom Hiddleston), who whisks her off to England, where Edith is to live with Thomas and his sister Lucille. It's clear to Edith that things are not quite what they seem, and her ever-inquisitive mind is determined to unlock the mysteries of the Sharpe family.
The film seamlessly blends romance and horror to a dizzying effect, and the film thrives in part due to del Toro's sensational world-building. It's a breathtaking movie, filled to the brim with striking costumes, faultless set design, and glorious practical effects. If you liked the house coming to life in "Encanto," just wait till you see the stunning yet dilapidated mansion in "Crimson Peak." Watching a master director thrive in a genre he loves is a blast, and "Crimson Peak" provides a sumptuous romantic story alongside spine-tingling chills.
5. Take Shelter (2011)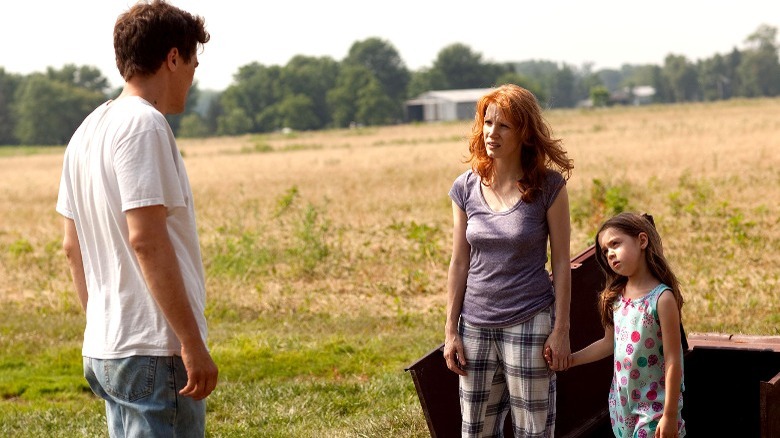 Sony Pictures Classics
It's the end of the world as we know it ... or is it? Curtis (Michael Shannon) is haunted time and time again by dreams of the world ending. He can't even be at peace in consciousness, as when he's awake he's barraged by frightening hallucinations. Though it all has a severe impact on his well-being, Curtis decides to keep it to himself in an effort to shield his wife Samantha (Jessica Chastain) and their daughter Hannah (Tova Stewart). Curtis' personal demons get harder and harder to mask, so he begins to build a storm shelter in their backyard.
"Take Shelter" is a spellbinding slow burn about the perils of mental illness and masculinity. Curtis' complete obsession with building a shelter consumes his entire life, and it threatens to destroy the stable foundations he's worked so hard to develop. Shannon is revelatory in this quiet yet profound role as a man whose life is slowly unraveling ... or does he just see something that nobody else can? Chastain is a perfect counterpart to Shannon as a wife with a strong sense of values determined to keep her family together, even as it seems increasingly impossible to do so. Jeff Nichols' film casts a hypnotic spell, and the movie's outstanding ending will ensure "Take Shelter" stays with you for a long time.
4. Miss Sloane (2016)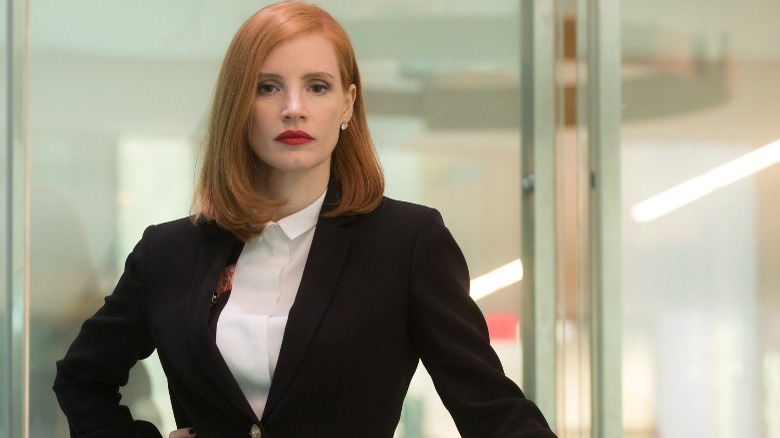 FilmNation Entertainment
John Madden's "Miss Sloane" finds Jessica Chastain taking on a particularly serious opponent in the United States government. Chastain plays the eponymous Sloane, a high-level executive at a big-time lobbying firm. Sloane is incredibly committed to her job, has no discernable personal life, and devotes every waking moment to helping her career, willfully bending laws and ethics to allow her and her company to succeed. When Sloane is approached by a small ethical lobbying firm to work for them on the fight for gun control laws, she surprisingly accepts, leading her to go head-to-head with her old firm. It's not news her old employers take lightly, and as Sloane's campaign gains serious momentum, her old bosses go into overdrive to take her down, including leading a personal vendetta against her in the form of a United States Senate hearing.
"Miss Sloane" was released to minimal fanfare in 2016, and ended up with a measly $9 million at the worldwide box office. It's a great shame that the film didn't get more attention, as it's a highly sophisticated and seriously entertaining legal drama. There's so much attention to detail in a complex but easy-to-follow script from Jonathan Perera it's quite a surprise when you realize that it's not based on a true story. Then there's Chastain's performance, which is tremendous and completely committed. The entire film revolves around her ferocious yet tender presence, and it's a dazzling portrayal of a person driven to win no matter the cost.
3. Interstellar (2014)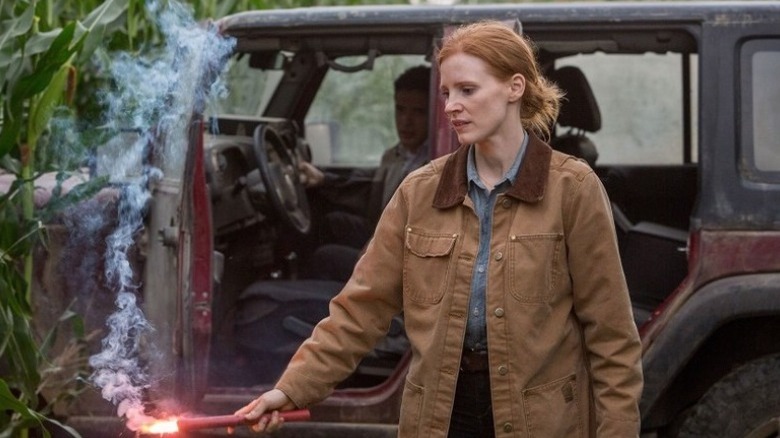 Paramount Pictures
With planet Earth becoming increasingly uninhabitable, mankind is getting desperate. There's a plan from NASA physicist Profesor Brand (Michael Caine) to transport the planet's population through a wormhole. This is a risky option for sure, but there isn't really any other choice. Before sending through the entire planet, they'll have to send a trial crew first, and that's where Cooper (Matthew McConaughey) comes in. Along with a team of astronauts and scientists, Cooper embarks on a quest through the wormhole to try and find a place that the people of earth can inhabit. The film spans an immense amount of space and time. Jessica Chastain plays Murph, Cooper's daughter, who herself becomes a NASA scientist who's determined to follow in the footsteps of her father and try to save humanity.
"Interstellar" is indebted to the great space exploration films, particularly "2001: A Space Odyssey" and "Solaris." Nolan's film would certainly benefit from a little less exposition and simply allow its audience to lean into the exemplary visual splendor. That said, Nolan's exquisite epic is able to stand on its own as a vital piece of science fiction filmmaking, and it's that special kind of film that makes you really consider the extraordinary thing that is being alive.
2. The Tree of Life (2011)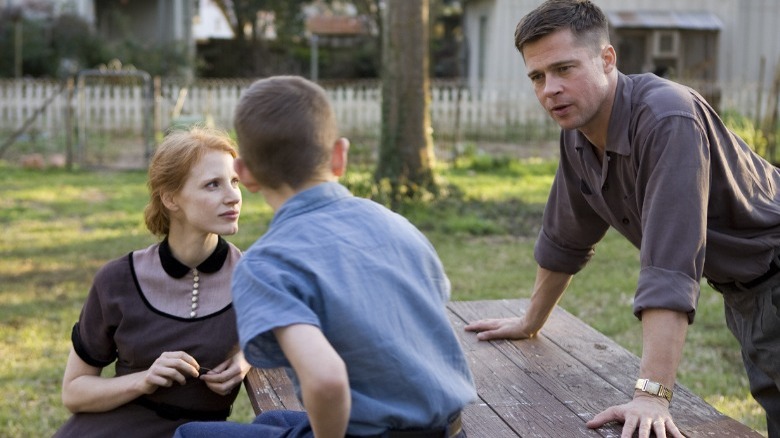 River Road Entertainment
More an emotional smorgasbord rather than a traditional film, Terrence Malick's otherworldly masterpiece "The Tree of Life" filters a relationship between a father and son through the story of the existence of the entire universe. "The Tree of Life" is vast, complex, and doesn't always make sense, but when the story gets too elliptical the emotions take over. In an interview on the magnificent Criterion blu-ray, Jessica Chastain called the film more of a "visual poem," and she's dead-on. The film" is more in-tune with feeling and emotion than practically any other film.
Most of the story takes place in 1950s Texas, but there's also an extended sequence that encompasses the entire history of the creation of the world, one of the most beautiful things you'll ever witness. Yes, that includes dinosaurs. The film tells its story through very limited dialogue, largely using close-ups and striking compositions to convey a feeling. Chastain makes for a perfect Malick muse, as her performance is impactful, making the most of a few lines, and telling us everything we need to know through facial expressions and physical actions. "The Tree of Life" is magnificent, boring, beautiful, and exhausting. It's life.
1. Zero Dark Thirty (2012)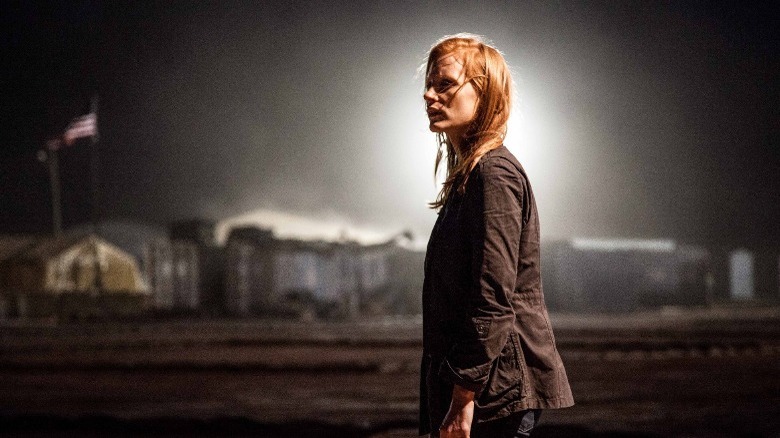 Columbia Pictures
A master director meets a master actress in "Zero Dark Thirty." Kathryn Bigelow, best known for being the Oscar-winning director for "The Hurt Locker," followed up her triumph with "Zero Dark Thirty," teaming up again with screenwriter Mark Boal. The film follows Maya, who leads a multi-year mission to hunt down Osama bin Laden in the wake of the 9/11 terror attacks. The incredibly complicated hunt for the Al-Qaeda leader reaches its climax in a tour-de-force sequence that shows the storming of a compound, a breathless and faithful scene that takes over 30-minutes and stands as a concrete reminder that few have a handle on action like Bigelow.
Not only is "Zero Dark Thirty" Chastain's best film, but also set the tone for the kind of character she would come to embody. Maya is fiercely devoted to her work, to the extent that she has absolutely nothing else that matters to her, confirmed by the devastating ending. She's played similar variations in movies like "Miss Sloane," "Molly's Game," and "Ava." That's not to say she can't play other roles. In films like "Crimson Peak," "Mama" and "The Disappearance of Eleanor Rigby" she proves that she can excel in just about anything, but "Zero Dark Thirty" gives Chastain the opportunity to showcase an extraordinarily ferocious character who commands a room with her words and presence. Though thankfully Chastain has an Oscar now, if there's a film she deserved it for more that is certainly "Zero Dark Thirty."