Jeff Daniels Boards Ridley Scott's 'The Martian'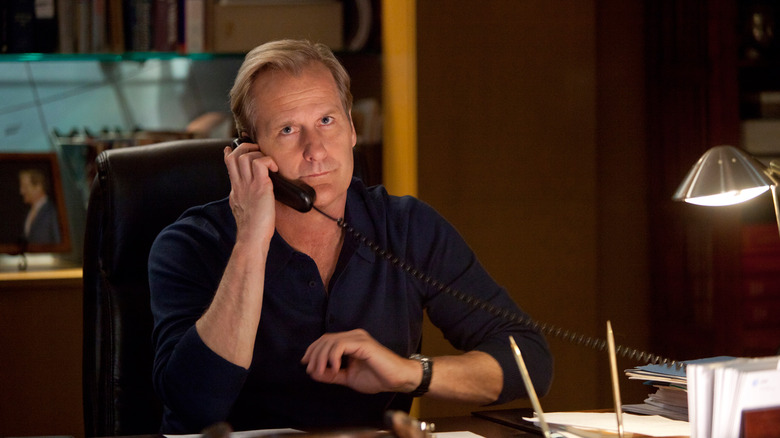 Jeff Daniels is about to be seen in moron mode in Dumb and Dumber To, but he'll have to wise back up for his next role after that. He's just signed on for Ridley Scott's The Martian, in which he'll play the director of NASA.
Matt Damon leads the cast, while Jessica Chastain, Kristen Wiig, Kate Mara, and Michael Peña are circling supporting roles. Get all the details on Jeff Daniels in The Martian after the jump.
Based on the self-published novel by Andy Weir, The Martian centers on an astronaut (Damon) who is accidentally abandoned on Mars by his crew. NASA tries to deal with the crisis by sending out a rescue mission.
The Martian casting news comes just Daniels' HBO series The Newsroom prepares to enter its third and final season next month. Also debuting in November is Dumb and Dumber To, which has Daniels reprising his role as Harry Dunne 20 years after the original. 
Daniels' other recent big-screen credits include Looper, Howl, and Away We Go.
The Martian will land November 25, 2015. Here's a summary of Weir's original novel:
Six days ago, astronaut Mark Watney became one of the first people to walk on Mars. Now, he's sure he'll be the first person to die there. After a dust storm nearly kills him and forces his crew to evacuate while thinking him dead, Mark finds himself stranded and completely alone with no way to even signal Earth that he's alive—and even if he could get word out, his supplies would be gone long before a rescue could arrive. Chances are, though, he won't have time to starve to death. The damaged machinery, unforgiving environment, or plain-old "human error" are much more likely to kill him first. But Mark isn't ready to give up yet. Drawing on his ingenuity, his engineering skills—and a relentless, dogged refusal to quit—he steadfastly confronts one seemingly insurmountable obstacle after the next. Will his resourcefulness be enough to overcome the impossible odds against him?