Why Joseph Kosinski Shot Top Gun: Maverick Like It Was Two Different Movies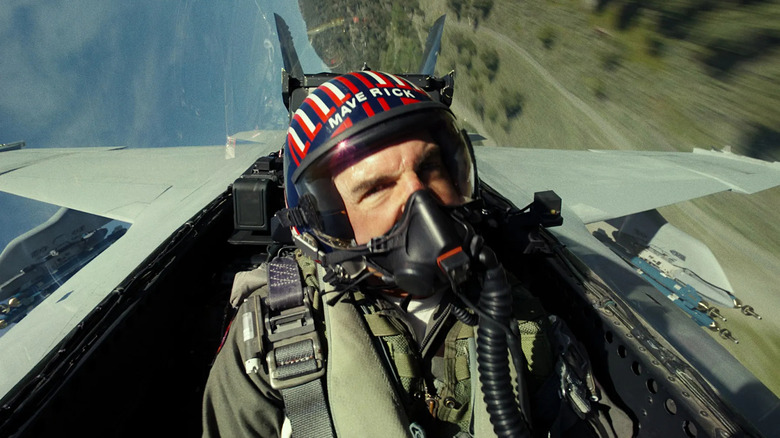 Paramount Pictures
"Top Gun: Maverick" is still raking in the dough. At the time of this writing, its global gross is well over $1 billion. It's holding strong against films that have opened more recently, like "Elvis" and "Lightyear." Clearly, fans feel the need for speed. We've heard about how the actors were taught to shoot their own footage while up in their fighter jets, and the risky stunts that star Tom Cruise did (which is pretty much an average Tuesday for him). For director Joseph Kosinski, this was quite an undertaking. 
At an event hosted by the Association of Film Commissioners International (AFCI) and THR for studio production executives, Lee Rosenthal, president of physical production for Paramount Studios spoke about the film, saying that Kosinski, "shot two movies — an air story and a ground story." That makes sense. The difficulties of a production like this would have been split. You've got wild motorcycle riding, a fast-paced sailing scene, the bar scenes — particularly getting the entire young cast into the "Great Balls of Fire" piano scene, and things on the aircraft carrier on the ground. Then you have the shooting in and around the jets. The actors are shooting their own footage, getting used to being flown at top speed, and doing tricks up there. It's understandable why Kosinski said he shot 800 hours of footage for this film.
The need ... for a production schedule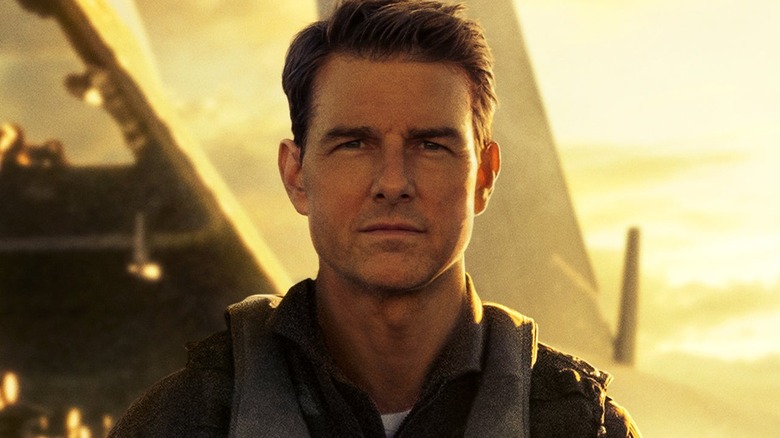 Paramount Pictures
"Top Gun: Maverick" executive producer Tommy Harper also attended the event, and spoke about creating two categories for the shoot. He said:
"We kind of devised production schedule. Okay, we're going to shoot the ground story like every other movie is shot with a full crew. And then we had our aerial crew... We got it down to such a fine, detailed amount of people — maybe 70, which is not that many people — who'd travel when we shot aerials. We scaled-down as efficiently as we could to shoot the aerial story separate from the ground."
Location manager Mike Fantasia added that they had to coordinate with the military for the flight part of the film, as they were sometimes taking those F18s to 650,000 miles per hour, which he said isn't something you can do just anywhere. He said they looked at military operating areas, and had to figure out which ones would work for the script. 
The entire thing sounds like a wild ride, and far more complicated than it might seem when you first watch the film. It really makes you appreciate the behind-the-scenes craft of movie-making on this level, in addition to balancing the nostalgia with a modern take on the story. 
"Top Gun: Maverick" is in theaters now.