Two Fan-Favorites Were Cut From Thor: Love And Thunder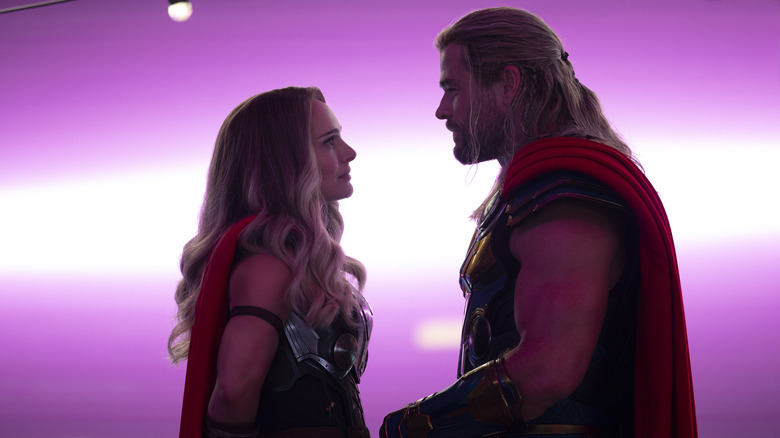 Marvel Studios
A Marvel movie is never truly finished until audiences file into the multiplex on opening night, the 20+ minutes of coming attractions finally come to a close, and the lights begin to dim (to steal a memorable line from Nicole Kidman) as the familiar Marvel logo projects onto the big screen. To those who pay close attention to such matters, it's probably no surprise that many of these big-budget projects remain relatively in flux until the last minute. With three or four movies (and now multiple Disney+ shows) in production throughout the year, who could possibly envy the gymnastics that Kevin Feige likely has to do to keep track of every minute detail? Not even the well-oiled machine at Marvel Studios can anticipate every potential obstacle in their path, like the ongoing pandemic disrupting the release schedule of several movies and shows. But there's also the simple fact that filmmaking is inherently complicated, with natural changes taking place during the years-long process from scriptwriting to post-production.
Much the same apparently took place during the making of "Thor: Love and Thunder." That shouldn't come as any surprise, either, given that writer/director Taika Waititi himself has admitted that he finds his movies "in post." In this case, however, that meant that two fan-favorite characters ended up on the chopping block. Based on early reactions, the film is so jam-packed with characters that this was probably for the best. Still, actor Christian Bale's recent reveal that he actually performed opposite Peter Dinklage and Jeff Goldblum, both of whom have appeared in previous Marvel movies but ultimately didn't make the cut here, is sure to raise eyebrows among fans.
'It was beautiful, brilliant stuff'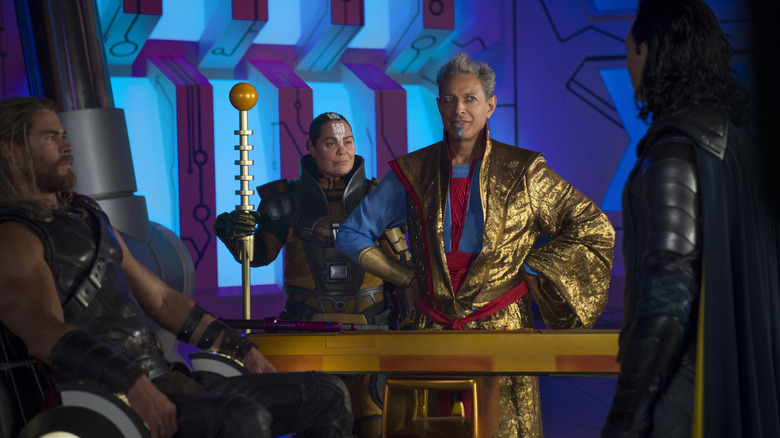 Marvel Studios
Taika Waititi's return to the director's chair for "Thor: Love and Thunder" was made possible thanks to the overwhelmingly positive reaction to "Thor: Ragnarok." And that widespread praise for Waititi's threequel came at least partly because of fun supporting characters played by actors like Jeff Goldblum and for its irreverent approach to previous Marvel movies, such as that hilarious stage play lampooning the events of "Thor: The Dark World."
Thanks to an interview that Christian Bale recently conducted with the Spanish-language outlet Prensa Escenario (via Total Film), we now know that "Love and Thunder" may have taken that to another level entirely with the returns of Peter Dinklage's Eitri the Dwarf (whom Thor met in "Avengers: Infinity War") and Jeff Goldblum's Grandmaster (as seen in "Thor: Ragnarok"). Unfortunately, Bale's scenes as Gorr the God Butcher alongside those characters ended up being cut. According to the actor,
"I got to work with Peter Dinklage. That's not in the final film but he's fantastic. I got to work with Jeff Goldblum, he's not in the final film either. As you see, lots of stuff ends up on the cutting room floor, even though it was beautiful, brilliant stuff."
It's possible we'll one day see these sequences as deleted scenes in the home media release of "Thor: Love and Thunder," but at least these quotes clear up one amusing mystery. Weeks ago, Goldblum responded to whether he might appear in the film in the most Goldblum way possible. We'll find out whether the movie could've used a little more Goldblum and Dinklage when it releases on July 8, 2022.