Will Jeff Goldblum Appear In Thor: Love And Thunder?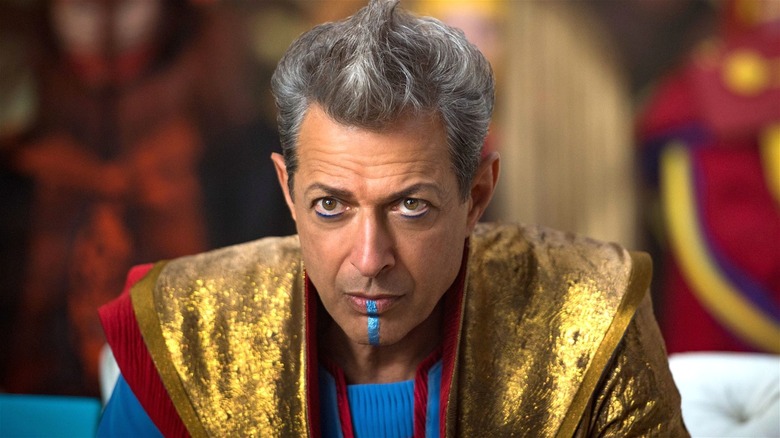 Marvel Studios
Taika Waititi's highly-anticipated sequel "Thor: Love and Thunder" has a bunch of special cameo roles worth gearing up for already, with some sneaky ones inserted in the trailer (such as The Watcher from "What If...?"). "Love and Thunder" re-introduces Natalie Portman's Jane Foster as the Mighty Thor, while also exploring Thor's (Chris Hemsworth) emotional state after the events of "Avengers: Endgame." But what about other recurring characters from the "Thor" movies?
The trailers already allow a glimpse at Korg (Waititi), the fan-favorite Kronan warrior who is present by his buddy Thor's side, in what seems like a road-trip comedy of sorts. This begs the question of whether the Grandmaster, played with characteristic eccentricity by Jeff Goldblum in "Thor: Ragnarok," will be making an appearance in the upcoming movie, either as a cameo or as a significant character.
Although the post-credits scene for "Ragnarok" hints at the fact that the Sakaar ruler might have been killed by his former subjects, anything can happen in Taika-verse, especially with someone like Goldblum playing the role.
An extremely Jeff Goldblum response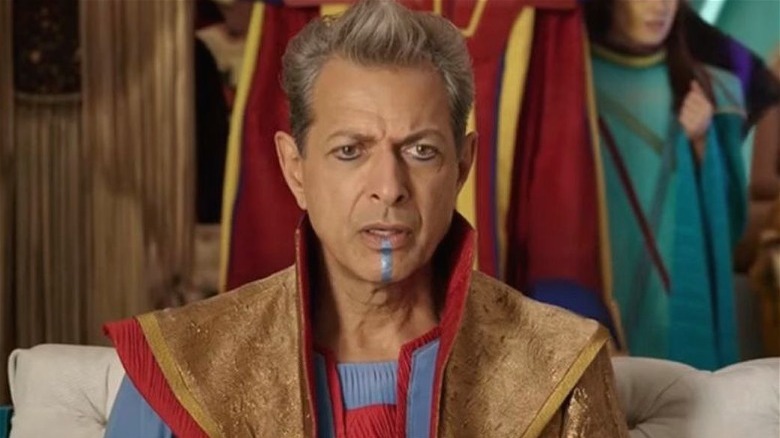 Marvel Studios
It is not out of the question for Goldblum's character to return to the franchise, possibly with the intention of enacting some sort of vengeance on Thor and his allies, as he (and Loki) inadvertently caused an uprising against the Grandmaster in "Thor: Ragnarok." When asked about his possible involvement in "Love and Thunder," Goldblum offered a response that is neither confirmation nor denial, but which can be described as the perfect Jeff Goldblum response (via Total Film):
"Am I going to be in Love and Thunder? The truth is, and I can say it now because the trailer has come out, I appear in it. It's my most challenging role to date, and I believe my highest accomplishment. I'm not seen, visually. You never see me. And you don't hear me. Nor am I referred to, I believe, in any scene. I am sensed, only vibrationally. It's up to the viewer to pick up on that ... But you will feel something. And that will be me."
Color me baffled (which was undoubtedly the desired outcome of that answer). While Goldblum's response might be interpreted as a "no, I'm not in the film," it could also just be the actor's way of not giving away a tightly-wrapped plot point. After all, Melissa McCarthy has also vehemently denied that she is a part of "Love and Thunder," despite a photo of her dressed as Hela making the rounds on the internet. Perhaps she will be appearing in a cameo role, in which she plays Hela in a stage play re-enactment of the events of "Ragnarok" (like Matt Damon's cameo as Stage Loki).
The Grandmaster...returns?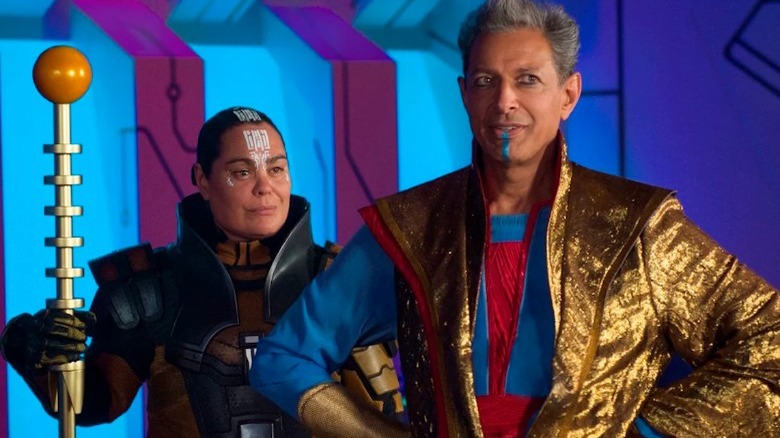 Marvel Studios
A lot of characters from the "Thor" franchise are set to return in "Love and Thunder," including Jaimie Alexander's Lady Sif, along with "Guardians of the Galaxy" stars, Chris Pratt, Pom Klementieff, Dave Bautista, Karen Gillan, and Sean Gunn, as seen in the trailer. The main clue that Goldblum's Grandmaster could very well return is the fact that he was spotted in Australia with his "Jurassic World Dominion" co-star Sam Neill, who is reportedly appearing in a cameo in Waititi's film.
While this is not necessarily a confirmation of anything, it does add stock to the speculation about Goldblum's return, which is always a welcome thought for fans of the actor. Moreover, Waititi described "Love and Thunder" as a "mid-life crisis" film, and this, coupled with the road trip motif, could mean Thor traveling across the galaxy and somehow ending back on Sakaar, or probably crossing paths with the Grandmaster somewhere.
Until then, we need to sit tight and wait for "Thor: Love and Thunder" to hit theaters on July 7, 2022.