Is Thor: Love And Thunder A Road Trip Comedy With Korg And Thor?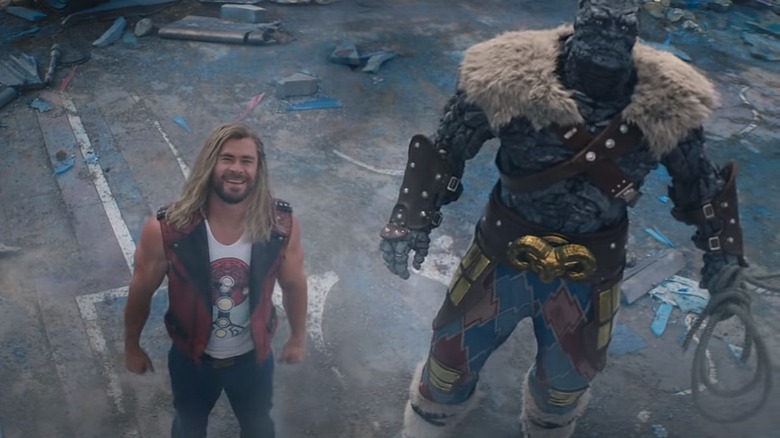 Marvel Studios
While Marvel made people wait for it longer than anyone expected as the movie is coming out in just a few months, the first trailer for "Thor: Love and Thunder" has arrived. Much about this movie has remained tightly under wraps, save for what has been revealed through photo leaks and casting news. Even with this teaser trailer in hand, more questions than answers remain. But based on what we are seeing in the trailer, it looks like we may be in for a different exploration of genre within the Marvel Cinematic Universe. Specifically, a road trip comedy with Thor and Korg.
Now, it is worth noting that this is purely speculative and is just my read on the trailer. But what we know is that Thor is leaving the superhero life behind and is going to go on a bit of a soul-searching quest to discover himself. We see that it is a galaxy-hopping adventure, with many people coming and going. However, Korg, played by director Taikia Waititi who we first met in "Thor: Ragnarok," appears to be a mainstay. We see more of him with Thor than anyone else on this trek across the galaxy. This seemingly points to the two going on a little road trip (that road being space) with one another.
Another thing we know for sure is that Gorr the God Butcher, played by Christian Bale, is going to be the villain. That is going to interrupt Thor's quest, as was confirmed by the movie's official synopsis. That having been said, the movie leading up to that point could certainly be more comedic with a road trip framework. And given how much chemistry existed between Chris Hemsworth's God of Thunder and Korg last time around, this would be a great way to go.
A change of pace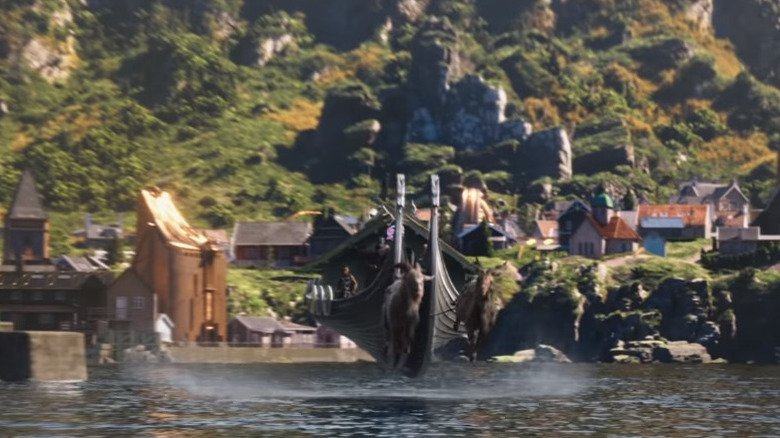 Marvel Studios
One thing that the MCU has done more of as it has evolved is explore different subgenres using these various solo films within its various franchises as vehicles to do so. "Captain America: The Winter Soldier" is an espionage thriller. "Guardians of the Galaxy" is a "Star Wars"-esque sci-fi throwback. "Ant-Man" was a heist movie of sorts. So the idea of doing a road trip movie does not at all seem off base, especially given the material we have to work with here. Waititi seems like the kind of filmmaker that could make an awful lot of use with that kind of premise and these characters. Whether or not this proves true in any way remains to be seen. Fingers crossed.
The cast also includes Tessa Thompson as Valkyrie and Natalie Portman as Jane Foster, who is also going to be our new Thor. Waititi co-wrote the screenplay with Jennifer Kaytin Robinson ("Someone Great").
"Thor: Love and Thunder" is set to hit theaters on July 8, 2022.
The film finds Thor (Chris Hemsworth) on a journey, unlike anything he's ever faced – a quest for inner peace. But his retirement is interrupted by a galactic killer known as Gorr the God Butcher (Christian Bale), who seeks the extinction of the gods. To combat the threat, Thor enlists the help of King Valkyrie (Tessa Thompson), Korg (Taika Waititi) and ex-girlfriend Jane Foster (Natalie Portman), who – to Thor's surprise – inexplicably wields his magical hammer, Mjolnir, as the Mighty Thor. Together, they embark upon a harrowing cosmic adventure to uncover the mystery of the God Butcher's vengeance and stop him before it's too late.