Here's Our First Look At Natalie Portman As Mighty Thor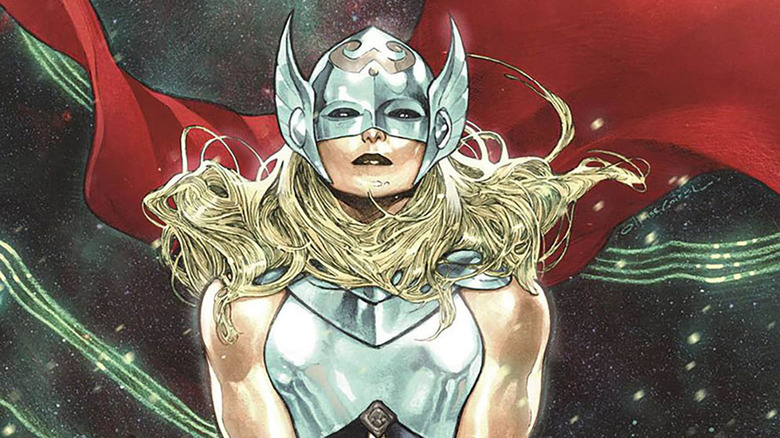 Marvel Comics
Here she is, world: (Mighty) Thor, as played by the Marvel Cinematic Universe's very own Natalie Portman. If you just had a visceral reaction due to what I just said, you're in good company. Fans have been waiting with bated breath to see Portman, an Oscar-winning actress who is known to Marvel fans for her role as Thor's love interest Jane Foster, take on the persona of the Norse god. As the incredible first teaser trailer for "Thor: Love and Thunder" shows, the legendary actress seems to be taking up Chris Hemsworth's mantle quite well.
The trailer is a feast for the eyes and gives us a lot to work with, including glimpses of a mysterious and magical city, a blue-haired pirate babe who steals a glimpse from Thor himself, and several cute cutaways to Chris Pratt's Starlord from "Guardians of the Galaxy." At the end of the trailer, fans get a long look at Portman's version of Thor, which, honestly, almost doesn't even look like her. She wears similar armor to Hemsworth's version, including a helmet that obstructs most of her face. Plus, she commands Thor's hammer, known as Mjöllnir, with the same sense of power and pride. It's clear her striking performance will be one to remember.
The Taika Waititi film — which he co-wrote alongside Jennifer Kaytin Robinson — is set to release in theaters on July 8, 2022.
The origins of Mighty Thor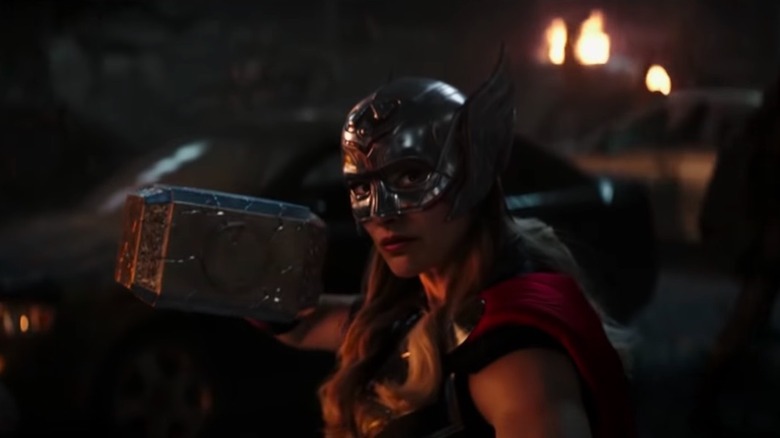 Marvel Studios
So, how exactly did Jane Foster end up in Thor's shoes, you might be wondering? In 2014, a new run of "Thor" comics followed the character after she became able to handle Mjöllnir at a time when Thor himself could not. In this series, she took up his role as a hero and even joined the Avengers in his stead. According to the run's writer, Jason Aaron, this Thor would be "unlike any Thor we've seen before." He told Vulture about the character in May 2015:
"It grew out of the idea of the previous Thor becoming unworthy, which was something I was always building toward. I liked the idea of dealing with his worthiness and the idea of what it means for a god to be worthy in the Marvel universe. You know, the god of thunder waking up every morning and looking at the hammer and not knowing if he's gonna be worthy to lift it. Then, of course, one day he should wake up and not be able to lift it. That opened the door for someone else to pick up the hammer and carry it around in his place. Really, the only character that was discussed was Jane."
The run was immensely popular, and often saw Foster's Mighty Thor team up with her predecessor (now known as "Odinson") to save the Marvel universe from all kinds of threats. However, the run also teased out the mystery of why Jane, a seemingly ordinary human being with no actual powers of her own, was given the abilities of a god. The answer was, in true Marvel fashion, surprisingly tragic and human, a counterbalance to the power fantasy of taking a hammer to the heads of dark elves and monsters from across the cosmos. It remains to be seen if "Thor: Love and Thunder" will stick to these details from the comics and if it does, it will be interesting to see how Taika Waititi balances these sobering notes with his trademark outrageous comedy. 
As for Portman herself, she's no stranger to the Marvel Cinematic Universe. She was first introduced as Jane in the original 2011 "Thor" film, and reprised her role in the 2013 sequel, "Thor: The Dark World." However, she did not return for the third film, 2017's "Thor: Ragnarok," which, in a moment true to the film's silly sense of humor, made it clear she dumped the god of thunder and had moved on. Considering how little Jane had to do in the second "Thor" movie (where she literally spends the entire plot being a damsel in distress), it's no wonder she bowed out of the series. But it's also no wonder she was wooed back. "Ragnarok" was a critical and financial smash, rejuvenated by Waititi's offbeat direction and the decision to lean into comedy. Who knew bumbling goofball Thor would be so much more appealing than Very Serious Thor? If Jane Foster was going to come back, she needed to come back with a vengeance — and with her own super-powers, while under the direction of a filmmaker with the taste to actually give her something cool to do.
All hail Natalie Portman, our newest MCU superhero. It's about time.