Thor: Love And Thunder Trailer: Natalie Portman's The Thor Now, Dog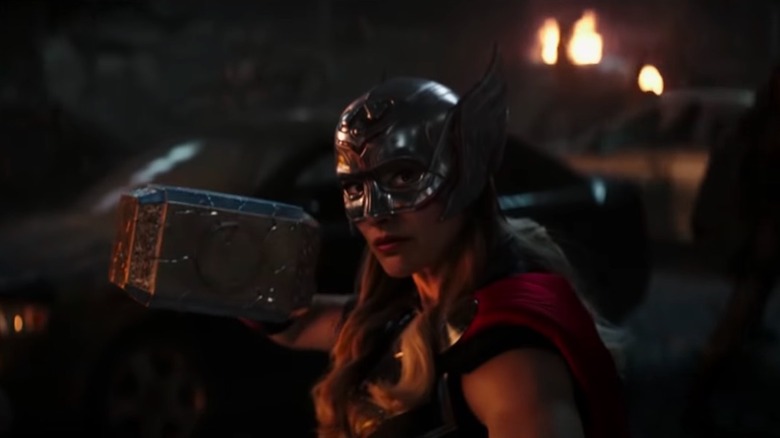 Marvel Studios
Of all the fan-favorite superheroes that Marvel Studios has popularized through their movies since 2008, who would've ever thought that Thor would end up becoming the first and only one of the original core group of Avengers to receive a fourth solo film?
It's fair to say the God of Thunder got off to somewhat of a rocky start in the MCU, debuting as a stuffy, self-serious, Shakespearean blank slate (from a director who knows a thing or two about adapting the bard's plays, Kenneth Branagh) with very little in the way of actual personality, despite actor Chris Hemsworth's best efforts and chiseled physique. So early in the franchise and so soon after the "grounded" take on Robert Downey Jr.'s Iron Man, Marvel could hardly even bring themselves to call Thor an actual god. His next solo outing, "Thor: The Dark World," is commonly perceived as one of Marvel's rare missteps, though audiences remained interested in the hero's complicated dynamic with his (adopted) brother Loki (Tom Hiddleston) and the willingness to embrace Thor's more cosmic roots. But it took director Taika Waititi's willingness to step up to the plate and completely reinvent the character from the ground up in "Thor: Ragnarok" before fans finally took to the character in earnest, trading all the prior attempts at gravitas and importance for a rollicking, laugh-out-loud adventure that finally delivered on much of Thor's potential.
In one of the most no-brainer moves that Marvel's Kevin Feige has ever had to contend with, the studio didn't hesitate to bring Waititi back for the superhero's unprecedented fourth solo outing. "Thor: Love and Thunder." The returning filmmaker has spent months teasing fans and raising anticipation for the next film, previously calling it "crazy wild" and ensuring that the grand return of Natalie Portman suiting up as the "Mighty Thor" will put plenty of butts in seats when the time comes — not to mention those party-crashing Guardians of the Galaxy, as well. After all that patient waiting, the day has finally arrived for our first (official) look at exactly the sort of comic-booky goodness Waititi has in store for us this time around. Check out the first "Thor: Love and Thunder" trailer below!
Thor: Love and Thunder trailer
Those days of studio executives fretting over how to make Thor appealing to modern audiences are long, long gone, folks. Now, the main issue is more along the lines of how to meet the sky-high expectations that fans now hold for the God of Thunder and his supporting cast of characters. It's amazing how quickly things change, but our first look at "Thor: Love and Thunder" is finally here and it sure looks as if it'll continue the superhero's upward trajectory in style.
Chris Hemsworth is back in the title role and will be joined by an absolutely stacked cast of fan-favorite returning characters. You may have caught the oh-so-subtle hints that Thor's original love interest, Natalie Portman's Jane Foster, is coming back better and more powerful than ever as the Mjolnir-wielding Thor herself. The pair will be joined by Tessa Thompson's Valkyrie, the breakout character from "Ragnarok" who has since ascended to rule over the remnant of surviving Asgardians. Waititi, of course, will once again voice the lovable Korg in addition to his directing duties and will even be joined by another long-lost "Thor" supporting character, Jamie Alexander's Sif (who most recently appeared in the MCU in the Disney+ series "Loki"). Chris Pratt, Pom Klementieff, Dave Bautista, Karen Gillan, and Sean Gunn are all reprising their roles from James Gunn's "Guardians of the Galaxy" movies. And if all that weren't enough to make the movie a must-watch, big-name actors Christian Bale and Russell Crowe are joining the franchise for the first time as Gorr the God Butcher and Zeus, respectively. We can certainly expect a few cameos from a certain troupe of in-universe stage actors, as well.

Recently delayed late last year along with the rest of Marvel's 2022 slate of films, "Thor: Love and Thunder" is set to arrive in theaters on July 8, 2022.