Thor: Love And Thunder Is A 'Midlife Crisis Film,' Taika Waititi Says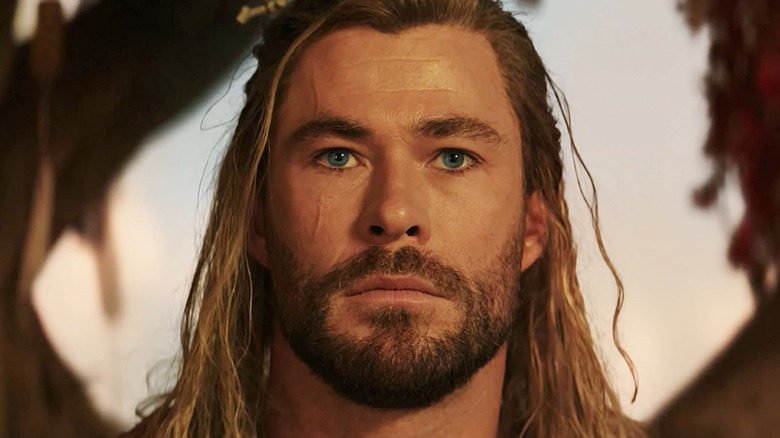 Marvel Studios
Odin in the Marvel Cinematic Universe is (*in Jean Ralphio voice*) "the wo-o-o-orst," so it's only natural both of his sons, Thor and Loki, are now in the midst of personal crises (despite being well over 1,000 years old). In the case of Loki, the entire multiverse has been left to deal with the mess his dad helped create, and will continue to do so when the "Loki" series returns for season 2 on Disney+. As for Thor, he spent most of "Thor: Ragnarok" paying the price for Odin's past mistakes, paving the way to his greater battle with post-traumatic stress and depression in "Avengers: Infinity War" and "Avengers: Endgame."
When we pick up with Thor in "Thor: Love and Thunder," the God of Thunder will find himself at a crossroads. No longer content to try and keep the peace across the Nine Realms using his bare hands and magical weapon of choice, Thor has put his superhero days behind him when the film starts up. Of course, as the adage goes, we may be done with the past, but the past ain't done with us — and before he knows it, Thor comes face to face with a new problem (Christian Bale's Gorr the God Butcher) and an old familiar face (Natalie Portman's Jane Foster, now The Mighty Thor).
Here's what Taika Waititi, who's back at the helm on "Love and Thunder" after directing "Ragnarok," had to say about the film in an interview with Entertainment Weekly:
"'Ragnarok' felt a bit like a party. It was quite festive. This one is still fun, and it's got moments of being over the top, but thematically, it's about something a bit deeper than the last film. It's not a serious film, and it's not a drama, but we do deal with ideas that I think a lot of humans deal with — universal themes about love and loss and our place in the world. Everyone sort of asks this question in the film: What is your purpose? What is the reason that you're a hero, and what do you do when you have these powers?"
Asking the right questions in a superhero movie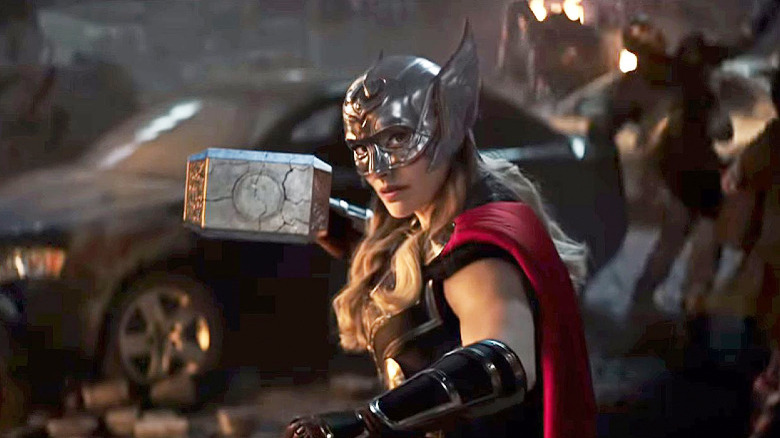 Marvel Studios
The themes in "Thor: Love and Thunder" extend to Jane, who (as you surely recall) didn't have super-powers the last time we saw her in 2013's "Thor: The Dark World" (not counting her blink-and-you'll-miss-it "cameo" in "Avengers: Endgame"). Taika Waititi summed up the movie as a "midlife crisis film," which is all the more interesting coming on the heels of his role in David Jenkins' series "Our Flag Means Death." For those who haven't watched it yet (*stares at you, quietly judging*), Waititi co-stars as the infamous pirate Edward Teach, aka Blackbeard, himself at a point where he's come to question his life's purpose.
On top of being a thematic extension of his recent output as an actor and producer, Waititi said "Love and Thunder" will indirectly reflect on what's been going on in the real world:
"That's the question we ask everyone: Are we doing the right thing, and are we doing all we can in the world? I think right now, while the world is still healing from this pandemic, it's a good question to ask. It's like, well, are we doing enough to look after each other and to look after ourselves?"
Those sound like good questions for a superhero film to be asking, not least of all after Thor spent the first three phases of the Marvel Cinematic Universe trying to solve all his problems with violence (often as a first solution). Visually, "Love and Thunder" will also mix things up after "Ragnarok," taking inspiration from (to quote Waititi) "[1980s] movie posters for things like 'Conan [the Barbarian]' or 'Beastmaster' and the fancy art that you'd see on vans in Venice Beach." That's a change from "Ragnarok" and its psychedelic '70s flavor, which memorably reared its head in the "Willy Wonka and the Chocolate Factory"-inspired scene where Thor is introduced to the Grandmaster on Sakaar.
"Thor: Love and Thunder" opens in theaters on July 8, 2022.