Doctor Strange 2 Writer Michael Waldron Has Total Faith In Loki Season 2's New Head Writer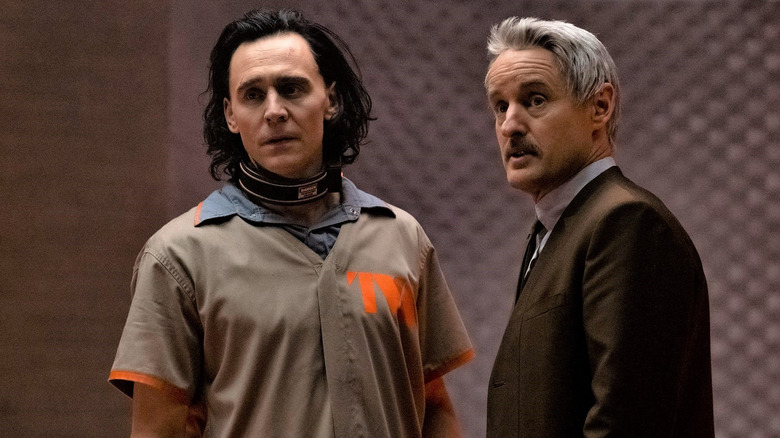 Disney+
"Doctor Strange in the Multiverse of Madness" scribe Michael Waldron is no stranger to magical chaos or alternate MCU timelines. Along with penning the latest adventure from Benedict Cumberbatch's sarcastic wizard — the one that hits theaters tonight (!) — Waldron also served as head writer for the debut season of "Loki," where the Asgardian prince accidentally had a hand in breaking reality and unleashing utter chaos. While previously known for his work on "Rick and Morty" and "Community," two shows that have their own chaos to grapple with, Waldron is really making a name for himself as the go-to variant writer. After breaking the multiverse with Loki and Sylvie, he headed to Doctor Strange-land, where the wizard is putting the pieces back together... or maybe just making things worse. (It's hard to say.) But as "Loki" gears up for a second season, Waldron is taking a step back from that scrambled mess of a timeline as he heads to a galaxy far, far away. Luckily, his shoes will be filled by fellow MCU alums who know their way around multiversal mayhem.
While making the rounds for "Multiverse of Madness," Waldron has confirmed that while he is set to continue serving as executive producer on the series, he'll be handing off the reins to a new squad of creatives. While chatting with /Film, Waldron said:
"There's an amazing creative team in place. ["Moon Knight" directors] Benson and Moorehead, the directors, Eric Martin serving as the head writer. So it's a tremendous team, and I'm still lurking around part of it."
Filmmakers Justin Benson and Aaron Moorhead have already made quite the mark on the MCU by directing episodes 2 and 4 of the mind-bending "Moon Knight," and now they'll go from the fractured mind of Oscar Isaac's hero to the splintering universe of Tom Hiddleston's. Eric Martin also has a history with Marvel — he was previously in the "Loki" writers' room for season 1, penning the fourth episode "The Nexus Event" and joining Waldron to co-write the season finale, "For All Time. Always."
The chaos of Loki season 2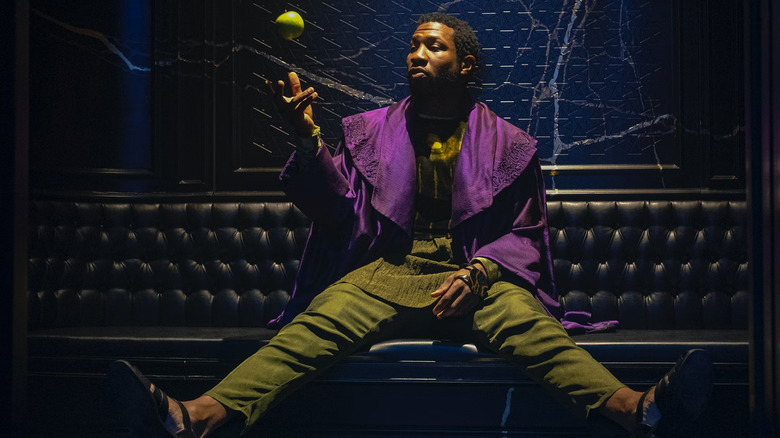 Disney+
The first season of "Loki" ended with a shock of a cliffhanger — after Sylvie plunged a dagger into the heart of Jonathan Major's manic Kang variant, she ends up jumpstarting a multiversal war. Oops. By this point, Loki (Tom Hiddleston's OG version) was back at the TVA, rushing to find Agent Mobius only to discover that Sylvie's actions altered the timeline. The version of Mobius he finds has no recollection of who he is or the friendship they spent the season building. While the TVA once existed to prevent the creation of branch timelines, it becomes apparent that multiple realities are quickly expanding — not unlike the situation Doctor Strange is trying to make sense of himself. 
While chatting with Digital Spy, Waldron teased a connection between "Multiverse of Madness" and the forthcoming second season, saying, "everything leads into everything, right?" He also noted how complex it can be to work within the growing multiverse that Marvel has been establishing on both big and small screen projects. As we learned from the Infinity Saga, it's nothing new for events in one movies to ripple through to others — but the addition of alternate realities certainly presents a messy complication. In Waldron's case, he was lucky to get in on the ground floor. He explained:
"I was glad that I came in with institutional knowledge of the multiverse and was able to get the creative team of Doctor Strange on the same page as me on everything. Because like with Loki, that's the most important thing when you're dealing with this. You have to all have a shared language of all this stuff, otherwise it can get pretty confusing."
Thankfully, this is a benefit that new head writer Eric Martin can boast as well, since he was along for the ride in season 1 of "Loki," before taking charge of its next chapter.
The second season of "Loki" has yet to announce a premiere date but "Doctor Strange in the Multiverse of Madness" opens on May 6, 2022.