See How They Run Trailer: Sam Rockwell And Saoirse Ronan Have A Murder Mystery To Solve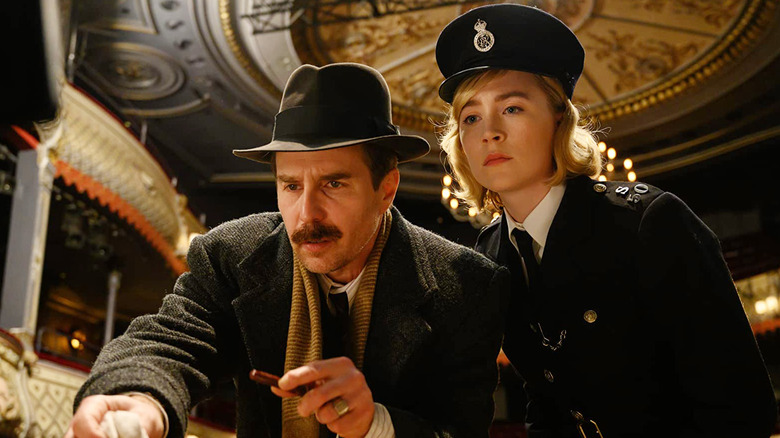 Searchlight Pictures
Bless Rian Johnson and "Knives Out." Thanks to the director's smash-hit 2019 murder mystery, whodunnits are enjoyed a newfound surge in popularity. It's not just TV shows like "The Afterparty" and "Only Murders in the Building" that are breathing fresh life into the sub-genre, either. In addition to Johnson's upcoming sequel, "Glass Onion: A Knives Out Mystery," there's also "See How They Run," an original yarn that's got off-beat detectives, a shocking murder, and a whole troupe (literally, in this case) of suspicious individuals who might have done the dirty deed — and even if they didn't, they've still got plenty of secrets they would rather keep under-wraps from those snooping sleuths.
Sam Rockwell and Saoirse Ronan star in "See How They Run" as the seasoned Inspector Stoppard and over-eager Constable Stalker, an unlikely duo who are called upon to investigate a murder in the West End of London in the 1950s. Adrien Brody co-stars as the victim in question, actor Leo Köpernick, with David Oyelowo, Ruth Wilson, Harris Dickinson, Reece Shearsmith, and Charlie Cooper co-starring as characters who may or may not have had something to do with Mr. Köpernick's untimely demise. You can watch the trailer below.
See How They Run trailer
The "See How They How" trailer does a nice job of highlighting the dynamic between Sam Rockwell's cautious Inspector Stoppard and Saoirse Ronan's Constable Stalker, whose overzealous manner leads to an amusing running joke where she proclaims they've solved the case every time someone with a motive for killing Mr. Köpernick is uncovered. For as versatile as the talented youngster Ronan has already proven herself to be, this looks like the all-too-rare occasion where the "Atonement" and "Lady Bird" star gets to really use her comedic chops. So far, she seems to be relishing the opportunity to prove her mettle, much like her on-screen counterpart.
On the opposite side of the camera, "See How They Run" has Tom George ("This Country") directing from a script by "Flaked" co-creator Mark Chappell, with frequent Guy Ritchie composer Daniel Pemberton ("The Man from U.N.C.L.E.," "King Arthur: Legend of the Sword") providing the jaunty score. With recent Searchlight Pictures films like "Fire Island" and "Good Luck to You, Leo Grande" having gone straight to streaming on Hulu, it's refreshing to see "See How They Run" appears to be heading to theaters first, giving audiences a chance to check out what looks to be a jolly good time on the big screen if they so choose.
"See How They Run" arrives on September 30, 2022. Its official synopsis reads:
In the West End of 1950s London, plans for a movie version of a smash-hit play come to an abrupt halt after a pivotal member of the crew is murdered. When world-weary Inspector Stoppard (Sam Rockwell) and eager rookie Constable Stalker (Saoirse Ronan) take on the case, the two find themselves thrown into a puzzling whodunit within the glamorously sordid theater underground, investigating the mysterious homicide at their own peril.