Only Murders In The Building Season 2 Begins With An Intriguing And Hilarious Two-Part Premiere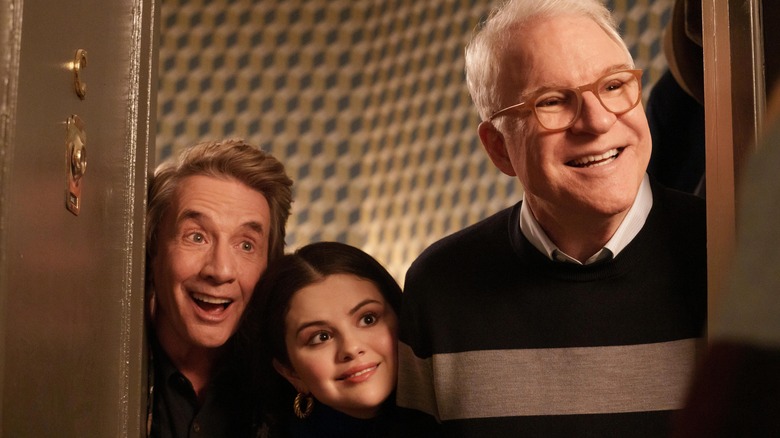 Hulu
Hello, fellow Arconiacs! I hope you're all as excited as I am for the return of "Only Murders in the Building," the Hulu crime comedy series bringing together the comic triangle of Steve Martin, Martin Short, and Selena Gomez. I'll be your guide through the second season of the show about a trio of true-crime-podcast fans who become true-crime-podcasters. Before I dive into the two-episode premiere of season two, though, it's best if we start with a brief rundown of what happened in the first season. (For two reasons, I would strongly recommend you watch the first season: the second season ... heavily relies on you having watched the first season; and the first season of "Only Murders in the Building" is pretty damn close to flawless.)
In season 1, we met Charles-Haden Savage (Martin), an ex-star of a CBS crime procedural; Oliver Putnam (Short), a Broadway director whose ambitions always exceeded his reach; and Mabel Mora (Gomez), a deadpan artist. All three live in the Arconia, a tony apartment building in NYC, and all three realize that they're true-crime-podcast nuts, right before they learn of the death of a fellow tenant, Tim Kono (Julian Cihi), who turns out to have been an old ex-friend of Mabel's. Over the season, they start their own podcast, sharing a title with the series itself, and eventually unearth a couple of big crimes. First, they uncover black-market crimes plus some murder courtesy of their podcast sponsor, Teddy Dimas (Nathan Lane) and his deaf son, Theo (James Caverly). And then they learn that Tim was killed by Charles' current girlfriend, Jan (Amy Ryan). Though things seem to be nicely wrapped up, in the final moments, Mabel is seemingly framed for the murder of the Arconia's board president Bunny (Jayne Houdyshell), as she, Charles, and Oliver are carted away by the cops in front of their fellow tenants and legendary podcaster Cinda Canning (Tina Fey), who decides to start a new true-crime podcast ... about them.
Like I said: it really behooves you to watch the first season of "Only Murders in the Building." Anyway, though Hulu — like every other streaming service — won't actually confirm precise numbers, this show wasn't just a marvelous creative success in its first season, it was quite clearly very popular online. (I'm not saying it helps to have Selena Gomez as one of your stars to raise interest among a younger audience, but ... I'm not not saying that.) As such, the show's return is a couple months early, and the first two episodes, "Persons of Interest" and "Framed," are dropping on Hulu today together, after which each episode will drop on a weekly basis. So let's dive right in with this supersized recap.
Famous or infamous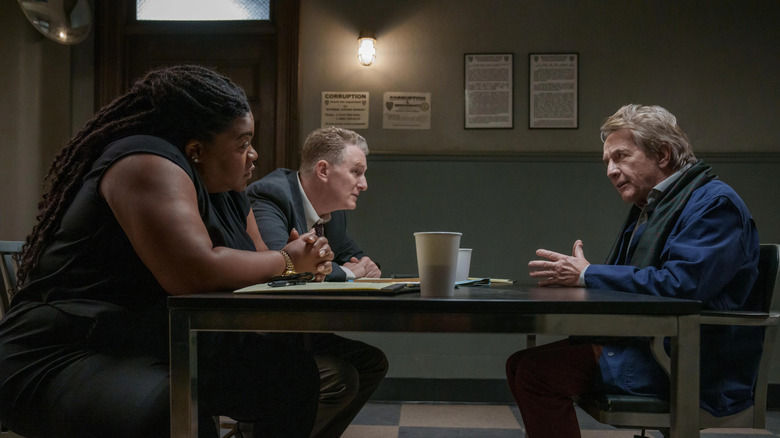 Hulu
Just as the first season began with Charles narrating to us about living in the big city, so too does this season. Charles is walking around NYC at night, recognized as much for his past fame as Detective Brazzos as for having taken down Jan. But it's very obvious that this is all in Charles' head — especially once he spots himself, Mabel, and Oliver with their faces plastered on a city bus. "You can become famous for doing good things, or you can become infamous for doing truly terrible acts," Charles tells us before rousing himself in the middle of an interrogation with the NYPD. One of the two cops, Detective Williams (Da'Vine Joy Randolph), is — we already know — secretly on Charles' side, having sent the podcasting trio Tim Kono's phone last season in the hopes of them unearthing evidence she couldn't locate. The other interrogator is Detective Kreps (Michael Rapoport), and he's very clearly taking the bad-cop route with, separately, all three of our heroes. "You have no clue what kind of a sloppy sh*t-mess you're swimming into, right?" Kreps is almost gleeful when interrogating Mabel — who's changed out of her turtleneck covered in Bunny's blood — as he pulls up a clip from the first episode of the podcast, in which Mabel recounts a recurring dream where she kills a man by stabbing him with her knitting needles. Though Mabel did share this dream in the pilot episode, it's an unfortunate coincidence that Bunny was apparently killed via Mabel's knitting needles.
Yet it's that very coincidence that ends up freeing Mabel for the moment, as Detectives Kreps and Williams demand she tells them where she left the knife that left eight stab wounds in Bunny. "So you have three people who solved two crimes that you couldn't figure out, and are clearly being framed, and you don't even have the real murder weapon?" she asks pointedly. After this, one outstanding question from the first-season finale is apparently answered, as Charles presumes that Detective Williams is the one who sent both he and Oliver warning texts to leave the building. But not all the answers are going to come that quickly, of course. Detective Williams does make clear that while our trio isn't officially under arrest, as persons of interest, they can be charged at any time should new evidence come to light. And though she warns them not to do a podcast about this, Oliver's too busy recording her. (Of course he is.)
After the opening credits, as the trio shares a ride up the Arconia elevator, Oliver still can't help himself. Even as he memorializes Bunny — "We never got along, but still, poor Bun-Bun" — he's too busy focusing on whether it "plays well." Charles is unable to resist either, as he voices what may well have been a conversation in the writers' room for this very show, noting that few true-crime podcasts have a second-season hit. (I sincerely hope this show didn't have a fluke first season either.) Mabel, though, has taken Detective Williams' advice to heart, refusing to dive back into the podcasting game. "We should all just let ourselves be a little boring again," she says ... before Oliver retorts "I'd rather be dead than boring," and revealing that the cops told him, too, about the unseen knife as the murder weapon.
Mabel is still unwilling to make light of it, because she's the one whose apartment has the markings of a dead body. Not only does Mabel have to clean up the bloodstains left over, but she's haunted by the sight of Bunny stumbling towards her, wearing an "Only Murders" tie-dye hoodie and covered in blood. If there is good news to be had, it's that being dubbed the "Bloody Beauty" by the local papers has turned Mabel into something of a social-media celebrity, getting attention for her good looks and her artistic talent. The latter is noticed by Alice (Cara Delevingne), who sends Mabel a DM video on Instagram to compliment the mural in her apartment, and to invite her to a party at her artists' collective. Mabel is clearly inspired to go to the party, but first, she's inspired to chop off a good chunk of her hair to change things up.
Stay out of jail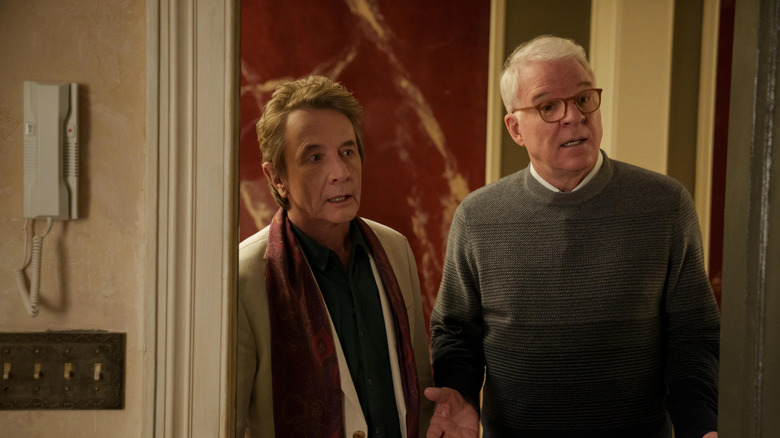 Hulu
Charles is getting attention again too, as he finds out when his agent informs him that the network wants to reboot Brazzos. He's thrilled at first — "Sometimes, I'm flipping through the TV and thinking, 'Hey, where are all the cop shows?" (The reaction to this remark from the TV execs is maybe the best laugh of the premiere episode). Charles is thrilled to find out that the reboot is already picked up, with Charles playing "Uncle Brazzos" to the new lead, all thanks to the timing with the podcast being a huge hit. "As long as you stay out of jail," he's told by a laughing young exec, which ... well, that may still be a problem.
Yet it's Oliver who has the biggest encounter, when he has another chance celebrity meeting in the Arconia elevator, with Amy Schumer playing herself. Schumer quickly outs herself as a big fan of the podcast, asking when a second season will be on the horizon. "Well, second seasons are tough," Oliver says before being blindsided, as Schumer asks if he's ever thought of selling the rights of the podcast to a celeb like her for the chance to turn it into a streaming series. Oliver promises to bring his "200-page pitch deck" to her new place — she's moving into the penthouse Sting is departing from — along with "tequila, and ice, and a glass," by Schumer's request.
Mabel is first besieged at the artist hang-out by someone who recognizes her as "Bloody Mabel" before meeting Alice in person. The two of them indulge in a bit of friendly flirtation (somewhat), though Mabel is understandably more guarded, admitting to being glad that Alice wasn't a catfish scenario. Alice says that while she knows little about Mabel, our heroine compels her and reminds her of no one less than Frida Kahlo, inviting her back to the collective for a non-party atmosphere. "It's not a cult, right? I'm just ... going to need to hear you say the words 'it's not a cult,'" Mabel says, though she's clearly intrigued.
What happened that night?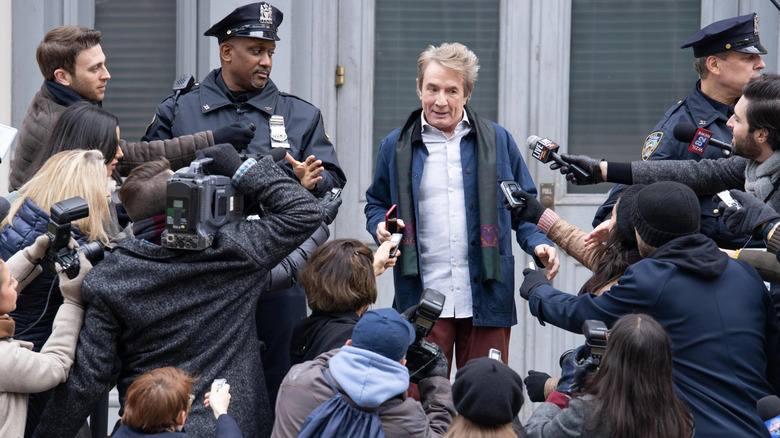 Hulu
Mabel, Charles, and Oliver each wake up the next day to find out what we in the audience already knew courtesy of some flash-forwards from last season: they are the subject of the new podcast from their podcasting hero Sarah Koenig ... er, I mean, Cinda Canning (Fey), who hints at Charles' father's sordid past, Mabel's connection to the crime, and how Oliver never was shy about his hatred of Bunny. When they regroup in her apartment, Mabel notes that Cinda doesn't even know what happened the night Bunny died, and Charles asks the obvious: "What did happen that night?" Though it remains a blur, Mabel says she thinks Bunny said the word "fourteen" to her, as she stumbled into Mabel's arms and died. Oliver says they have to break into Bunny's apartment to begin looking for clues, to beat Cinda at her own game, and so that he can keep Amy Schumer on the hook. And Charles sees this as the only way to keep the Brazzos reboot alive. Mabel's a bit of a holdout, but admits that being at the collective the previous night made her feel alive again. Before she can acknowledge she's in, though, all three of them hear ... what appears to be Bunny's voice. So they use the secret path through the vent in Mabel's apartment (established early in the first season), to sneak their way in and find that the voice is that of Bunny's parrot. "Stuff it up your ass!", says Mrs. Gambolini (yes, that's the parrot's name), showing that she gained Bunny's personality.
Oliver encourages them all to search Bunny's place for the incriminating death threats he'd left behind, but of course, someone enters the apartment as they're doing so. It's two someones, actually: Uma (Jackie Hoffman) and Howard (Michael Cyril Creighton), two Arconia stalwarts we met last year. Once inside, Uma notes to Howard that Bunny had a fondness for erotic art, specifically one piece that's worth a fortune, located in the same room where our trio is trying to hide. "There should be a naked man on this wall! Where are the balls, Howard?" Uma shouts in shock when she realizes the painting has apparently gone missing or been stolen. She searches the closet where Charles, Oliver, and Mabel are hiding, but fortunately misses them ... and misses the secret elevator hidden behind the closet itself. "Where does it go, Hell?" Oliver asks. The answer is less exciting: it leads to the back side of the Arconia. The trio realizes that whoever stole the painting likely killed Bunny, and they begrudgingly realize they have to podcast their way out of the accusations they may be handed by Cinda. "We will not be going quietly," Mabel says as part of the intro to their new season.
And there's no worry about that, of course. In the last few seconds, we see and learn a few key things. First, Oliver rifles among the notes he collected in Bunny's apartment, and sees one written by someone else, stating "I want that painting." Second, Mabel recalls that Bunny said one other thing to her before dying: the word "Savage." And most importantly, Charles comes home to his apartment, only to see Bunny's valuable erotic painting hanging on his wall. One of its subjects looks awful familiar to Mabel and Oliver, but Charles corrects them. The man in the painting isn't him. "It's my father," he says grimly.
OTHER THOUGHTS
— Detective Kreps hates podcasts, but loves the old Howard Stern show, which feels very apt for Michael Rapoport, honestly.
— There are too many good one-liners here, but the one where Oliver reminisces about the time when he was about to be sawed in half by Penn and Teller is pretty great.
You can tell it's our second season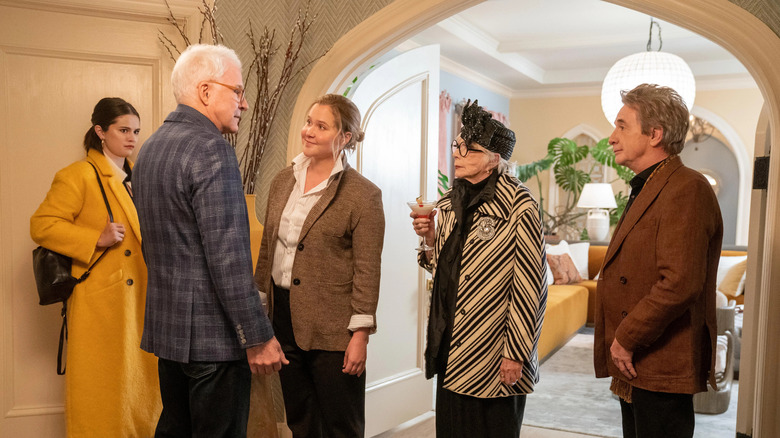 Hulu
"Framed," the second half of the two-episode premiere, goes back pretty far, as the voice of the wonderful Shirley MacLaine (more on her soon) explains that Bunny's story starts with the Arconia itself. And that is because Bunny's grandfather was the architect of the Arconia, having constructed that secret elevator on purpose. (In part, it was so he could be a peeping Tom, in a brief callback to Theo Dimas spying on his not-to-be crush Zoe in the first season.) MacLaine notes that Bunny lived her whole life in the Arconia, and that by the 1950s, it was a building that appealed to dreamers and aspiring actors ... like the father of a young Charles-Haden Savage. After we briefly see Charles helping his dad run lines for an audition, we return to the current Charles, musing over the fact that his dead father was "the subject of a pricey piece of erotica." There's no denying it's his dad, as Charles spies a telltale scar on his father's neck in the painting, as well as a watch Charles still has as a memento. "Was he a gigolo? Was he sleeping with Rose Cooper?" Worse still is the fact that — as the trio notes after picking the painting up off Charles' wall — the painting is called "Savage."
That leads Mabel to come clean about what we learned at the end of the first episode, that Bunny also said "Savage." (This leads to Oliver wondering if she meant Jessica Savitch instead, just another one of the many delightful pop-culture references Martin Short gets to make. Though Mabel's response — "You must ask permission to tell stories from now on" — is pretty great.) Their banter is quickly interrupted by Howard, who pops by to first return Charles' key and then note that he knew Jan was the killer "after, like, episode eight" of the podcast's first season. More pressing, though, is his invite to a gathering at Bunny's apartment, where he suggests the trio should attend to find "someone who looks guiltier than you." (Perhaps the most interesting detail here is that Howard has a notably black-and-blue left eye, which he chalks up to having run into his hutch while playing hide-and-seek with his new kitten. ... Sure, Howard.)
Mabel does see an opportunity, as the trio can use this event as a way to sneak the painting back into Bunny's apartment with suspicion shifted off of them again. (This leads to another good meta line, as Charles notes that they're getting the hang of things quickly and Oliver replies, "You can tell it's our second season!")
The murderers are here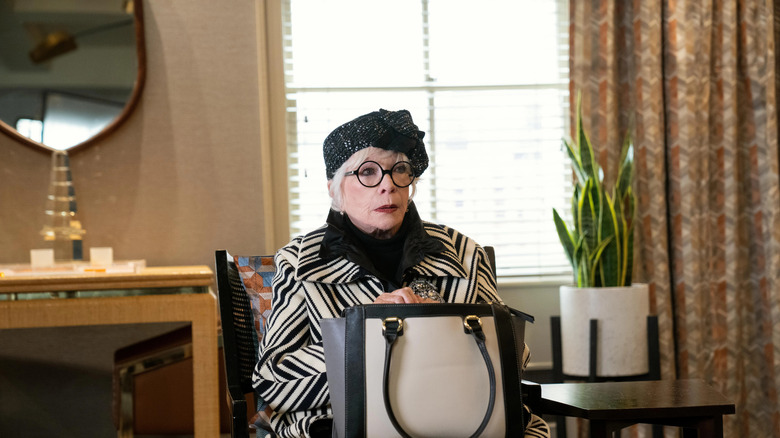 Hulu
"Oh, goody, the murderers are here," Uma says coldly when our trio enters Bunny's apartment. But the topic soon shifts, as an introductory speech is given by the very pregnant Nina Lim (Christine Ko), the new board president of the Arconia. "I'm in charge now, and a new era begins," she says. Howard is clearly not a fan, comparing her to Rosemary of "Rosemary's Baby" if "Rosemary was a hedge fund manager and couldn't wait to carry the Devil's child" and "If you thought Bunny was a b**ch, wait 'till you get a load of this one." The party is then interrupted by the arrival of Shirley MacLaine! Oh, I'm sorry, it's not so much her as her character, Leonora Folger, Bunny's mother, who's on the hunt for "Savage," that erotic painting.
"She's definitely Bunny's mother," they wisely note as Leonora uses her withering stare and wiles to basically cow the room into submission. The good news is that she uses that stare up close in on our three podcasters and correctly notes that none of them killed Bunny. Though Oliver briefly wonders if she killed her daughter for the painting, that theory is tossed out thanks to a very funny visual gag with Leonora struggling to slice herself a piece of cheese. Thus, Oliver and Mabel embark upon their mission to smuggle "Savage" back into Bunny's apartment while Charles maintains a perceived air of cool. 
I wanted to make a quick sidebar here, as during the mission, we get an answer to a question that was nagging at me up to this point in the premiere: "Where's Oscar?" Oscar, you may recall, was one of Mabel's old friends who had been sent to jail for a decade for the crime of killing his girlfriend Zoe, a crime he didn't commit. In the first season, Mabel and Oscar reconnected and began a tentative romance, and Oscar was one of those who saw her get dragged to jail. So where is he? Well, apparently, they're basically just ... done? Mabel tells Oliver she's "waiting for the 'let's be friends' text," and if that's what the show wants to do, fine! But it's a weird choice considering how seriously the show built them up in season one. Ah well.
A doomed romantic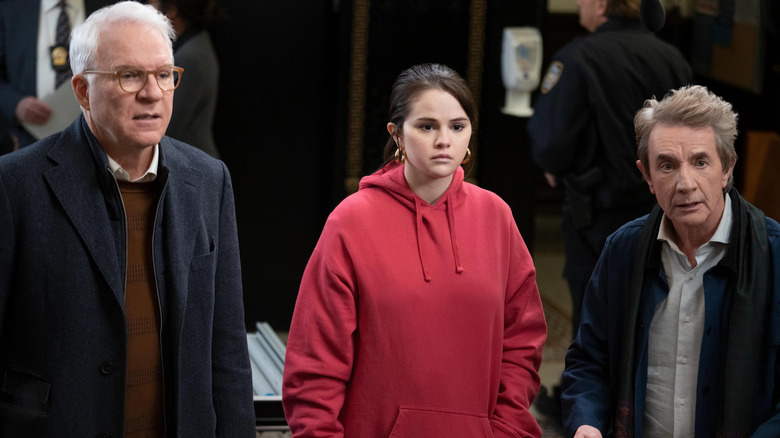 Hulu
Charles, meanwhile, tries to learn more about "Savage" from Leonora. Of course, that plan fails when he has to explain that she recognizes his voice from "Brazzos." ("It's a good show to have on in the background when you're dying," she says dryly before insulting the delivery of his classic one-liner.) The larger plan fails too: when Mabel texts Charles to let her and Oliver into the secret elevator, he descends and accidentally closes the door, leaving them all on the ground floor where they have to hide the painting wedged between some dumpsters.
Charles later notes to himself that they're back to square one, with only folks like Teddy, Theo, and Jan who actively would want to ruin his life and those of Oliver and Mabel. (He then writes as a possible suspect "Me?", which feels like something you wouldn't want to leave hanging up there, Charles!) It's just as baffling to him when he heads back to the dumpsters near Bunny's secret elevator and finds the painting is gone once again.
Mabel, meanwhile, returns to Alice's art studio to reconnect. (Alice does note, upon Mabel asking, that the artist Rose Cooper died mysteriously, which ... feels like a note we should not forget.) Alice reveals a piece she's just made, which she attributes to Mabel's creative presence, though she also wants Mabel to destroy the piece. Mabel is hesitant at first, until Alice convinces her to think of it as a form of catharsis, which is quickly visualized with Mabel wielding an ax to the piece as she envisions bits of her past (Tim's death, Bunny's, Zoe's, etc.). And if that wasn't enough, Mabel uses her newfound catharsis to kiss Alice passionately. 
Oliver is headed to the penthouse to meet with Amy Schumer, where she quickly reveals that her vision for a show based on the podcast isn't about her playing Mabel (or about Oliver's idea of Timothee Chalamet playing him). No, Schumer wants to play Jan. "I see Jan as a doomed romantic," she says before revealing that she's been practicing playing the bassoon (badly), and then comes a more immediate reveal: she has "Savage" hanging on the wall of the penthouse, which she spotted while randomly dumpster diving. After she refocuses Oliver — refusing to let him remove it for its "bad energy" — she says that the show can only proceed if the trio clears their names of Bunny's murder.
Charles is visited by Leonora at his own apartment, as she decides she wants to know what it is about "Savage" that interests him so much. She explains that she met Rose Cooper by happenstance, as Cooper was trying to escape the clutches of a man. Leonora paid for "Savage," after which Rose went missing and was then declared dead. "That's the lot of a woman: in order to be recognized, you have to disappear," she says, explaining that "Savage" only became priceless when Rose was considered dead. Charles begins to connect some key dots, as he realizes that Rose lived across the street from the Arconia, in the very same building he walked past as a youth with his dad. We revisit the flashback where a young Charles is left outside said building by his dad for his "audition," one that extends into the evening, when cops surround the building and arrest Charles' father for ... some crime. (Is it too obvious to assume he killed, or is presumed to have killed, Rose Cooper? Because ... I mean, come on.)
Giving them the bird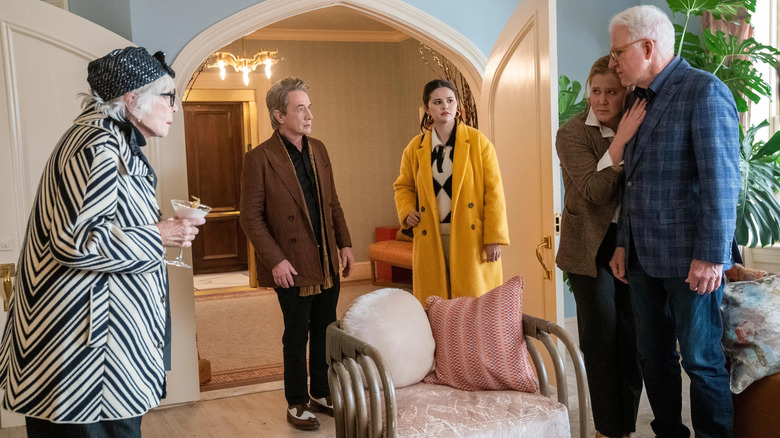 Hulu
It's the whole "Amy Schumer has the painting currently" bit that interests Leonora, who immediately storms up to the penthouse to get it. First, Schumer gushes over Charles and the "bearskin photo" of him she had on her ceiling, and her fantasy of being his wife. But then Leonora bursts into the penthouse to see the painting ... only to note that it's a reproduction, as the original canvas had been slightly torn. Schumer, once she realizes Charles isn't the subject of the painting, demands it removed (before revealing to Oliver that she was trying to be in character as Jan while lusting over him).
In one of the final scenes, Charles sees Leonora about to leave the Arconia, where she admits that a) she knows it's Charles' dad in the painting, b) she had an affair with Charles' dad, and c) so did Rose Cooper. But why is there a reproduction at all? Did Bunny have it made? Or, as Oliver muses, did the killer make it to frame the podcasting trio? Oliver has a less welcome surprise at his front door, as he learns that Bunny, in her will, left him her old bird Mrs. Gambolini. "Even in death, Bunny figures out a way to give you the bird," Mabel wryly remarks. That bird leaves us with our cliffhanger, as it says to our shocked trio (seemingly out of nowhere) "I know who did it."
So, after this extended premiere, what can we say about the second season of "Only Murders in the Building"? If there is a key flaw, and it's not a big one, it's how Oscar is shuffled out of the season pretty shakily (I note that because it's almost weirder to not acknowledge his absence right after Mabel gets out of jail — wouldn't he have texted her at least?) But like I said, it's not a big flaw. Bunny's death is itself a fascinating mystery, and the details we have so far are very intriguing. I have the beginnings of an outlandish theory (though I will also note that I've seen the first eight episodes of the season thanks to advance screeners, and thus will keep any such theorizing to myself to avoid potential hints).
More importantly, these two episodes are a wonderful reminder of why this show is so damn good. Many of us were well aware before that Steve Martin and Martin Short are an inimitable comic duo, but their joint chemistry with Selena Gomez remains a delightful surprise. And the show's writing staff has done a fine job of giving the rest of the Arconia residents a rich background and history, and the New York casting continues to be top-notch. The hopes are high for this season, yes, but the premiere starts things off well.
OTHER THOUGHTS
— I really hope we get more Shirley MacLaine this season. She's a hoot.
— It is difficult to imagine that Mrs. Gambolini is going to be anything more than an avian red herring, because ... I mean, two episodes in, does she really have anything remotely useful to share? I doubt it.
— Will we get more Tina Fey this season? It's noted in the second episode that "one of those podcast girls" was lurking around the building for information.