Fire Island Review: Jane Austen's Swoon-Worthy Romance Gets A Sizzling Summer Update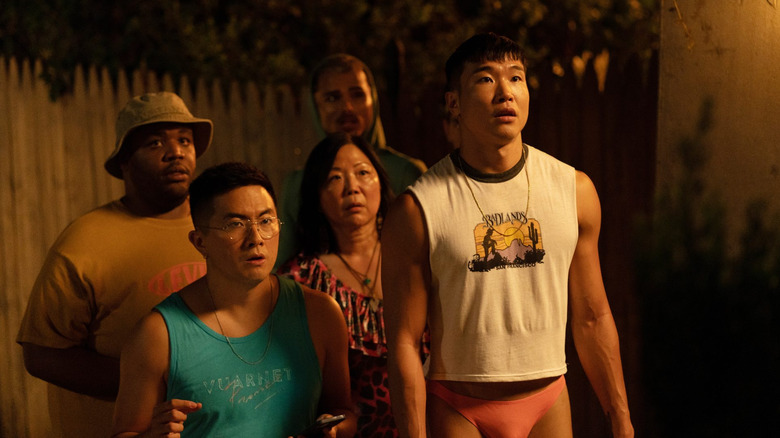 Hulu
"Fire Island" begins with a cliche, because the classics are sacred — especially when penned by a cultural queen. Joel Kim Booster's Noah is keyed into his Austentanian roots as soon as the film begins, letting the oft-quoted opening lines of "Pride and Prejudice" roll off his tongue: "It is a truth universally acknowledged, that a single man in possession of a good fortune, must be in want of a wife." Except that as nice as the classics are, they desperately need some reinventing: a fact that "Fire Island" won't let you forget for a single moment. As Noah puts it, "no offense to my girl Jane, but that sounds like some hetero nonsense."
For all intents and purposes, Noah is our Elizabeth Bennet; he's lively, playful, and perpetually on the verge of telling off anyone who crosses his family. But there are a few key differences that set him apart — he's broke, already has a man in his bed, and has no intention of letting said guy stick around for more than a night. A gay man living his best life, Noah rejects that old-fashioned premise right off the bat, making it crystal clear that monogamy isn't in the cards for him — certainly not in that ooey-gooey, swoony long-term relationship kinda way. And that's a big part of the reason he's so thrilled to be on his way to the idyllic summer destination spot for queer folks looking to booze and schmooze their way through a lineup of hookups: the titular Fire Island.
Like a gay mecca, Fire Island is the near-mythical place that thousands upon thousands of queer people flock to each year, spurred by the blissful sun-kissed summer mornings, bottomless glasses of hard liquor, and the promise of blaring music and underwear parties. This may not sound like the prime spot for a romantic getaway but its vibrance and warmth play host to the summer rom-com of our dreams. After kicking a man out of his bed, Noah takes an expensive taxi downtown to join his family for their seasonal vacation: the family in question being his best friends Howie (Bowen Yang), Keegan (Tomas Matos), Luke (Matt Rogers), Max (Torian Miller) and their lesbian den mother, Erin (Margaret Cho). With a chosen family at the helm and a queer oasis on the horizon, you might expect a story devoid of hierarchies and judgment — but the world is never so simple.
Pride, prejudice, and underwear parties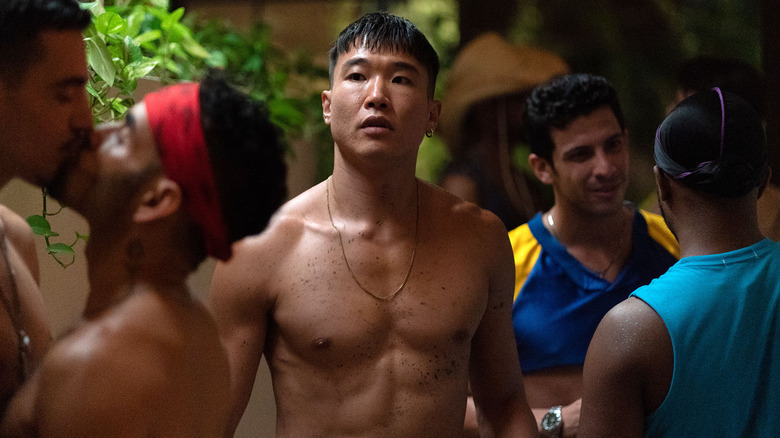 Hulu
The obstacles make sense, given the fact that "Fire Island" is a modern update of Jane Austen's "Pride and Prejudice." As it turns out, there's more than enough of those titular sins to go around in the gay community. Race, masculinity, and abs are the metrics used to separate classes in this world — a fact that becomes apparent before the ferry even reaches its dock. "Fire Island" quickly reveals itself to be an unapologetically queer story that doesn't shy away from the harder-to-swallow pills, which means cringing through the unspoken rules of the island's constructed society ​​("no fats, no femmes, no Asians"). But at the same time, this is a rom-com through and through, so a certain cheesy message must be embraced: despite everything, love finds a way to rise above.
Although it takes Noah some time to come around to this idea, his best friend believes it from the very start. A romantic at heart, Bowen Yang's Howie acts like a foil to Noah, holding out for meet-cutes, kissing in the rain, and romantic walks on the beach. Naturally, he ends up falling for the bright-eyed rich kid Charlie (James Scully) who seems so much nicer than his friend group would lead you to believe. While Noah sees this as a prime opportunity to get his uptight friend laid, there's one stiff obstacle standing in his way — Charlie's overprotective friend Will (Conrad Ricamora), a handsome lawyer with an attractively deep voice who somehow radiates condescension. Even when seen at a glance, there's no mistaking Ricamora's performance as the stoic and haughty Mr. Darcy stand-in. Will and Noah were destined to clash, just as their spark of anger was bound to evolve into something more.
The palpable tension between Will and Noah is sliced only by the budding puppy love of Charlie and Howie, who continuously bring the two friend groups together. And as Noah learns that not all love looks the same, Joel Kim Booster shines as the star of the film — in more ways than one. Not only is he an irresistible protagonist, bouncing off of every screen partner and especially sharing crackling chemistry with Ricamora, but Booster having penned the script is yet another feather in his cap. "Fire Island" is every bit the hilarious and semi-meta rom-com you expect, packed with quips and well-timed jokes, but also makes ample time to continue the pursuits of Austen's story, exploring the emotional nuances of overcoming judgment for love.
Updating a classic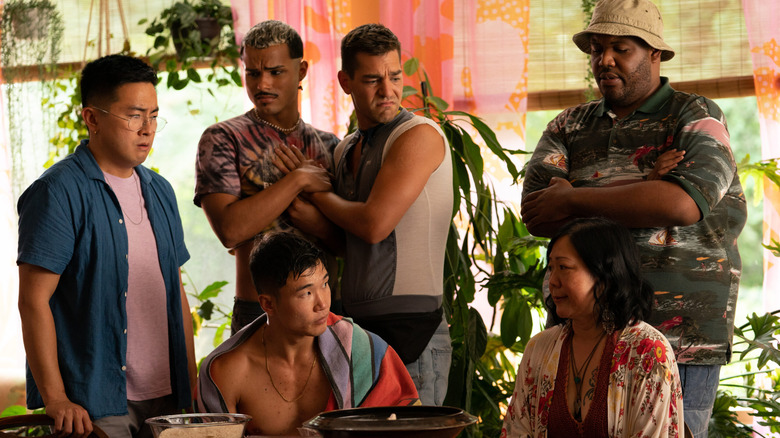 Hulu
Picture this: our romantic leads are caught in a heated argument, exposing one another prejudices while being doused in rain. Familiar? Probably, except that they are shirtless, wearing speedos, and are 15 feet away from a massive house party with poppers, champagne, and blowjobs. The "Pride and Prejudice" we all remember is restrained in the best way possible (society would crumble without that Darcy hand flex to hold it together) but "Fire island" puts very special emphasis on the pride side of things. In a very obvious way, the Regency-era modesty is nowhere to be found — our leads spend most of the movie shirtless and lost in a sea of gyrating bodies. But there's also something so freeing about the movie's construction. 
Noah's internal monologue, shared through ongoing voiceover narration, verges on overbearing but earns its place by keying us in on his moments of growth, big and small. And while some members of Noah's found family don't get nearly enough time to meaningfully contribute, there's an unmistakable warmth to their every interaction. A large part of this can be credited to director Andrew Ahn, who takes the film to the next level by imbuing its every fiber with warmth. A lot can be accomplished with a funny ensemble, even more with good writing, but it takes a story's heart and a director's vision to craft something this memorable. 
Soothing isn't quite the right word for the experience but does capture the effect of "Fire Island," which acts as a salve to heal the burn of all the mediocre romcoms of recent years. In the IP age, retellings are a dime a dozen but very rarely do we get something that rises to the caliber of "Clueless" or "10 Things I Hate About You," modern updates that become instant classics for good reason; they understand the heart of their OG stories but refresh them, finding their own hilarious way to slot the elements into the modern world. In that same vein, "Fire Island" sheds the skin of the beloved classic, but holds tight to its core.
/Film Rating: 8 out of 10