Ms. Marvel's Red Dagger Explained: Who Is Kamala's New Ally?
Disney+
Warning: Major spoilers ahead for episode 4 of "Ms. Marvel."
The latest episode of "Ms. Marvel" situates Kamala Khan (Iman Vellani) and her mother, Muneeba (Zenobia Shroff), in Karachi, Pakistan, after Kamala's nani (maternal grandmother) asks her to visit the place. A lot goes down in this episode, as we learn more about Aisha and the bangle in this episode, and Kamala's nani asks her to find the train they had both seen in the vision shown by the bangle.
After Kamala arrives at the train station, a mysterious boy approaches her, and the two briefly engage in a fight after he says he can sense the Noor in her. The character is none other than Kareem (Aramis Knight), also known as Red Dagger in the comics, who goes on to become Kamala's ally as they fight the Clandestines side by side throughout the course of the episode.
Who is Kareem, and how does he fit into the entire equation? Here's a look into the Pakistani superhero in the comics, and how the show portrays him in order to make the character a better fit in the context of the events of the Disney+ series.
Behold, Laal Khanjeer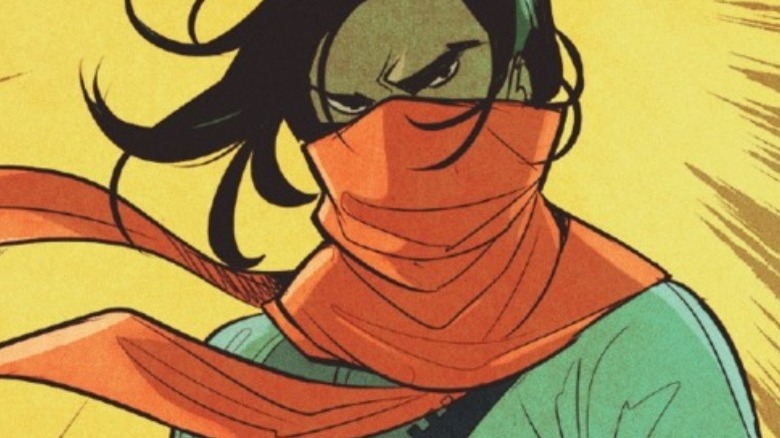 Marvel Comics
In the Marvel comics, Laal Khanjeer (or Red Dagger) is a superhero in his hometown, Karachi. Taking it upon himself to protect innocent people from harm, Kareem/Red Dagger is self-taught when it comes to his superhero skills, as he learns parkour and becomes an expert marksman and knife thrower via learning from online videos. Kareem first appears in "Ms. Marvel #12," created by G. Willow Wilson and Mirka Andolfo, in which Kamala meets him in Karachi, though he is introduced as an acquaintance of her family.
Kamala learns about Kareem's Red Dagger persona when she goes around Karachi and beats some goons up in her Ms. Marvel costume, as Red Dagger confronts her while wearing the signature red scarf that covers part of his face (we also see the red scarf in the show). Calling Kamala a "foreigner," Red Dagger explains she is doing more harm than good, as she does not completely understand the issues that plague Karachi, and her superhero work comes off as more of a nuisance than a genuine attempt to help.
As the "Ms. Marvel" comics progress, Kamala and Kareem go on various missions together and fight together. Kareem has always been a figure determined to help others in need, to the point that he went up against the Inventor alongside Carol Danvers and a few other superheroes during Kamala's absence. His fight style includes throwing daggers in an expert fashion, and in the comics, his aim is impeccable.
Protector of the people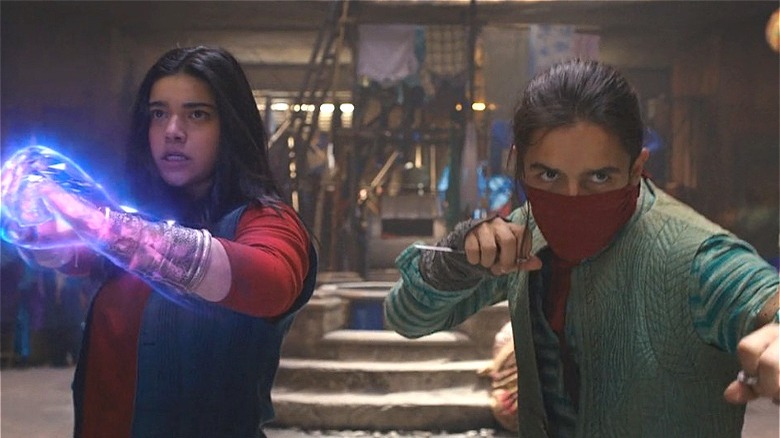 Disney+
In "Ms. Marvel," things play out in a slightly different way compared to the comics. After Kareem and Kamala realize they are on the same side after the former mentions Aisha, he takes her to the headquarters of the Red Daggers, which seems like a group of vigilantes.
There, they meet Waleed (Farhan Akhtar), who tells Kamala that "Red Dagger" is a moniker assumed by those who take it upon themselves to protect people from danger, and explains the Clandestine plan to merge Earth-616 with the Noor dimension. The bangle is the means to make that happen, so Waleed asks Kamala to keep it safe.
Kareem and Kamala's dynamic improves after he takes her to a bonfire meet-up with his friends — they even eat biryani out of a packet and sing along to an acoustic rendition of "Didi" by Khaled. Later, after the Clandestines (except Kamran, who is renounced by his mother) attack Kareem, Waleed, and Kamala, we are treated to an intense chase scene in the streets of Karachi (evading enemies in an auto is so much fun).
After Waleed dies, Kamala and Kareem assume their fight stances and take down the Clandestines, and this is when Kamala is transported to a vision of the fateful night when the last train to Karachi is about to leave during the India-Pakistan partition. Hopefully, episode 5 will grant us a greater glimpse into Red Dagger, and what it means for Kamala to finally step into her power.
The first four episodes of "Ms. Marvel" are currently streaming on Disney+.