Why Riz Ahmed's Music Is The Perfect Fit For Ms. Marvel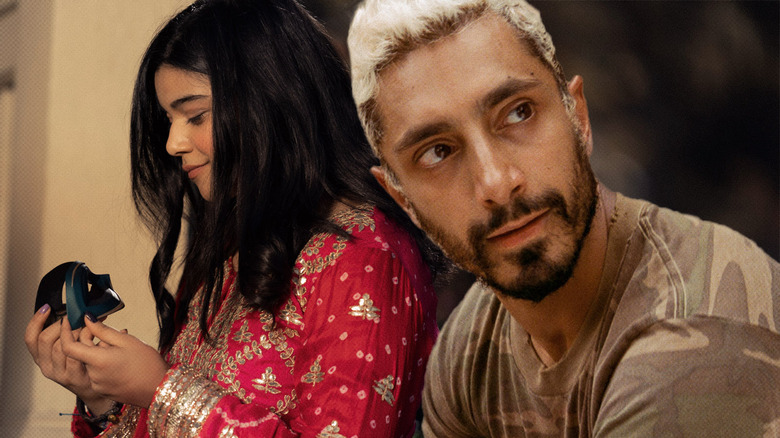 Marvel Studios / Amazon Studios
At this point, the fact that culturally authentic stories do well in all forms of media shouldn't really come as a surprise. (People from all walks of life like to be represented onscreen — who knew?!) Making the shift towards such creative diversity hasn't always been easy, but it's great to see Disney and its subsidiaries leading the charge. The company's most recent projects — especially within the Marvel Cinematic Universe — have been taking strides towards representation on every level. And their latest project, "Ms. Marvel," is a culmination of those efforts in more ways than one.
The Disney+ series marks the live action debut of the superhero of the same name, aka Kamala Khan. Ms. Marvel is the franchise's first mainstream Muslim superhero, and a fan favorite for many — so telling her story authentically was a very high priority. But if the series' early buzz — and its delightfully-stylized first episode — are any indication, Marvel Studios has put a lot of work and love into "Ms. Marvel." Apart from its diverse cast, the series also has a team of South Asian artists behind it, many of whom are Pakistani like Kamala herself. Said artists infuse South Asian culture into every aspect of "Ms. Marvel," even sneaking a perfect needle drop into its very first episode: "Deal With It" by Riz Ahmed.
Yes, that Riz Ahmed. The British-Pakistani multihyphenate may be most well-known for his genre-defying filmography, but he's also an accomplished rapper. Ahmed has been releasing politically-charged singles and albums under the pseudonym Riz MC — and in the rap duo known as the Swet Shop Boys — for years. But his most recent solo album features some of his best work ("Deal With It" included), and it's a perfect match for the story of Kamala Khan.
'We just had Apu, now we got movie stars'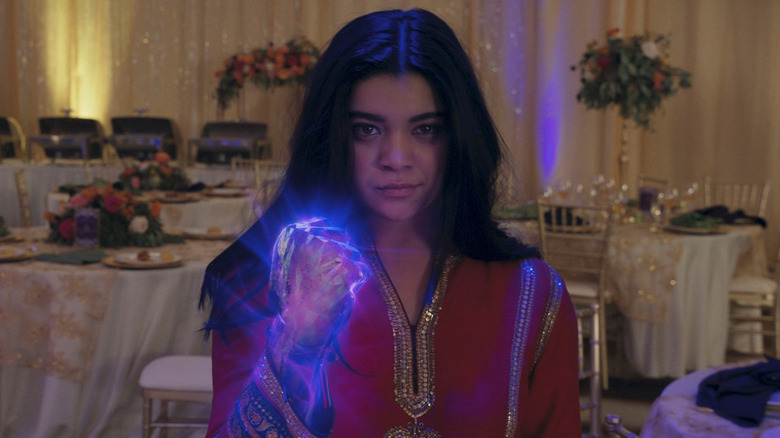 Marvel Studios
"Ms. Marvel" may be a superhero origin story, but it's also a story about Kamala's struggle to reconcile her identity as a Pakistani-American. It's a struggle that so many children of immigrants share no matter where they come from, and one personified perfectly in Riz Ahmed's "The Long Goodbye," the companion piece to his Oscar-winning short film of the same name. Ahmed composed the album in response to the Brexit movement in the UK, which fatefully coincided with Donald Trump's election in the States. His journey to break free from a country that has never seemed to want him is contextualized through the lens of a toxic relationship. After Britain "breaks up" with Ahmed, he naturally passes through stages of grief like anger and denial, while his family and friends (Mahershala Ali, Mindy Kaling, and Hasan Minhaj, to name a few) deliver nuggets of advice via voicemail interlude.
As a conceptual album, "The Long Goodbye" is absolutely brilliant. Ahmed unpacks colonialism, India's partition, islamophobia, racism and so much more across 9 expertly-composed tracks, each packed with more references and anecdotes than the last. Ahmed (with the help of longtime collaborator Redinho) takes sonic influence from South Asian folk music, the great MCs of the '90s, and the UK rave scene: three incredibly disparate genres that still manage to gel perfectly together. Every part of "The Long Goodbye" is so specific to Ahmed's experience as a man raised in what he calls "a cultural no man's land," born in one country but steeped in the culture of another. It might not feel like he's discussing a universal experience for this reason, but just like "Ms. Marvel," "The Long Goodbye" communicates an issue that so many go through, but might find hard to articulate.
A quick hello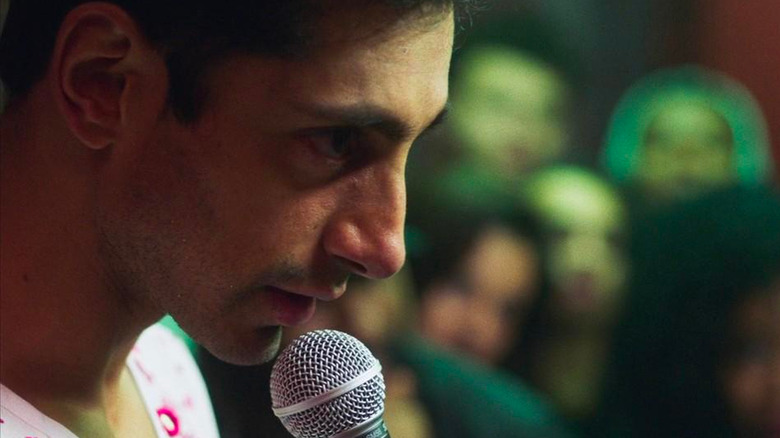 Strand Releasing
Of course, music isn't the only medium Ahmed uses to unpack these issues. The actor-activist has dedicated a number of his projects — the semi-autobiographical "Mogul Mowgli," especially — to addressing the identity issues that ultimately live in anyone torn between two different worlds. He's been one of the most vocal advocates for people of color in film, even launching a fellowship to elevate Muslim filmmakers. He doesn't just talk the talk; he walks it, too. And his walk has paved the way for others just like him to take up more space in the industry. 
"The Long Goodbye" is an album that has helped so many on their journey of self-healing, this writer included. It might be a deep cut for some, but it's an intensely meaningful, even formative, piece of media for others. It's easy to imagine Ahmed's music having a similar affect on Kamala Khan (if the album is, in fact, canon in the MCU). Though he obviously isn't involved with "Ms. Marvel" in the way a lot of fans hoped he'd be, including one of his songs was still a wonderful way to acknowledge all the work that he's done for representation and inclusion in film. 
Plus, it doesn't hurt that "Deal With It" is also just ... a total banger. The series will likely continue to spotlight even more South Asian musicians in future episodes, but it was really nice to kick things off with a nod to such a legend in the making.
"Ms. Marvel" episode 1 is now streaming on Disney+. New episodes will release every Wednesday until the finale on July 13.