Taika Waititi's What We Do In The Shadows Crew Stole Equipment From The Hobbit Set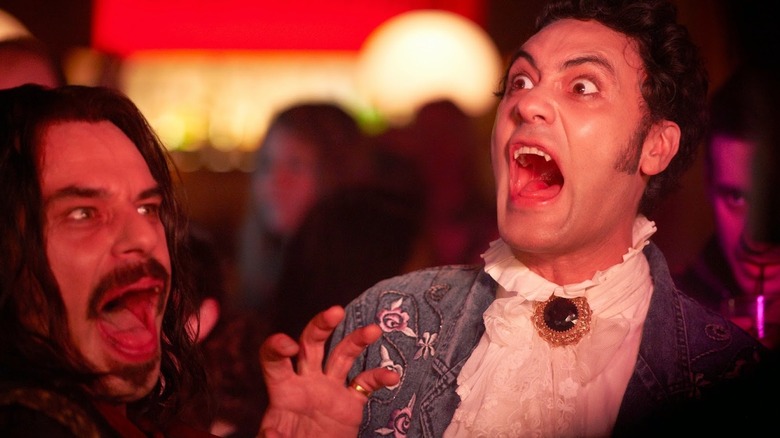 Madman Entertainment
Director Taika Waititi has a brand new film coming out called "Thor: Love and Thunder." Perhaps you've heard of it? Naked thunder god, Marvel, hammers, and stuff? I'm kidding, of course. It's the latest Marvel Cinematic Universe film, starring Chris Hemsworth, Natalie Portman, Christian Bale, and Tessa Thompson. Waititi is also heading into the "Star Wars" universe to do some directing. He's doing pretty well, that Taika. He also gives some of the funniest interviews out there, including the one he just did on "The Late Show with Stephen Colbert." 
Before the hit FX TV series "What We Do in the Shadows" gave us the story of a clan of vampires living on Staten Island in mockumentary form, Waititi and Jemaine Clement co-wrote and starred in a film of the same name, which the series was based on. The 2014 film had a very small budget, and there wasn't a lot of money for building sets. In order to create the house that the origin coven of vampires share, Waititi revealed that he had to do some illegal things — things that would surely scandalize the citizens of Hobbiton.
What he (literally) did in the shadows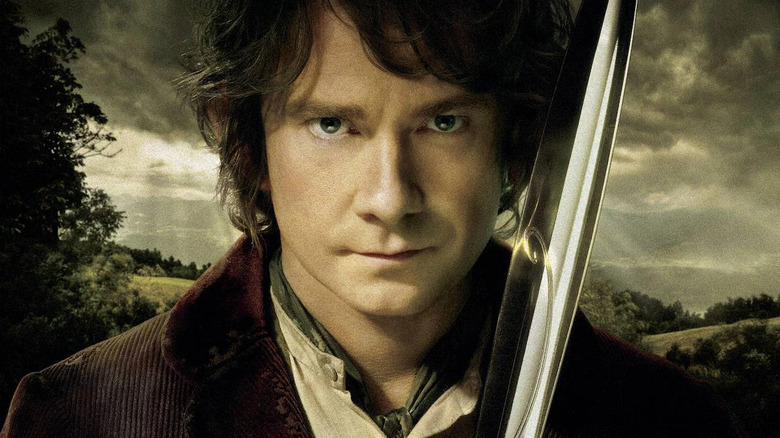 Warner Bros. Pictures
Waititi confessed these Middle-earth crimes to Stephen Colbert, explaining:
"When I did 'What We Do in the Shadows,' when Jemaine and I were shooting that, we didn't have much money to do that film, and 'The Hobbit' had just wrapped. And, so, our production designer — man, I don't know if I should tell this. OK, but I will — our production designer, in the dead of night, took his crew to 'The Hobbit' studios and stole all of the dismantled, broken-down green screens and took all of the timber, and we built a house."
Hey, making an independent film is hard, and finding money to do it is even harder. Plus, production had wrapped on "The Hobbit," so it wasn't like they were using them anyway! I'm not condoning stealing stuff from movie sets, of course, but this is Taika Waititi we're talking about. I feel like once you've signed on to direct a "Star Wars" film, the likelihood of Peter Jackson coming over to put a smackdown on you isn't high. 
Should someone tell Peter Jackson about this?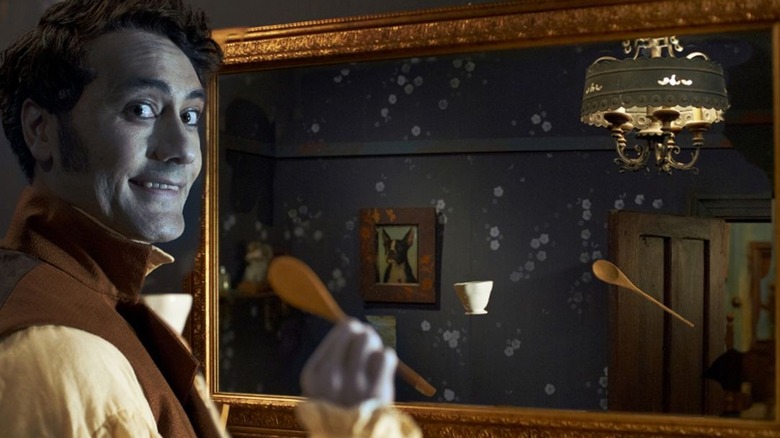 Madman Entertainment
Peter Jackson may not even be aware of the theft. Waititi said, "I had never talked to Peter Jackson about this. I don't know if he knows. I like telling it at parties, that story. But I don't know if he actually knows." 
I mean, he probably does. If you tell a story at enough parties, it does get back to people. Waititi also mentioned that he had some great conversations with Jackson before he directed the last "Thor" film. Being no stranger to low-budget movies himself, I have a feeling Jackson would probably appreciate his willingness (or at least, the production designer's willingness) to go the extra mile, as it were, to make a film.
"Thor: Love and Thunder" will hit theaters on July 8, 2022. Thor rides in a flying boat drawn by goats. I'm very excited to see this.