Thor: Love And Thunder Trailer: Meet The Goats Of The Galaxy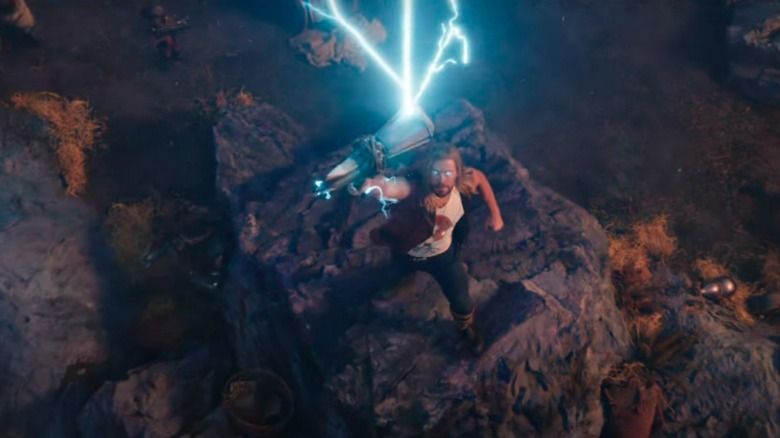 Marvel Studios
Remember those dark days when "Thor: Love and Thunder" was mere months away from release and we'd still hardly seen a second of actual footage from the upcoming Taika Waititi-directed superhero movie? That's long behind us now and Marvel seems keen on making up for lost time, throwing all sorts of featurettes and full-length teasers at us in a carefully-calculated marketing blitz. It's safe to say that mainstream popularity for the God of Thunder has never been higher than it is now, coming off Waititi's thoroughly satisfying course-correction "Thor: Ragnarok" in 2017 and the character's subsequent appearances in both "Avengers: Infinity War" and "Avengers: Endgame."
But where to go from there? At some point, Marvel may have to reckon with the impossible task of constantly one-upping itself from one event film to the next, but it's clear that this strategy continues to pay off in the meantime. "Love and Thunder" will become the studio's unprecedented fourth solo film for a single hero, but he won't be alone. This newest trailer released today emphasizes the team-up we have on our hands: Chris Hemsworth's Thor, the fan-favorite Valkyrie (Tessa Thompson), a returning Natalie Portman as Jane Foster/the Mighty Thor, the Guardians of the freakin' Galaxy, and a pair of cosmic, troublemaking, and extremely loud goats.
What more do you need! Check out the latest footage below.
Thor: Love and Thunder trailer
"There's a maniac who seeks to end us all. I'm putting together the greatest team ever."
We're not sure that we agree with Thor 100% on his police work there, but he's definitely right on the mark when it comes to the most fun team to come together in the MCU to this point in the franchise. Gorr the God Butcher (Christian Bale) is hellbent on eradicating the Norse gods for what has been teased to be extremely sympathetic reasons, which means assembling a formidable team to match that threat. Or, in lieu of that, maybe a cobbled-together assortment of cast-offs who will hopefully prove to be more than the sum of their parts.
Enter Thor, his ex-girlfriend and Mjolnir-wielding Jane, his best friend Korg (Taika Waititi), the tough-as-nails Valkyrie, and the Guardians of the Galaxy, who seem to be playing a more significant role (at least to start with) than we may have thought in this fourth "Thor" film. In any case, this trailer is jam-packed with all sorts of new footage, teasing shots of those planet-sized Celestials, a better look at various action sequences, and all the usual tongue-in-cheek humor we've come to expect from Waititi. Again, what more could anyone need to see before buying a ticket for this next cosmic adventure?
"Thor: Love and Thunder" will come to theaters on July 8, 2022.