What We Do In The Shadows Season 4 Trailer: Vampiric Chaos Reigns On Staten Island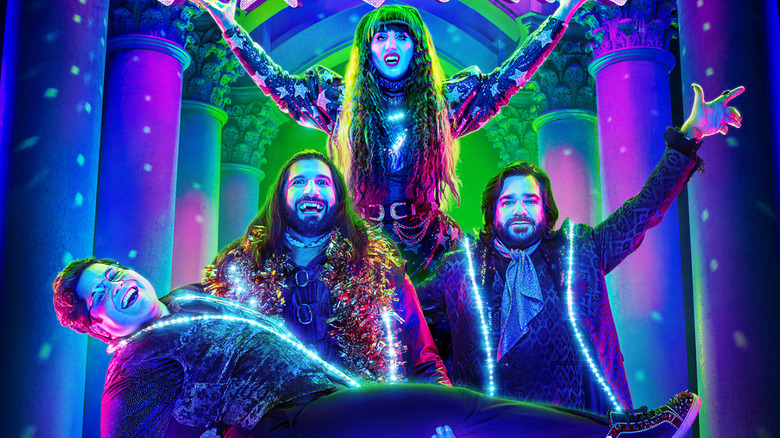 FX
For all the deliberate attempts at launching a successful shared universe that came in the wake of the Marvel Cinematic Universe, who could've predicted that "What We Do in the Shadows" would accidentally end up doing exactly that? But that's what happened. Between Jemaine Clement and Taika Waititi's original (and still terrific) 2014 horror-mockumentary, its New Zealand spinoff series "Wellington Paranormal," and FX's own "What We Do in the Shadows" TV show, the "Shadows"-verse is not only real, it's also going stronger than ever.
One need look no further than the newly-unveiled trailer for "What We Do in the Shadows" season 4 for the proof. This season finds everyone's favorite dysfunctional vampires from Staten Island back together and disorderly as ever, having reunited after parting ways in typical chaotic fashion at the end of season 3. Suffice it to say there's a lot happening in this trailer — enough so that it's almost possible to overlook just how creepy-weird baby Colin Robinson looks with Mark Proksch's face digitally pasted onto the young actor playing the character. (Emphasis on almost.)
What We Do in the Shadows season 4 trailer
There's a lot to unpack in this trailer, so let's begin with the official synopsis for "What We Do in the Shadows" season 4:
This season, the vampires return to Staten Island to find their mansion on the verge of total structural collapse — and with no money to repair it. While Nandor's eternal search for love finally yields results, Nadja finally realizes her dream of opening the hottest vampire nightclub in the Tri-State Area. Laszlo struggles with the question of nature versus nurture as he tries raising Baby Colin to be anything other than an energy vampire. And even Guillermo finds himself on a powerful emotional track that touches on his love for his family, and for others.
The trailer highlights most of these plot threads, starting with Laszlo (Matt Berry) being informed by a reluctant Guillermo (Harvey Guillén) that baby Colin Robinson is a fan of musical theater. ("What have the dark lord wrought?!") There are also glimpses at Nandor (Kayvan Novak) and his wayward search for love, which includes awkward first dates ending in death and Nandor using a genie to bring his 37 dead wives back from the grave. (In a shocking twist, this proves to be a bad idea.) At least Nadja (Natasia Demetriou) seems to be having a good time, between her launching her nightclub, waxing on about the buttery flavor of rich humans, and showing off her free-style rapping skills.
With FX having already renewed "What We Do in the Shadows" for seasons 5 and 6, it seems the network is pretty confident the series hasn't lost a step with its latest outing. You can check season 4 out for yourselves when it premieres on July 12, 2022.