Lyle, Lyle, Crocodile Trailer: Shawn Mendes Stars As A Singing Crocodile Aka America's Paddington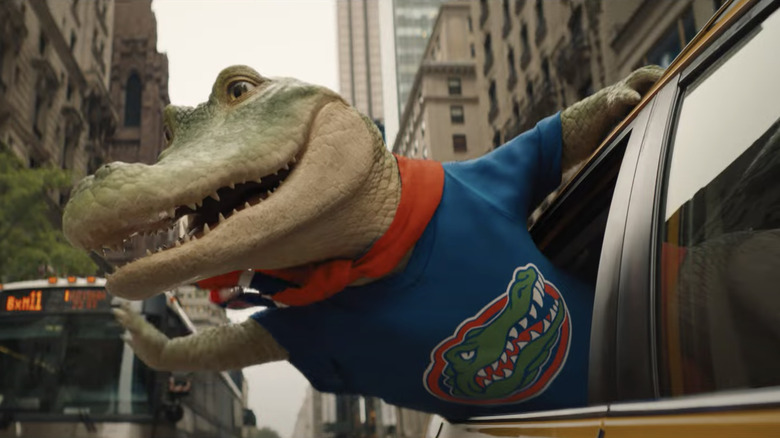 Sony Pictures
"Lyle, Lyle, Crocodile" is too much of a superstar to be contained in the pages of a book. The titular reptile got his start in the best-selling book series by Bernard Waber, but now he's making the leap from page to screen with a new film from Sony that stars none other than pop sensation, Shawn Mendes. As the voice of the much-beloved crocodile, Mendes will sing his way through a new adventure in the musical comedy that touts original music written by the songwriting team, Benj Pasek & Justin Paul — whose work has inevitably gotten stuck in your head thanks to "The Greatest Showman," "La La Land" or "Dear Evan Hansen." Coming along for the journey (and hopefully harmonizing with their new crocodile friend), the film also stars Constance Wu, Scoot McNairy and Javier Bardem.
At this point, there's basically an entire cinematic universe about small children befriending giant animals that are objectively terrifying (big red dog? Run, Mary Elizabeth!) but contextually cute. Lyle will be excluded no more! In just a few months, it'll be his turn to twirl down the streets of Manhattan and either charm or terrify the masses with his Canadian pop star voice. "Lyle, Lyle, Crocodile" comes from directors Will Speck and Josh Gordon, the duo behind "Office Christmas Party," with a screenplay penned by Will Davies ("How To Train Your Dragon," "Flushed Away"). Steel yourself to see a crocodile sing — then check out the trailer below!
Lyle, Lyle, Crocodile trailer
Folks, it is so profoundly weird to hear Shawn Mendes' voice come out of a crocodile's mouth. The fact that said crocodile is based on a character from a famous childhood picture book makes the situation 100 times stranger, but who am I to complain about a singling crocodile?
"Lyle, Lyle Crocodile" follows the musical misadventures of a talking animal who befriends a family that's bubbling with tensions and doesn't realize how desperately they need his warm-hearted friendship to hold them together. Along the way, their journey will include an eccentric outsider and a grumpy neighbor who gets in the way of the fun ... Huh. Upon revising these very familiar plot mechanisms, I shall henceforth refer to this movie as America's "Paddington." Naturally, instead of a fluffy, British bear who enjoys jars of marmalade, America's tale stars a scaly, pop-singing reptile whose snack food of choice is *checks notes* caviar.
Lyle, the Croc of the people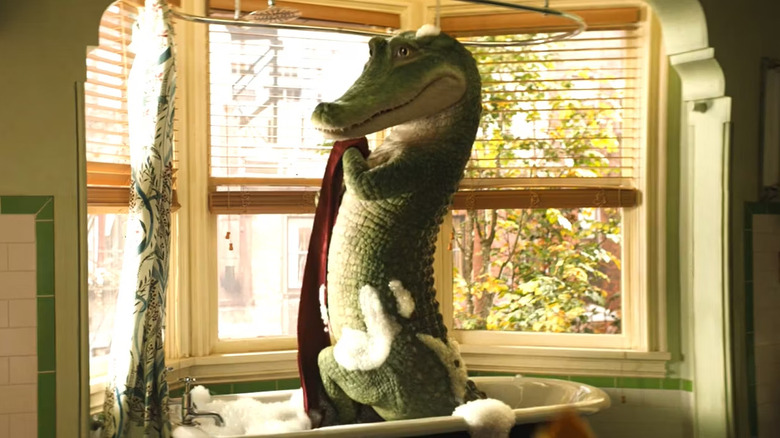 Sony Pictures
The events of the film are apparently kickstarted when America's Sweetheart, Lyle, breaks into the Primm family's bathtub to loudly sing and scrub his scales. This croc knows no boundaries, but personal invasion aside, he still manages to befriend the Primm family and particularly their son, Josh (Winslow Fegle), who was struggling to adapt to his new school in New York. Nothing like a crocodile bestie to help soothe his fears of fitting in! 
Joining the fun is Javier Bardem as Hector P. Valenti, Lyle's eccentric owner who has a penchant for song, dance, and funky patterns. And rest assured, if this isn't already filling you with joy then you can always side with Mr. Grumps, the Primms' neighbor played by "Stranger Things" star Brett Gelman.
From the looks of it, "Lyle, Lyle, Crocodile" has something for everyone! The kids will go for Shawn Mendes, the adults will be thrilled to see Javier Bardem, and the rest of us cool cats will be there to count the "Paddington" parallels. There's still at least a year to go before "Paddington 3" provides our next serotonin boost, and if a singing crocodile is the closest we can get, then we shall do our best.
"Lyle, Lyle, Crocodile" comes to theaters on October 7, 2022.
When the Primm family (Constance Wu, Scoot McNairy, Winslow Fegley) moves to New York City, their young son Josh struggles to adapt to his new school and new friends. All of that changes when he discovers Lyle – a singing crocodile (Shawn Mendes) who loves baths, caviar and great music-living in the attic of his new home. The two become fast friends, but when Lyle's existence is threatened by evil neighbor Mr. Grumps (Brett Gelman), the Primm's must band together with Lyle's charismatic owner, Hector P. Valenti (Javier Bardem), to show the world that family can come from the most unexpected places and there's nothing wrong with a big singing crocodile with an even bigger personality.