Movies Like La La Land You Really Need To Check Out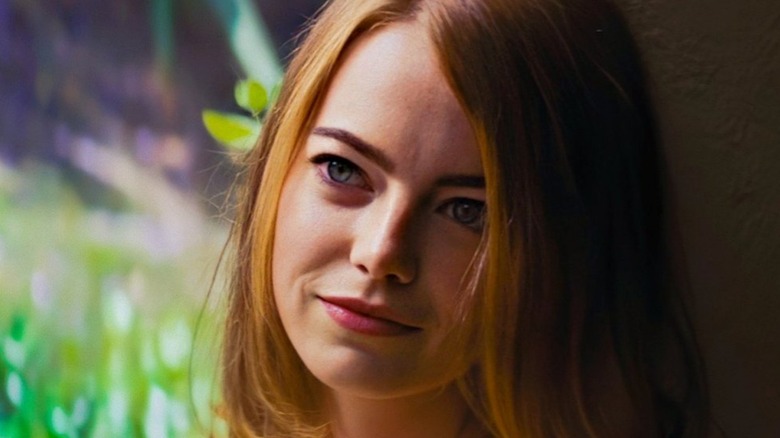 Lionsgate
Damien Chazelle's third feature film, "La La Land," was a surprise to everybody, from critics to the audience, when it came out in 2016. Chazelle had never directed a mainstream musical before, and yet there he was, delivering what is now considered a masterpiece of the genre. 
"La La Land" follows two young artists in Los Angeles desperate for their big break: aspiring actress Mia (Emma Stone) and jazz pianist Sebastian (Ryan Gosling). While their first meeting puts them at odds with each other, Mia and Sebastian eventually fall in love and encourage each other to move forward with their careers. They influence each other with their own ideas of success, which leads them both to be unhappy with the direction they've taken on the other's advice. "La La Land" takes an unexpected turn by the end, with a bittersweet conclusion: What are the characters willing to sacrifice to achieve their dreams and artistic peak? While neither Stone nor Gosling are known for their voice or dance skills, they manage to pull off great performances with impressive chemistry and physicality.
From the music to the choreography and costume design, everything in "La La Land" screams nostalgia for old-timey musicals and the Golden Age of cinema. Chazelle is not shy in his declaration of love for the genre, and the movie contains endless references to classic films such as "Singin' in the Rain," "Rebel Without a Cause," and many more. While definitely modern, "La La Land" has that precious quality that most classic musicals exhibit: It doesn't take itself too seriously, and delves into the romantic whimsy and joy typical of movies where characters burst into song and dance whenever emotions run high. Here are 12 movies you'll enjoy if you loved "La La Land."
Singin' in the Rain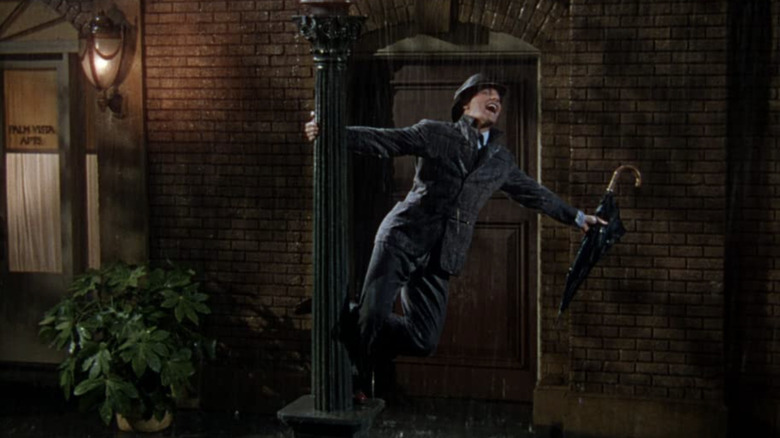 Metro-Goldwyn-Mayer
When you think of classic musicals, "Singin' in the Rain" immediately comes to mind. The 1952 movie, starring Gene Kelly, Debbie Reynolds and Donald O'Connor, is often viewed as the perfect synthesis of what movie musicals are all about. It was also a major inspiration for Damien Chazelle and the rest of the cast while filming "La La Land."
"Singin' in the Rain" follows silent movie star Don Lockwood (Kelly) as he takes on the daunting challenge of graduating to "talkies." The only problem that is his usual costar, Lina Lamont (Jean Hagen), has a terribly raspy voice and strong Brooklyn accent. Don and his best friend Cosmo (O'Connor) come up with an idea and have the studio hire newcomer Kathy Selden (Reynolds) to talk and sing over Lamont. Don and Kathy fall in love while working together, while Cosmo serves as their loyal third wheel.
The movie is full of beautifully-choreographed dance scenes and catchy songs. "Singin' in the Rain" is best known for two iconic tunes: the eponymous song, which sees Kelly dancing and singing with an umbrella under a heavy downpour in the street (with the famous swing around a lamp post), and the joyful anthem "Good Morning."
Whiplash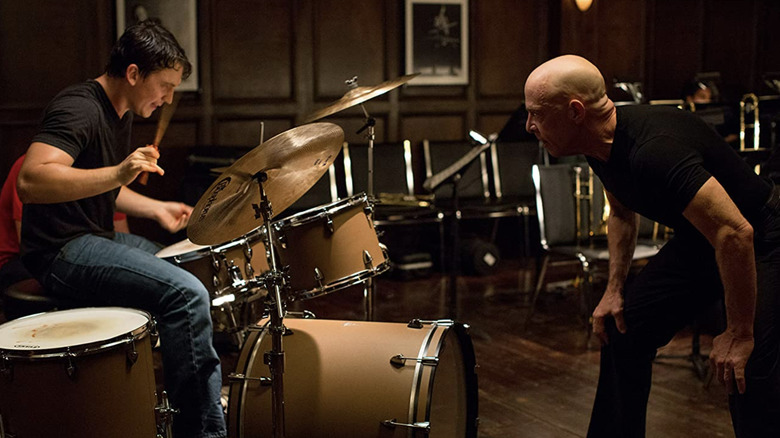 Sony Pictures
If you loved how "La La Land" was directed, with its emotional use of music and Sebastian's fierce love for jazz, then you'll love director Damien Chazelle's preceding film, "Whiplash." The movie tackles themes similar to those in "La La Land" and its quest for artistic perfection: How far are we willing to go to achieve said perfection and attain success? In "Whiplash," passion turns into obsession, and teaching turns into abuse.
Andrew (Miles Teller) is a 19-year-old studying music at a prestigious academy; big band jazz drumming is where his ambitions lie. Fletcher (J.K. Simmons) is the ruthless conductor in charge of the band. He's a perfectionist, and he pushes the students who are part of his band to the fullest of their potential. Fletcher sees promise in Andrew, and hounds him in practice until Andrew's hands bleed; in an attempt to reach a peak of artistic performance, Fletcher is ready to do anything, including hurling chairs at and verbally degrading Andrew in front of the other students. "Whiplash" is a shocking film about how a music prodigy is forged through practice, not just innate talent, and the pitfalls of pursuing perfection.
The Band Wagon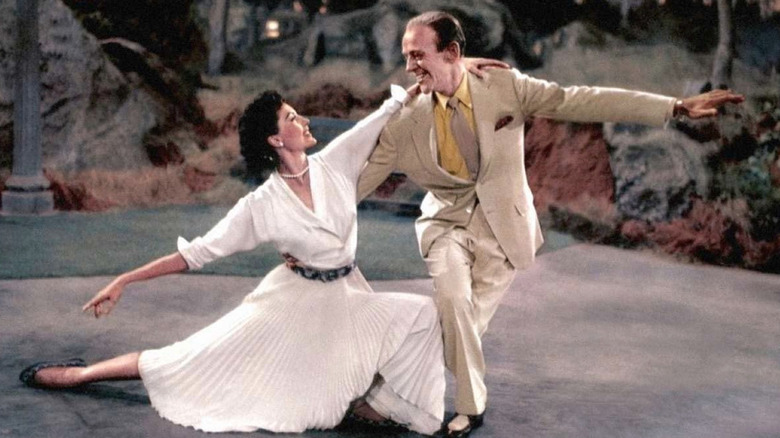 Metro-Goldwyn-Mayer
"The Band Wagon" is the other side of the coin of "Singin' in the Rain." Also considered to be one of the best musicals, "The Band Wagon" explores backstage drama on Broadway in a romantic, slightly bittersweet way, and stars the legendary Fred Astaire. Chazelle also took inspiration from this film for "La La Land," in particular the choreography of the first dancing and singing scene between Mia and Sebastian.
"The Band Wagon " follows Tony Hunter (Astaire), an older star of both stage and screen musicals who is trying to revive his career after a few years out of the spotlight. He gets a part in a reimagining of the legend of Faust, while prima ballerina Gaby Gerard (Cyd Charisse) is cast to star opposite him. There is immediate tension between the two: Gaby feels musicals to be beneath her but is intimidated by her more experienced co-star, and Tony is insecure about his own talent when faced with such a youthful, talented dancer. Ultimately, their passion for their craft brings them closer. 
"The Band Wagon" is a great look behind the scenes. It closely mimics the reality of entertainment in that era, and depicts all of the hard work that went into such productions through the romantic lens of a musical.
Rebel Without a Cause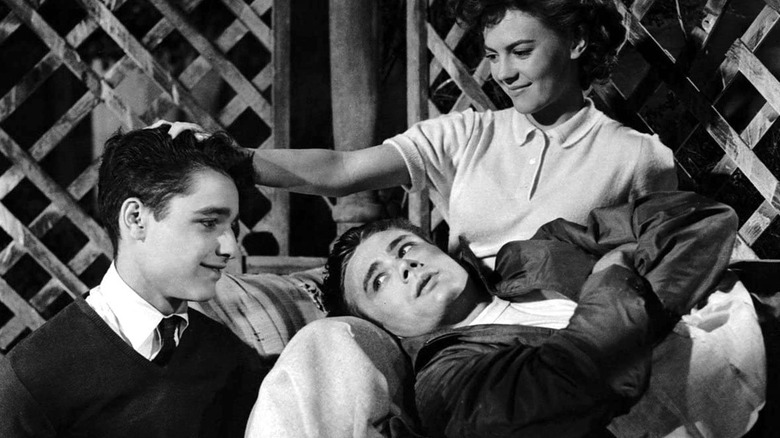 Warner Bros.
In a very straightforward reference, Mia and Sebastian have a date at the Rialto theater to watch "Rebel Without a Cause"; when the film burns midway through, they head to the Griffith Observatory, which they'd just seen in a scene from the James Dean movie. The ensuing scene at the Observatory, where they're seen dancing in the planetarium, is unforgettable. Those who've seen "Rebel Without a Cause" know the significance of that location: It's the centerpiece of the film, where crucial scenes play out.
One of only three movies starring James Dean, "Rebel Without a Cause" is the story of teenage troublemakers Jim (Dean), Plato (Sal Mineo), and Judy (Natalie Wood), all living with difficult situations at home. Freshly moved to town, Jim befriends Plato and falls for Judy after meeting them both at the police station after being arrested. Unluckily, Judy is already the girlfriend of bully Buzz (Corey Allen), leader of a gang of delinquents. Trouble begins when Buzz challenges Jim to a knife fight, and then to a race by a cliff. In a freak accident, Buzz is trapped in his car and dies as it plunges towards the sea. Jim, Judy, and Plato then form an awkward trio as they try to deal with the aftermath, as Buzz's old gang wants revenge, and their individual troubles at home begin to escalate.
West Side Story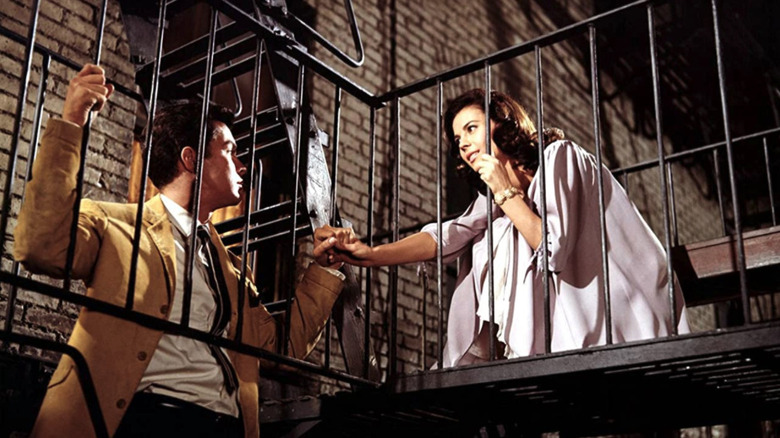 United Artists
"West Side Story" is the thematic grandchild of the beloved Shakespeare drama "Romeo and Juliet," and another great inspiration for Chazelle's "La La Land." A classic Broadway play turned into a movie in 1961, "West Side Story" is known for its sublime dance routines and strong music.
Set in New York's Upper West Side neighborhood, which is divided by violence between the white Jets and the Puerto Rican Sharks, "West Side Story" follows Maria (Natalie Wood), a young Puerto Rican woman whose brother Bernardo (George Chakiris) is the leader of the Sharks. She's in an arranged betrothal to her brother's best friend, but falls for Tony (Richard Beymer) at a dance where both gangs are present. The only problem: Tony is the best friend of the Jets' leader Riff (Russ Tamblyn). The story of the star-crossed lovers pits the gangs against each other, leading to tragic casualties. While it's a bit sappy, and the dialogue isn't the most inspired, "West Side Story" remains a classic musical with exciting songs and impressive choreography.
The Umbrellas of Cherbourg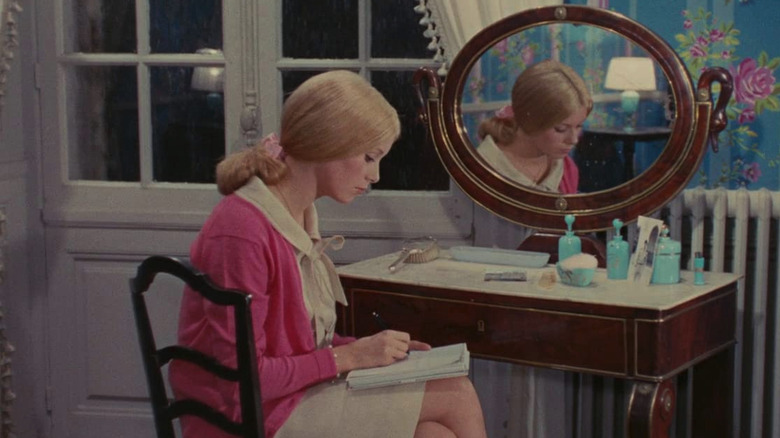 Roissy Films
Much like "La La Land," "The Umbrellas of Cherbourg" is a colorful musical with a bittersweet ending. Its color palette heavily influenced Chazelle, along with its realistic portrayal of love, which doesn't always end with a "forever after."
"The Umbrellas of Cherbourg," which was released in 1964, was French actress Catherine Deneuve's breakout role. In it, she stars as Geneviève, a teenager working in her mother's struggling umbrella shop. Geneviève falls in love with a handsome mechanic named Guy (Nino Castelnuovo), who is drafted for the war shortly after they begin dating. He barely writes to her, which breaks her heart even more when she learns that she is pregnant. Geneviève's mother encourages her daughter to marry rich jeweler Roland (Marc Michel), who has fallen in love with her and is willing to marry her despite her pregnancy; the match would also help the family save the umbrella shop. The movie is saturated with vibrant pastel colors, and has a continuous score, making "The Umbrellas of Cherbourg" a truly unique musical.
Dreamgirls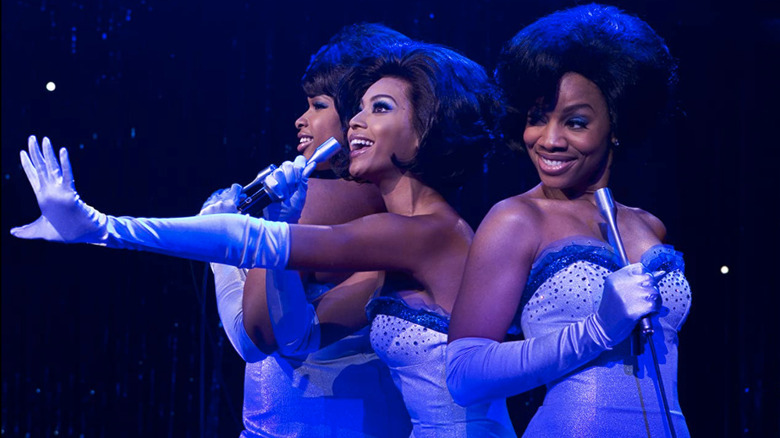 Paramount Pictures
Like many of the movies on this list, including "La La Land," "Dreamgirls" gives a great peek behind the scenes of the entertainment industry and outlines exactly what's needed to succeed. Hint: Raw talent alone isn't going to cut it, and determination (or stubbornness) is paramount. "Dreamgirls" also boasts a star-studded cast that includes Beyoncé, Eddie Murphy, Jamie Foxx, and Jennifer Hudson.
Inspired loosely by the real story of Diana Ross and the Supremes, "Dreamgirls" follows three Detroit singers, Effie White (Hudson), Deena Jones (Beyoncé) and Lorrell Robinson (Anika Noni Rose) as they are hired to sing backup for a Motown star named Jimmy "Thunder" Early (Murphy) before launching their own group, "The Dreams." Fame and ambition quickly catch up to the three ladies, sowing conflict between them as they are manipulated by their manager, Curtis Taylor Jr. (Foxx). Director Bill Condon conveys the pitfalls of success for these Black artists as they walk the thin line between commercial viability and self-expression while staying true to their roots.
Moulin Rouge!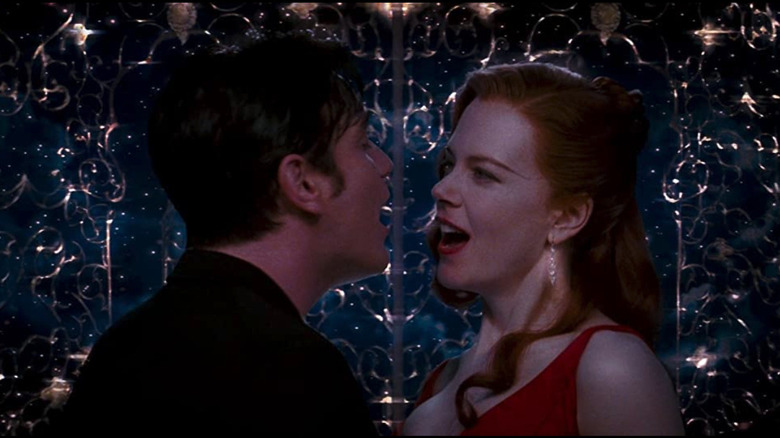 Twentieth Century Fox
For those who loved the scene in "La La Land" where Mia and Sebastian meet at the Griffith Observatory and dance in the planetarium as though weightless, "Moulin Rouge!" is definitely a must-watch, and not only for its very similar scene of dancing in the stars. The director, Baz Luhrmann, delivers a zany, over-the-top musical with "Moulin Rouge!," which, similar to "La La Land," is devoid of self-consciousness, with inspired mashups that fuse the pop hits of the late '90s and early '00s with more classic musical numbers as well as a cast full of colorful characters.
"Moulin Rouge!" follows young English writer Christian (Ewan McGregor) as he descends onto Paris in search of inspiration. Christian is brought to the famous Moulin Rouge for his very first cabaret show, which is where he first meets, and falls head over heels for, the beautiful courtesan Satine (Nicole Kidman). He seduces her with his prose, but their love story is doomed from the start, as Satine has been promised to the wealthy Duke of Monroth (Richard Roxburgh) by the Moulin Rouge's owner, Harold Zidler (Jim Broadbent), in order to save the cabaret from bankruptcy. 
Christian stages a play with Satine as its star in order to stay close to her and foil Zidler's plans, while unbeknownst to him, Satine is dying from tuberculosis. Both McGregor and Kidman deliver strong vocal performances and display undeniable chemistry. "Moulin Rouge!" is over the top, and cynical viewers might be displeased, but for those able to suspend their disbelief and dive head first into Luhrmann's absinthe-soaked, hopelessly romantic musical, the reward is substantial.
Inside Llewyn Davis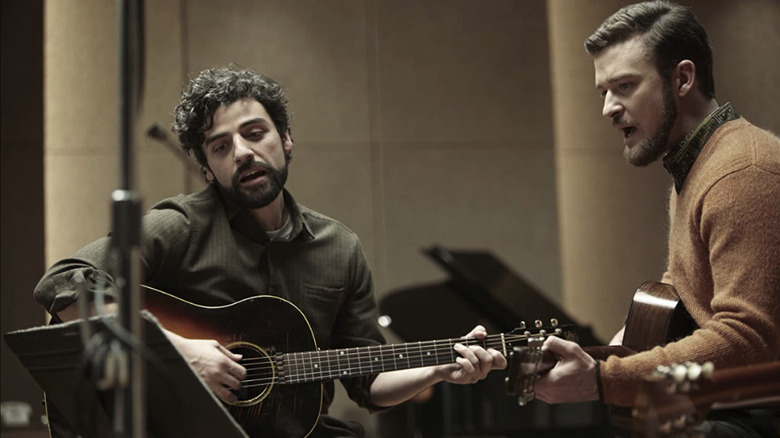 Sony Pictures
While the Coen brothers' 2013 movie "Inside Llewyn Davis" might not have been a direct influence on Chazelle, it shares similar themes about an artist's passion, struggles, and ultimate failure. The main character, Llewyn Davis (played by a moody Oscar Isaac), shares the same unrelenting and opinionated passion for folk music that Sebastian has for jazz. While not strictly a musical, but rather a movie about music, the film's musical numbers all have great significance and inform the character's journey through the cold, sepia-toned winter land.
Llewyn Davis is a young folk singer eager to kickstart his career, which was cut short by the suicide of his former partner, making him a solo act. He meanders through 1961's New York City, crashing on friends' couches and searching for gigs. Both of these things become increasingly difficult, especially when he learns he impregnated his good friend Jean (Carey Mulligan), who's married to another folk singer, Jim (Justin Timberlake). More big names are part of the cast, including John Goodman and Adam Driver. The film is moving and dryly funny, and in true Coen fashion offers its titular character little chance for respite.
Hairspray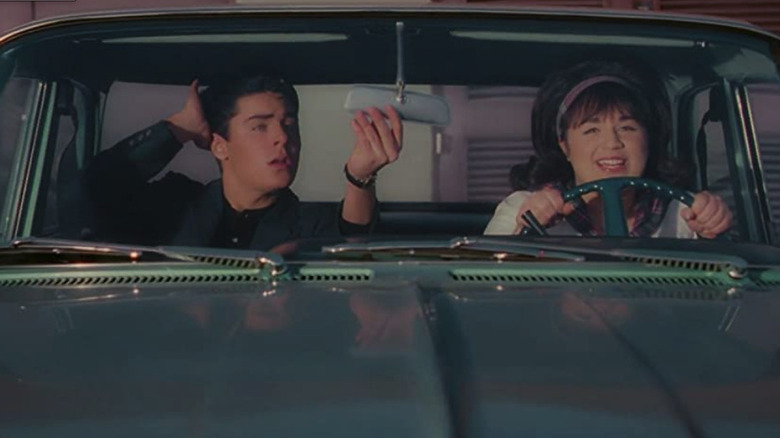 Newline Cinema
Fun, colorful, and unassuming, just like "La La Land," "Hairspray" is the kind of happy-go-lucky musical you watch to lift your spirits. The 2007 movie is a remake of the 1988 John Waters original, which was also adapted into a hit Broadway show, and it tackles pretty serious subjects like segregation without missing a beat. It has a star-studded cast that includes John Travolta, Christopher Walken, Michelle Pfeiffer, Zac Efron, Queen Latifah, and more.
Set in Baltimore in 1962, "Hairspray" follows young Tracy Turnblad (Nikki Blondsky), who loves to dance and longs to be on the local TV station's afternoon teen dance show, "The Corny Collins Show" (hosted by a radiant James Marsden as said Corny Collins); she also happens to have a huge crush on the show's star, Link Larkin (Efron). Her chances are jeopardized when she befriends Black teenagers during detention and campaigns for more equality at the station: the show only allows Black teenagers on the air once a month, thanks to the station's racist manager Velma Von Tussle (Pfeiffer). Tracy's parents Wilbur (Walken) and Edna (Travolta, preserving the musical's tradition of having this character be portrayed by a man in drag) struggle to understand her motivations, but support their daughter in her endeavours regardless.
The Artist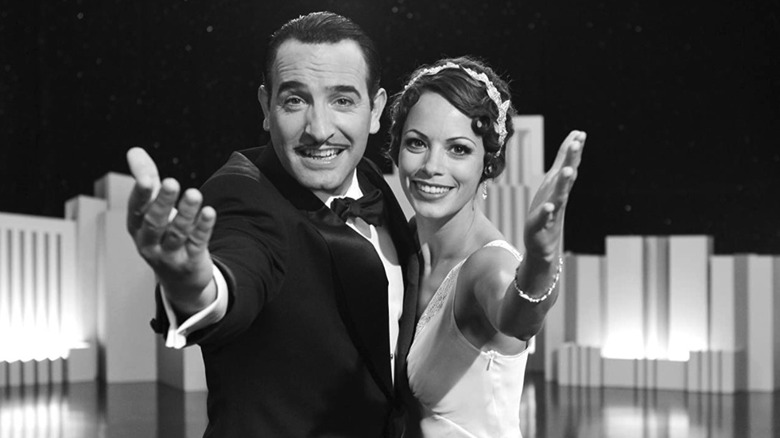 The Weinstein Company
Just like "La La Land" is a homage to musicals, the French movie "The Artist" is a love letter to the very beginning of cinema: black and white silent movies. It also takes inspiration from "Singing' in the Rain" with its storyline. French actor Jean Dujardin, who stars as George Valentin, is reminiscent of Gene Kelly. He has similar ease and charisma in front of the camera, and displays amazing physicality, which is crucial in a silent movie.
Valentin is a silent movie star who is having trouble graduating to talkies. He believes sound is just a fad, and finances his own silent film to prove it. Unfortunately, it fails; ruined, he's kicked out by his wife, and his apartment burns down as he's watching his old movies. He's saved by Peppy Miller (Bérénice Béjo), a young dancer-turned-actress whom he helped catapult to fame a few years prior after she bumped into him at a premiere. "The Artist" is not a totally silent movie — not only does it have music, but sound is used at key moments, revealing Valentin's struggle and eventual acceptance of the new technology.
The Greatest Showman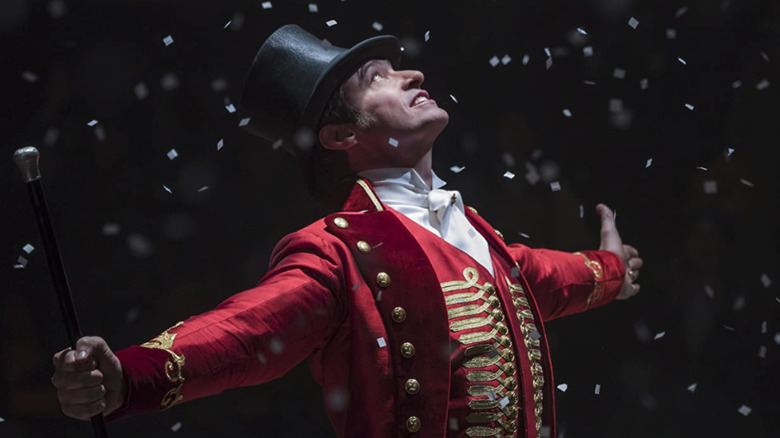 Twentieth Century Fox
If you were pleasantly surprised by Emma Stone and Ryan Gosling's talent at both dancing and singing, then you'll be equally surprised to see Tony-winner Hugh Jackman's talents revealed in "The Greatest Showman." It also happens that "La La Land" composers Benj Pasek and Justin Paul also worked on this musical gem.
Based on the story of P. T. Barnum and the founding of the Barnum & Bailey Circus, "The Greatest Showman" stars Jackman as Barnum as he builds his circus around freak performers. He hires playwright Phillip Carlyle (Zac Efron) to create a show around the talent; in the process, Phillip slowly falls for a Black trapeze artist, Anne Wheeler (Zendaya), even though society frowns upon mixed-race romances. The film also stars Michelle Williams as Barnum's wife, Charity Hallett-Barnum, and Rebecca Ferguson as Jenny Lind, a famous Swedish singer known as the "Swedish Nightingale." While it glosses over Barnum's real-life huckstery, "The Greatest Showman" is still an immensely entertaining musical full of earnest performances and show-stopping musical numbers.