VOTD: Explore The Various Musical Tributes And Homages From 'La La Land'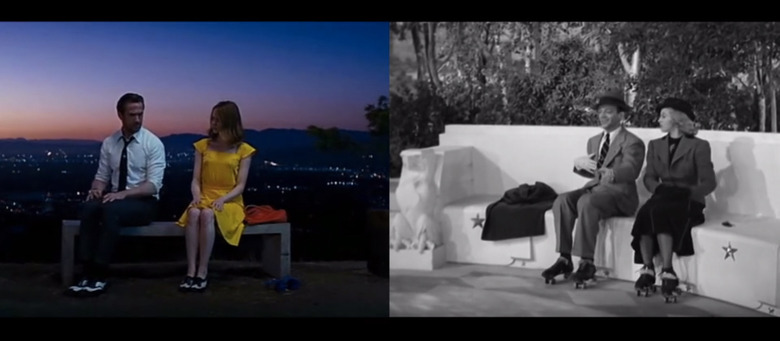 When the Academy Awards are presented on February 26 on ABC, we'll see how many awards La La Land can take home out of the record-setting 14 nominations the film received earlier this week. If you haven't seen the movie yet (it's my favorite of 2016), it's playing in theaters everywhere and you need to see it immediately.
After you see La La Land (go ahead, we'll wait), you might want to check out a video put together by editor Sara Preciado, who took the time to create a side-by-side video with scenes from the 2016 musical compared to the classical musicals that director Damien Chazelle was trying to emulate.
Watch the La La Land movie references after the jump.
Some of the obvious, abundant homages include Singin' in the Rain and West Side Story, though others that more casual musical fans may not be familiar with include The Young Girls of Rochefort, Shall We Dance and The Umbrellas of Cherbourg. Other references you may have missed (which may not necessarily be intentional) include non-musicals like Boogie Nights and Le Ballon Rouge.
Again, La La Land is in theaters everywhere right now, and despite the backlash that has started, it's still one of the best movies of the year. If you happen to not like it, just be careful, because you don't want to end up arrested for not loving it like Aziz Ansari did last weekend. And be sure to tune in to see if La La Land wins all the awards at the Oscars when they're broadcast on February 26 on ABC.