Emma Stone And Ryan Gosling Sparkle In Damien Chazelle's 'La La Land' [TIFF Review]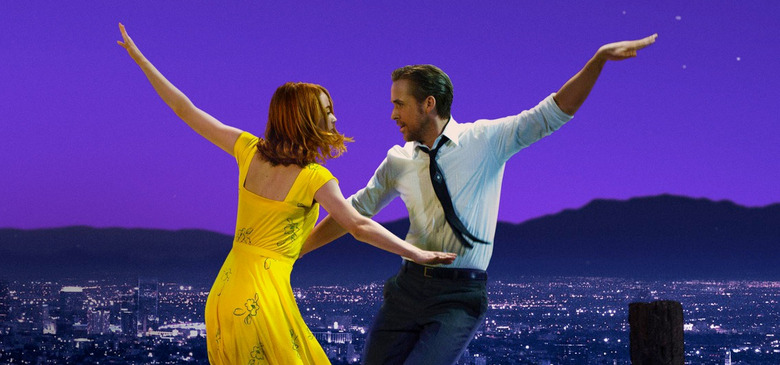 "They don't make 'em like this anymore" is a frequent lament when it comes to movies, but it couldn't be truer in the case of La La Land, an unabashedly old-fashioned musical directed by Whiplash's Damien Chazelle. Set in contemporary Los Angeles — with just enough modern-day flourishes to remind you that this is a movie made and set in the 2010s, not the 1950s — La La Land follows a struggling pianist and an aspiring actress who fall in love but find their separate dreams threatening to pull them apart. It's a story as old as Hollywood and jazz, and Ryan Gosling and Emma Stone feel like a pairing for the ages.
Angie Han's La La Land Review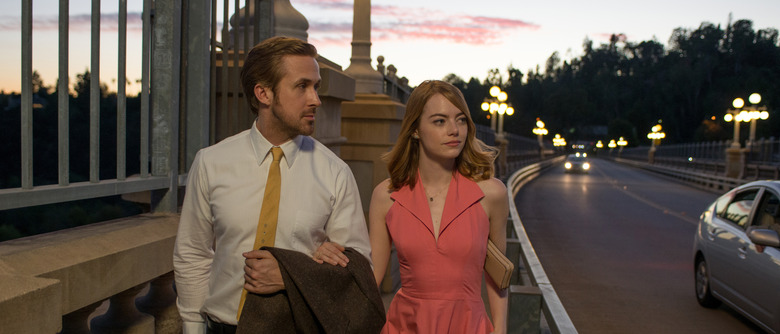 The film opens on a sight that'll be all too familiar to anyone who's visited the city: hundreds of cars stuck in gridlock under the bright California sun. The camera moves through all different kinds of vehicles listening to all different kinds of music, and then stops on a woman singing to herself... which then leads to a full-fledged song-and-dance sequence, with performers popping out of cars to twirl in the streets and jump over the hoods. The number is La La Land in a nutshell — a constant push-pull between romantic fancy and mundane reality. It's one of the most joyful sequences I've seen this year, and it establishes right away that although we've never seen Chazelle direct a musical before, we're in good hands here.
We first get to know Mia, an unassuming barista at a studio lot coffee shop. She's come from small-town Nevada to chase her Hollywood dreams, but so far hasn't had much luck. Chazelle has a lot of fun satirizing Hollywood, with more affection than venom. Every audition she goes to is filled with casting directors who can't be bothered to look up from their phones long enough to watch her perform, and other aspiring actresses who look just like her but better. She goes out for TV shows likened to "Dangerous Minds meets The O.C." and meets a screenwriter eager to discuss his new script, which he describes as "Goldilocks and the Three Bears from the perspective of the bears." (Somewhere, some studio exec who's just seen La La Land is figuring out how to make these fictional projects a reality.)
Sebastian, meanwhile, is eking out a living playing piano for a restaurant. He hates the corny Christmas jingles he's been hired to play, but his boss (J.K. Simmons) refuses to let him play the jazz music that is his real passion. Sebastian is a little pretentious and a lot romantic, which means Gosling is just about perfect for the role. He bemoans the fact that a classic jazz bar in his neighborhood has been turned into a samba/tapas place ("pick one," he grumbles) and dreams of buying it himself to reopen as a classic jazz bar called Chicken on a Stick, as a reference to Charlie Parker.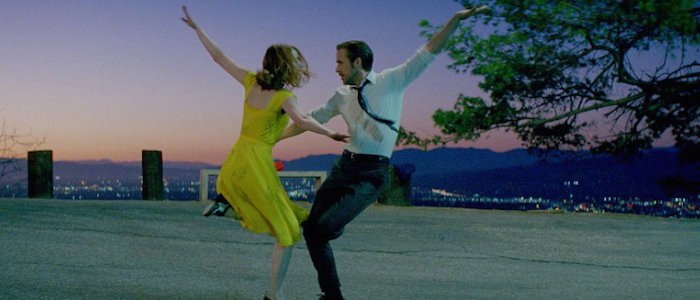 Neither is especially interested in finding love and in fact their first couple of encounters are less than swoon worthy. But eventually, of course, they realize they share an attraction that can't be denied. Gosling and Stone prove that their crackling chemistry in Crazy, Stupid, Love. was no fluke — as in that movie, Stone makes Gosling a more likable guy by piercing through his facade with disarming openness, while Gosling reflects her radiance back at her. If someone, somewhere, wanted to make a dozen more movies with these two as the romantic leads, I'd probably line up for every single one.
The first half of La La Land is more colorful and upbeat. Mia and Sebastian's careers aren't really going anywhere, but they're in the first flush of true love. Los Angeles is a little bit grimy, sure — you can see old oil stains on the asphalt even as beautiful women are singing and dancing down them — but it's a place of magic. Reminders of foolish dreamers past loom large over every corner, in the form of posters, photographs, billboards, and murals of classic Hollywood stars and jazz legends.
Things get a little more muted and poignant in the second half, as Mia and Sebastian go further down the path of chasing said dreams. La La Land is slightly shakier here. John Legend appears as an old friend of Sebastian's who tells him that "jazz is dying because of people like you" — fans too hung up on nostalgia to try anything new and embrace the "revolutionary" nature of the genre — but the film drops that compelling discussion in favor of more nostalgia. And the narrative tends to favor Sebastian over Mia. It's not a dealbreaker, but considering that La La Land (not unlike Whiplash) is in some ways about the price we pay to pursue our passions, the theme might have hit a bit harder if Mia had had a little more agency concerning her own artistic career.
Still, it all comes together in a deliciously bittersweet epilogue that combines the starry-eyed fancy of the first half with the tougher reality of the second half. The music throughout is aces. Standouts include the opening number, "Another Day of Sun," which gets the film off to a rousing start, and the third-act ballad "Audition (The Fools Who Dream)" is a true showstopper. The latter is sparsely staged — most of it is just a closeup of Stone's face — but in the moment she brings the house down with the power of her emotion. On my way home from the screening, I caught myself humming the main theme, the wistful "City of Stars." And at that moment, Toronto felt just a little bit more magical.
/Film rating: 8.5 out of 10