'The Greatest Showman' Featurettes: The 'La La Land' Composers Have Outdone Themselves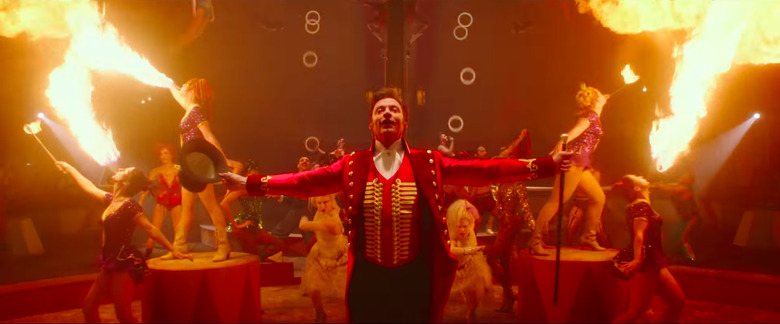 While there may be a lot of mystery surrounding whether The Greatest Showman is any good or not — the review embargo remains while the movie swoops up surprise Golden Globe nominations for best comedy/musical and best actor — there is no mystery to the fact that this is a straight-up musical.
And these new The Greatest Showman featurettes are here to remind you of that, offering you plenty of clips of Hugh Jackman buoyantly dancing to the songs written by the acclaimed composers of La La Land.
There's a lot of hyperbole going on in The Greatest Showman — the most obvious being the title. But it's trickled down to all aspects of the film as well, with director Michael Gracey claiming "What [composers Benj Pasek and Justin Paul] have created, it's the best work they've ever done." Since these are the composers behind the Oscar-winning La La Land and the Tony Award-winning Dear Evan Hansen, that's high praise. But considering The Greatest Showman's recent Golden Globe nomination for best original song, perhaps it's not too far off.
The two featurettes dive into the songwriting process that Pasek and Paul underwent to create the pop-Broadway hybrid songs that are woven throughout The Greatest Showman. Jackman praises the two for writing 24/7, on planes, trains, and supposedly automobiles, and expresses maybe a little disappointment that they got big before The Greatest Showman could have been the ones to "discover" them. But what else would The Greatest Showman marketing team have put on their trailers and posters?
The first featurette explores the radio-friendly songs of The Greatest Showman, including Golden Globe best original song nominee, "This Is Me." The second featurette is all about the difficulty in creating a full-fledged original musical, which Pasek and Paul still tackle with trepidation even after the acclaim for their songs in Dear Evan Hansen. Maybe that's the mark of a great showman.
Here is the synopsis of The Greatest Showman:
Inspired by the imagination of P. T. Barnum, The Greatest Showman is an original musical that celebrates the birth of show business & tells of a visionary who rose from nothing to create a spectacle that became a worldwide sensation.
The Greatest Showman stars Hugh Jackman, Zac Efron, Michelle Williams, Rebecca Ferguson, Keala Settle, and Zendaya. The film hits theaters on December 20, 2017.