Ben Affleck's Real-Life 'Baggage' Was Crucial To His Gone Girl Casting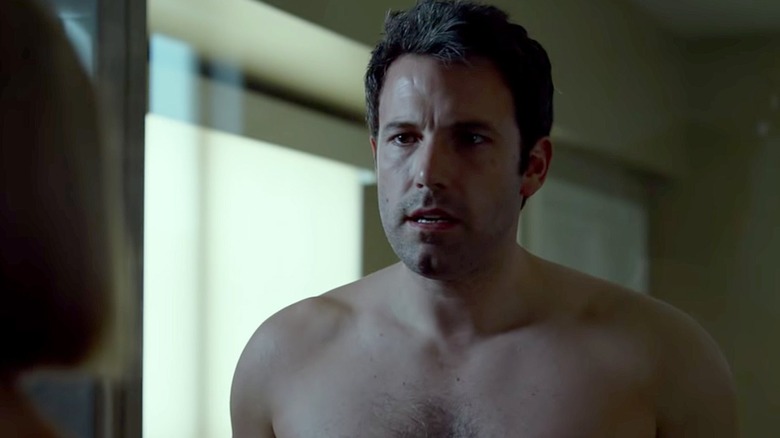 20th Century Studios
I spend most days lamenting the fact that Gillian Flynn hasn't released a novel since "Gone Girl" in 2012. It's wild to me that someone so talented, who has such a specific voice, would drop three perfect novels (and a short story) and then take a 10-year break. I guess there's something to be said for leaving us wanting more. Until Flynn decides to bless us with another one of her spine-chilling summer reads, at least we have David Fincher's 2014 film adaptation of "Gone Girl," which I also think about on the regular. 
The 2015 film treatment of "Dark Places" might not have hit the mark, but both "Gone Girl" and the recent HBO series "Sharp Objects" are impeccably adapted. It's easy to assume that's pure Flynn magic, but Fincher and his crew seemed to be particularly in tune with the off-kilter beats of the novel. While Rosamund Pike has been lauded for her cold and calculated portrayal of "missing" wife Amy, Ben Affleck didn't shirk his duties as the foolishly checked-out husband, Nick. 
Going Going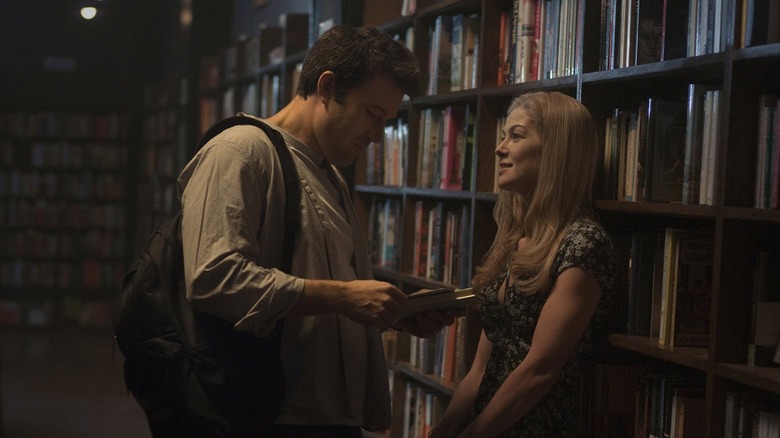 20th Century Studios
In an interview with Film Comment, David Fincher lauded Ben Affleck's portrayal of Nick Dunne, a man who stumbles his way through a murder trial after he is presumed to have killed his wife Amy, saying, "He's probably a lot craftier than you give him credit for. He's wise as an individual, extremely bright, and he's very attuned to story and where one is in the narrative. I enjoyed working with him immensely."
If someone left that as a recommendation on my LinkedIn, I would be pretty damn pleased, but Fincher's reasoning for bringing in Affleck doesn't stop there. According to Fincher, from the get-go, he was looking for someone who understood the reality of public scrutiny and the myriad emotions that come along with life in the public eye. They're both key aspects of the film, as Nick becomes more and more suspicious to the local, and later national press. Fincher noted, "The baggage he comes with is most useful to this movie. I was interested in him primarily because I needed someone who understood the stakes of the kind of public scrutiny that Nick is subjected to and the absurdity of trying to resist public opinion. Ben knows that, not conceptually, but by experience."
Gone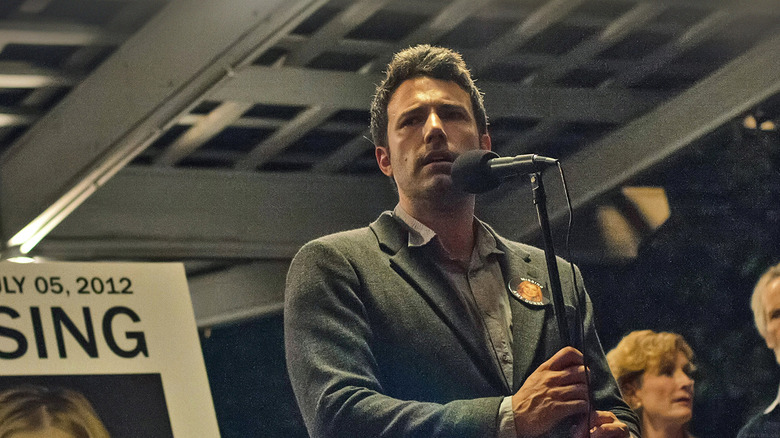 20th Century Studios
You would think most actors could understand the trials and tribulations of dealing with the public. But Affleck really did bring some special sad boy sauce to "Gone Girl." He hits the right combination of woe-is-me smarminess and true dopey befuddlement that makes him the perfect foil for the always-one-step-ahead Amy. Of course, Fincher could see that sweet combo coming from a mile away:
When I first met with him, I said, 'This is about a guy who gets his nuts in a vise in reel one and then the movie continues to tighten that vise for the next eight reels.' And he was ready to play. It's an easy thing for someone to say, 'Yeah, yeah, I'd love to be a part of that,' and then, on a daily basis, to ask: 'Really? Do I have to be that foolish? Do I have to step in it up to my knees?' Actors don't like to be made the brunt of the joke. They go into acting to avoid that. Unlike comics, who are used to going face first into the ground.
If you've been reading this and thinking, "Damn, I need to re-watch 'Gone Girl' immediately," you're making the right call, and I salute you. It might just be the perfect modern thriller, but there's only one way to find out for sure. We're all just gonna have to watch it again.