16 Movies Like Gone Girl That Thriller Fans Need To Watch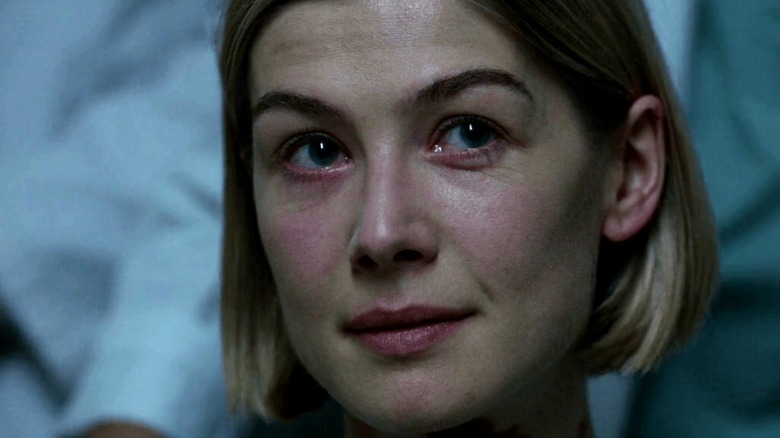 20th Century Fox
"Gone Girl" is one of the most popular mystery novels of the postmodern era. Before publication, expectations for the book were high, as author Gillian Flynn's previous works, "Sharp Objects" and "Dark Places," had established her as a sharp, cunning writer unafraid to tackle truly twisted material. "Gone Girl" became a sensation when it hit bookshelves in 2012; the question "Who is Amy Dunne?" haunted both the novel's characters and an audience of mystery fans.
Hollywood quickly turned its attention to an adaptation. 20th Century Fox nabbed the rights, and Flynn was hired to write the adaptation herself. Some authors may complain when filmmakers change their stories or distort their original intent, but Flynn got the opportunity to bring "Gone Girl" directly to the big screen.
David Fincher's involvement made the film even more exciting. Fincher is one of the best filmmakers working in Hollywood, and no stranger to twisty mysteries with shocking reveals, thanks to his work on "Fight Club," "Se7en," "The Girl With The Dragon Tattoo," and "Zodiac." His film "The Social Network" also makes for a fascinating companion piece, as that film's themes regarding media awareness are also pertinent to "Gone Girl."
"Gone Girl" is a mystery, but it contains elements of horror, satire, and romance that make it unique. If you're a thriller fan who loves "Gone Girl," make sure to check out these other great films.
I Care a Lot (2020)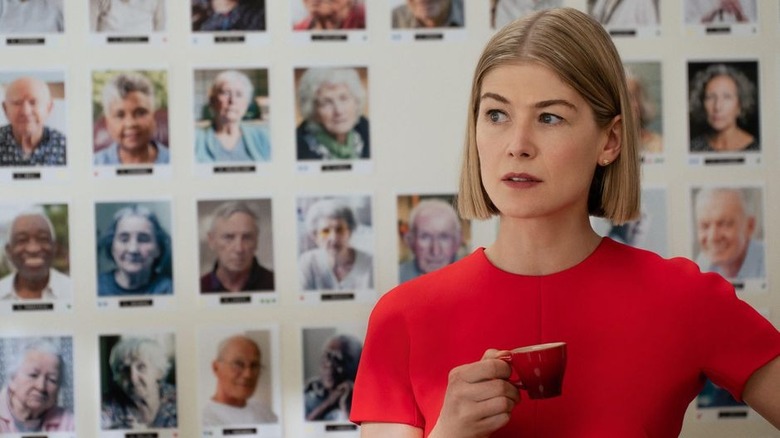 Netflix
Before "Gone Girl," Rosamund Pike already had a long and established career. She'd appeared in period pieces such as "Pride & Prejudice" and "An Education," and as a love interest in thrillers like "Die Another Day" and "Jack Reacher." While clearly talented, Pike had never received a role that showed how versatile she was. Thankfully, "Gone Girl" gave her the opportunity to craft one of the most complex cinematic villains of the 21st century. Meticulous, intelligent, and darkly funny, Pike's performance earned her an Academy Award nomination for best actress.
Pike continued to develop her range in later years, and her role in the recent black comedy "I Care a Lot" is her best since Amy Dunne. The satirical thriller has a twisted edge that's similar to "Gone Girl," seamlessly blending shocking violence with social satire. Both films have fun tormenting their casts of morally ambiguous characters; nearly every character in "I Care a Lot" is flawed, so the viewer should enjoy seeing them face the consequences of their actions.
Pike stars as con artist Marla Grayson, who manipulates the system in cases of legal guardianship in order to steal from elderly clients. Grayson has no sympathy for her targets or their families, but greedy investors have taken an interest in using her unique skill set. She forms an unusual alliance with crime boss Roman Lunyov (Peter Dinklage), although both intend to double cross each other. Shocking until the final moments, "I Care A Lot" is unflinchingly cynical and lots of fun.
Hollywoodland (2006)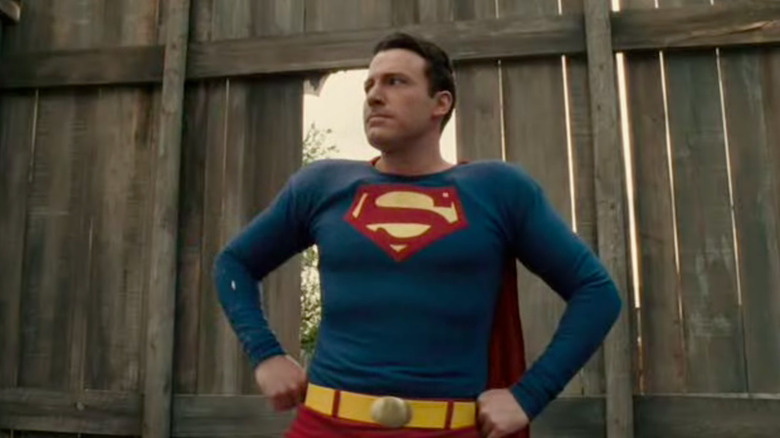 Focus Features
Ben Affleck was at a fascinating point in his career when he joined the cast of "Gone Girl." Affleck's stardom had declined throughout the early 21st century thanks to critical and financial disappointments like "Gigli," "Reindeer Games," "Surviving Christmas," and "Daredevil," but he turned his career around by directing "Gone Baby Gone," "The Town," and "Argo." Affleck proved he was a serious storyteller interested in humanity's darker aspects, and as Nick Dunne, he paired well with David Fincher's bleak worldview.
Nick is an interesting character, as he's constantly put under the media spotlight and his actions are meticulously tracked by the public. Affleck was no stranger to this struggle, as he personally had been the subject of countless tabloid stories. But "Gone Girl" isn't the first time that Affleck has explored these themes on screen. The underrated 2006 biopic "Hollywoodland" cast him as one of the most famous stars of all time: the original TV Superman, George Reeves. Reeves' presumed suicide had been one of Hollywood's most fascinating true crime stories for decades, and many still suspect that he was murdered.
"Hollywoodland" tells the fictional story of detective Louis Simo (Adrien Brody), who investigates Reeves's death. The life of the "Superman" star is shown in flashbacks, and hints at those who might be involved with his mysterious death. It's an essential watch for Affleck fans interested in his nuanced, self-aware roles.
Widows (2018)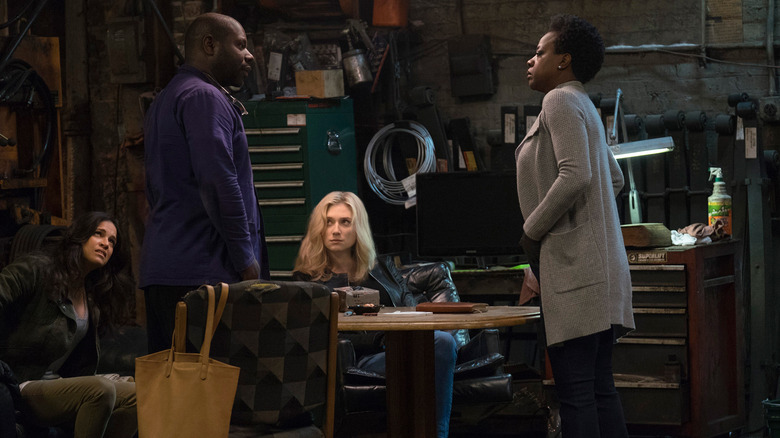 20th Century Fox
The success of "Gone Girl" made Gillian Flynn a Hollywood star, as her complex stories and rich characters found a whole new audience. Flynn's debut novel "Sharp Objects" was adapted into an award-winning HBO series starring Amy Adams, and Charlize Theron starred in a film version of her follow up, "Dark Places." Flynn herself continued to write screenplays, and paired with masterful filmmaker Steven McQueen for the 2018 heist thriller "Widows." Like "Gone Girl," "Widows" is a rich tapestry full of social commentary, blended with a crime-thriller storyline.
"Widows" opens with a heist gone wrong, in which bank robber Harry Rawlings (Liam Neeson) and his entire team are killed. Harry's wife Veronica (Viola Davis) is devastated, but the ghosts of Harry's past give her little time to process her grief. Harry accrued a serious debt that Veronica must repay to Jamal Manning (Brian Tyree Henry), a mob boss running for mayor. After a threat from Manning's brother (Daniel Kaluuya), Veronica theorizes that she could complete Harry's last heist with a team of her own. She recruits Linda (Michelle Rodriguez) and Alice (Elizabeth Debicki); their husbands Carlos (Manuel Garcia-Rulfo) and Florek (Jon Bernthal) were part of Harry's team, and were also killed.
Their planned job targets the estate of the legendary Illinois power broker Tom Mulligan (Robert Duvall). Tom's son Jack (Colin Farrell) is running for mayor against Jamal, creating further pressure for Veronica's team. Flynn's script explores the complex social, political, and racial conflicts in modern Chicago.
The Game (1997)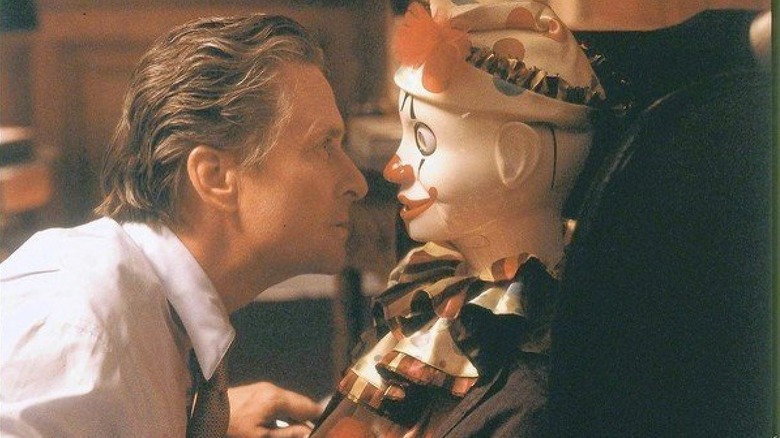 Polygram Films
David Fincher was the perfect director to helm "Gone Girl." Fincher often explores morally ambiguous stories of intrigue and suspense, and doesn't conform to Hollywood cliches. When crafting a cutthroat mystery, some filmmakers may be concerned with making their characters likeable. Fincher is comfortable depicting flawed protagonists, and neither Nick nor Amy are characters that the audience is rooting for, although they both have their sympathetic qualities.
Fincher's 1997 mystery "The Game" similarly introduces an initially detestable protagonist whose backstory is only gradually revealed. The investment banker Nicholas van Orton (Michael Douglas) is the embodiment of wealth and privilege, and masks his personal hardships behind a callous attitude. Frequently insulting both his co-workers and service staff, Nick only seems to cool down during a birthday dinner with his brother Conrad (Sean Penn). There, Conrad gives him an unusual present, offering him an invitation to an interactive game run by a mysterious company called Consumer Recreation Services.
Nick finds that the simulated reality takes over its participants' lives, and he's forced into violent action as the organizers manipulate him. His childhood is explored, as the game itself forces players to confront traumatic memories. Nick and Conrad both struggle with guilt following their father's suicide, and Conrad suffers a breakdown in the middle of the film as CRS haunts him. In addition, "Gone Girl" stands out for its nonlinear story structure; Fincher uses similar techniques in "The Game."
The Lady from Shanghai (1947)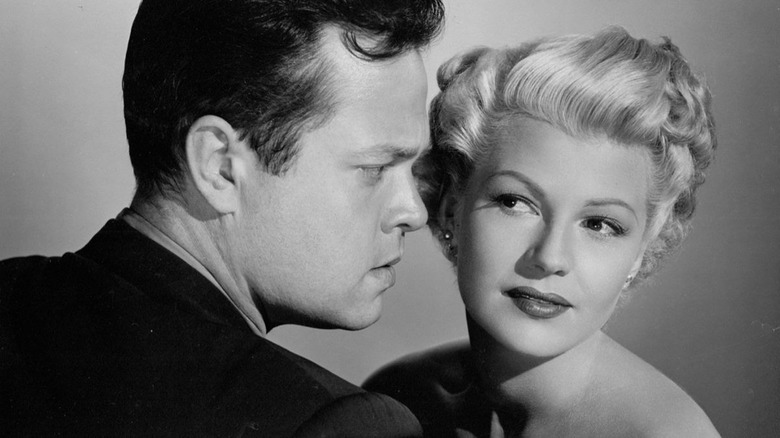 Columbia Pictures
There's a theatricality to "Gone Girl" that distinguishes it among modern thrillers. The characters are playing to their public personas; Nick must convince both the media and police that he's simply a hapless, innocent, and heartbroken bystander. Similarly, the major twist, as revealed in the iconic "Cool Girl" sequence, reveals that Amy has crafted an entirely different persona. She fakes events in order to secure Nick's humiliation and death, darkly joking about the cluelessness of everyone who believed her story.
Fincher has fun exploring the characters' twisted psychology, and learned many lessons from the cinematic icon Orson Welles. Welles was fascinated by morally despicable characters who are more than they initially appear to be. Fincher recently crafted his tribute to the legendary director with his recent biopic "Mank," which explored the production of "Citizen Kane," but Welles' 1947 film "The Lady from Shanghai" is a twisty noir that's more in line with "Gone Girl" and the rest of Fincher's filmography.
Welles stars as Michael O'Hara, an Irish dock worker who is recruited by Arthur Bannister (Everett Sloane) and his wife Elsa (Rita Hayworth) to work on their yacht. Arthur is the target of a murder plot, and Elsa involves Michael in the conspiracy. Like Amy, Elsa is no standard femme fatale, and develops a complex romance with Michael. The surprising twists and dark humor that Welles incorporates into their relationship recalls Nick and Amy's ups and downs.
Eyes Wide Shut (1999)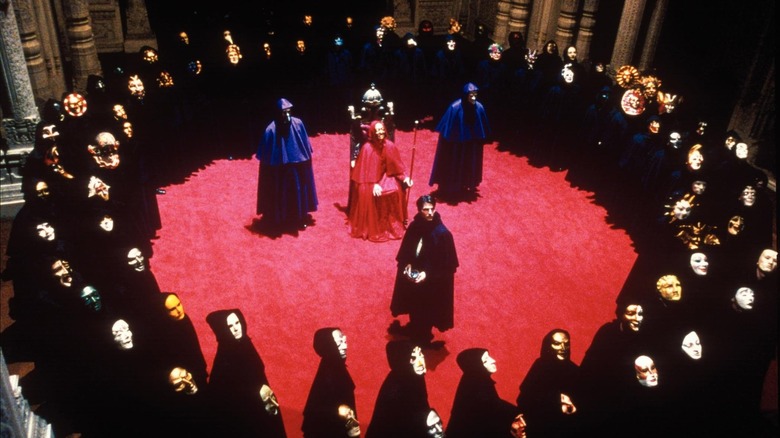 Warner Brothers
"Gone Girl" was fascinating not only as a thriller, but as a dissection of a marriage. Nick and Amy have an intensely troubled relationship, and Amy's diary hides secrets that have haunted them since their first date. Nick is completely clueless about his wife's plot, and throughout the investigation comes to realize that he's searching for someone who he doesn't truly know. While the story goes shocking places, it's an authentic depiction of the hardships that modern couples face.
Stanley Kubrick's 1999 masterpiece "Eyes Wide Shut" also explores these latent romantic anxieties with a conspiracy-filled storyline. Bill Harford (Tom Cruise) is an affluent New York doctor who is blindsided with jealousy when his wife Alice (Nicole Kidman) reveals that she had a mysterious dream about having an affair. Bill is drawn into a secret society that throws extravagant sexual parties; after infiltrating a meeting, the society's members track him down, and he's forced to reveal his participation to Alice.
"Eyes Wide Shut" was Kubrick's final film, as he passed away shortly prior to its release. "Gone Girl" deals with many aspects of celebrity culture, and "Eyes Wide Shut" is even more fascinating given that Cruise and Kidman were actually married when the film was shot.
The Good Liar (2019)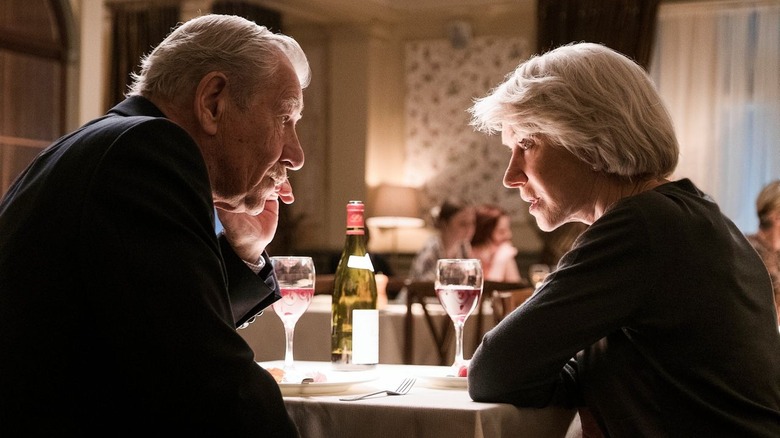 Warner Brothers
"Gone Girl" is thrilling because it changes the audience's perception of who the protagonist actually is. There's more than enough reason to question Nick's motivations; he certainly seems suspicious, thanks to his ignorance of Amy's life and his own extramarital affairs. Fincher and Flynn slowly reveal how Amy manipulated events, but the story never goes in a straightforward direction.
The underrated 2019 thriller "The Good Liar" also pits two intelligent characters in a battle of wits, and leaves the viewer questioning who has the upper hand. Ian McKellen stars as the aging con artist Roy Courtnay, who becomes romantically involved with the wealthy heiress Betty McLeish (Helen Mirren). Roy aims to convince Betty to sign over her fortune, but she's aware of his scheme. Betty instead recruits Roy, but she has her own secret reasons for working alongside the dangerous man.
Mirren and McKellen are electrifying to watch on screen, and director Bill Condon doesn't shy away from surprisingly graphic content. The brilliant ending ties together Betty and Roys' past with a sickening reveal.
The Gift (2015)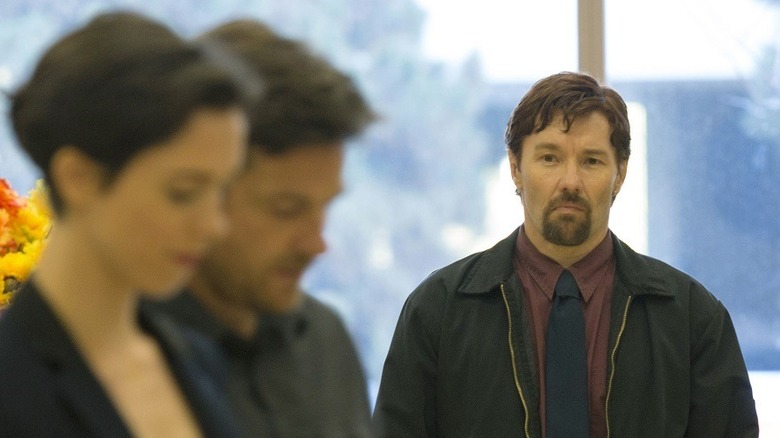 STX Entertainment
"Gone Girl" is a revenge film, but not in the traditional sense. Amy's plot is complex; she aims to put Nick through hell for his neglect during their relationship, but the exact details of her plan aren't revealed until midway through the story. The guise of a standard whodunit allows "Gone Girl" to develop both characters' backstories. In his directorial debut, actor Joel Edgerton crafted a similar revenge story that incorporates traumatic details from its characters' pasts.
Simon Callmen (Jason Bateman) is a wealthy Los Angeles businessman who prides himself on the lavish nature of his expensive home. His wife Robyn (Rebecca Hall) is slightly uncomfortable with their recent move from Chicago, and grows more suspicious of her husband when his mysterious childhood friend Gordon Mosley (Edgerton) reappears and begins giving them gifts. The awkward man was nicknamed "Gordo" as a youth, and was relentlessly bullied by Simon and his friends. Edgerton is both sympathetic and terrifying, especially once Gordo's true intentions are revealed.
Secret Window (2004)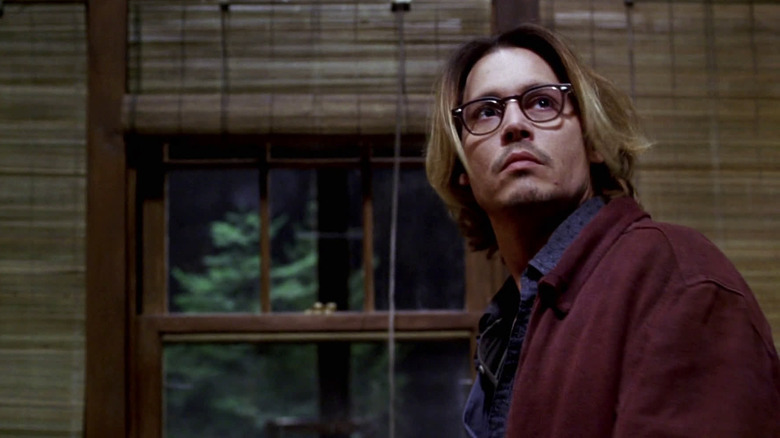 Sony Pictures
It's not hard to see the connection between Flynn and Stephen King. Both authors explore dark subjects and like to throw curveballs at their readers, taking their intricate narratives in surprising directions. King himself has supported Flynn throughout her career, and listed "Gone Girl" as one of his recent favorites. King's psychological thriller "Secret Window, Secret Garden" explores themes of identity, regret, and mental trauma that are also present in "Gone Girl."
The story was adapted by writer-director David Koepp into the underrated 2004 film simply titled "Secret Window." Johnny Depp stars as Mort Rainey, a depressed author who works alone on his latest project in an isolated cabin in the woods. Mort is recovering from a split with his wife Amy (Maria Bello), who was having an affair with their friend Ted (Timothy Hutton). Aiming to fix his life and reenergize himself with the writing process, Mort is flustered when the eccentric local John Shooter (John Turturro) arrives at his doorstep and accuses him of plagiarism. The tension escalates as details from the story begin to infect Mort's reality.
Affliction (1997)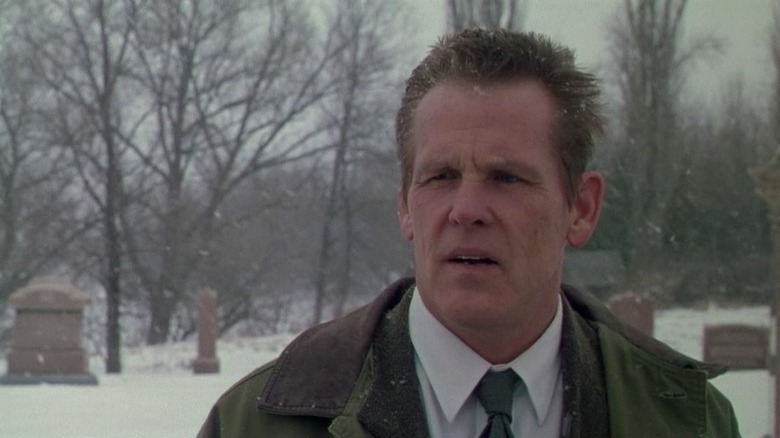 Lionsgate
The nonlinear narrative of "Gone Girl" makes the story more compelling. Viewers learn about Nick and Amy's early days together through flashbacks, casting the later developments in a different light. As a result of the layered text, "Gone Girl" is very rewatchable. Writer-director Paul Schrader found a similar balance between timelines with his icy 1997 mystery "Affliction." Like "Gone Girl," "Affliction" initially proceeds as a standard whodunit before it's revealed to be a complex character study.
"Affliction" follows alcoholic policeman Wade Whitehouse (Nick Nolte) as he investigates the death of a local hunting guide on Halloween night. Official reports claim that the death was a suicide, but Wade suspects murder. His life is already falling apart, as he's in the middle of a custody battle for his daughter Jill (Jill Whitehouse). The case forces Wade to reflect on his own troubled childhood. Clues point to Wade's father Glen (James Coburn), who abused Wade and has never been held accountable. Coburn's terrifying performance earned him an Academy Award for best supporting actor shortly before the beloved actor passed away.
The Lincoln Lawyer (2011)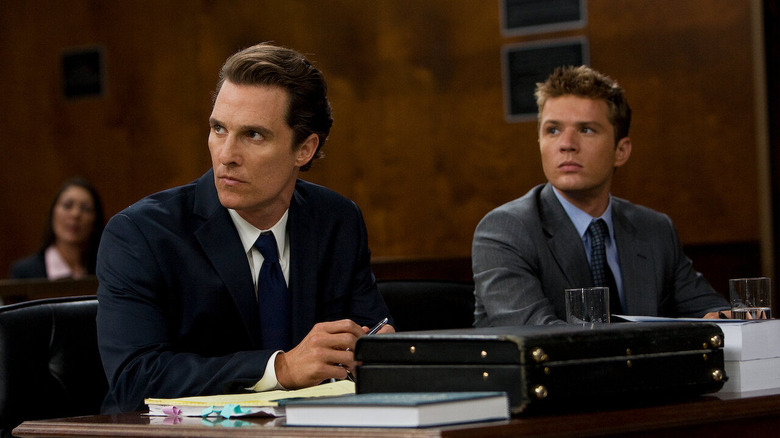 Lionsgate
"Gone Girl" may initially seem like a straightforward investigative mystery, but the story is actually full of misdirection, and ends up challenging genre archetypes. The 2011 film "The Lincoln Lawyer" also subverts expectations, but does so for the legal thriller. Matthew McConaughey's earnest lawyer Mickey Haller is assigned to defend the affluent California playboy Louis Roulet (Ryan Phillipie) in a murder case, but becomes tied up in a conspiracy when he realizes his client is guilty.
"The Lincoln Lawyer" delicately balances morality and mystery. Haller is a diligent servant of the law, and he's bound by both confidentiality agreements and his commitments to defend Louis. However, he's unable to shake his guilty conscience, and looks for other ways to achieve justice in the case. Although he believes that Louis is guilty, Haller realizes the case is not as cut and dry as he initially expected, and begins looking into the powerful players involved in the coverup. McConaughey's dynamic performance came right at the beginning of the comeback dubbed "The McConaissance," and the charismatic and intelligent Haller is one of his best characters.
Mystic River (2003)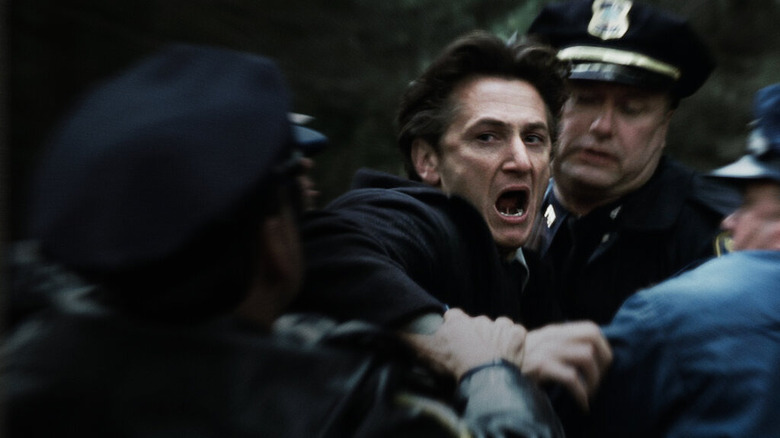 Warner Brothers
"Gone Girl" deconstructs the false sense of security in a seemingly comfortable community. Amy's diary challenges the superficial attitudes of their Missouri town's residents, and exposes the ease with which they're manipulated. Clint Eastwood's 2003 masterpiece "Mystic River" explored similar tensions in a blue-collar Boston community. The town covered up shocking secrets, and is willing to protect those who commit heinous crimes.
Three young boys — Jimmy, Dave, and Sean — grew up as best friends, but their relationship splintered after a traumatic event left them all emotionally scarred. Dealing with the consequences as adults, Jimmy (Sean Penn) leads a secret life as a criminal, Dave (Tim Robbins) is a beloved community figure, and Sean (Kevin Bacon) is a methodical police investigator. They've had little reason to reconnect, but are bound by tragedy when Jimmy's daughter (Emmy Rossum) is found murdered. Dave is a suspect due to suspicious activities on the night of the murder, and Sean is tasked with investigating the case.
Like "Gone Girl," "Mystic River" is a great mystery that questions its characters' morality. Jimmy is no stranger to violence, and is willing to go well beyond the law in order to achieve vengeance. Dave is a sympathetic character who is forced into a tragic situation when Jimmy is unwilling to hear the truth. Both Penn and Robbins won Academy Awards for their complex performances.
The Ghost Writer (2010)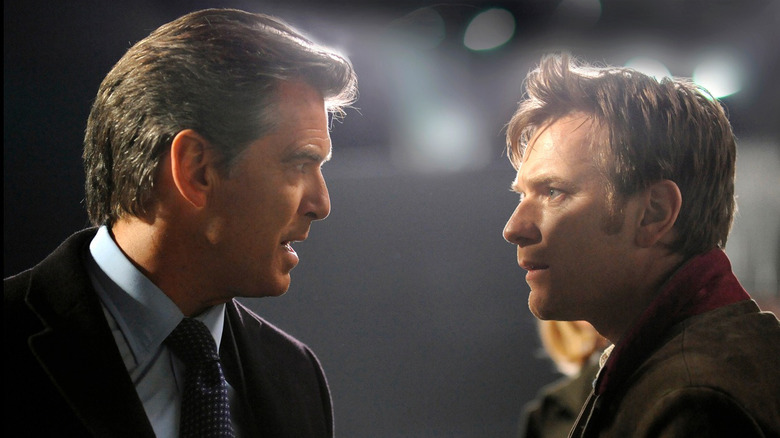 Summit Entertainment
Fincher does a great job building a mounting sense of anxiety in "Gone Girl." Nick's allies dwindle as he's accused of murdering his wife, and Amy's meticulous plot to frame him only furthers his isolation. Nick has no one to turn to when his life is in danger. The 2010 political noir "The Ghost Writer" creates a similar sense of ongoing suspense. While "Gone Girl" explored the underlying conflicts in a romantic relationship, "The Ghost Writer" deconstructs the deceptive nature of modern politics.
British Prime Minister Adam Lang (Pierce Brosnan) hires an unnamed ghostwriter (Ewan McGregor) to craft a compelling autobiography that will win him back the public's favor. McGregor's character is intrigued by the opportunity, but finds Lang to be oddly secretive about key moments in his past. He discovers that the Prime Minister approved the kidnapping of suspected terrorists without trial, a scandal that could end his career. While piecing together the mystery, the writer is put under constant pressure to stay silent.
The Girl with the Dragon Tattoo (2011)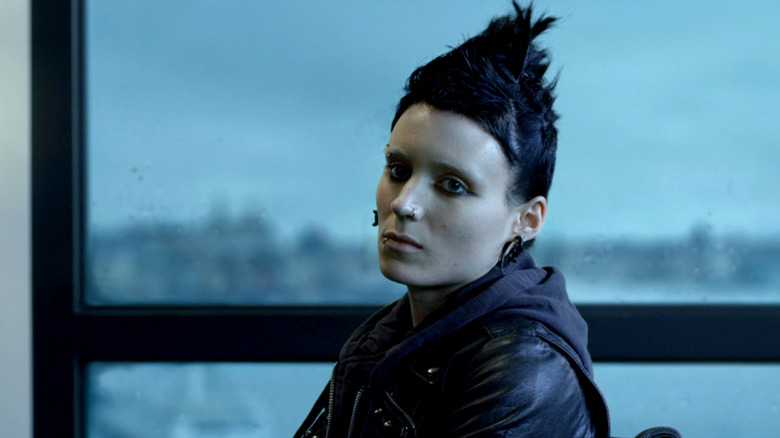 Sony Pictures
Fincher was successful with "Gone Girl" because he was working with some great source material. Gillian Flynn's novel was already brilliant, and Fincher helped expand the thrilling nature of the story. Prior to "Gone Girl," Fincher did something similar with the 2011 adaptation of Swedish author Stieg Larsson's crime masterpiece "The Girl with the Dragon Tattoo." It was ambitious to take on material that had already been perfected — the novel and its sequel had previously been adapted into a Swedish film trilogy starring Noomi Rapace — but this is Fincher we're talking about. For him, brilliance is all part of a day's work.
Like "Gone Girl," "The Girl With The Dragon Tattoo" is so packed with tension that it's sometimes uncomfortable to watch. The film follows an investigation conducted by the hacker Lisbeth Salander (Rooney Mara) and journalist Mikael Blomkvist (Daniel Craig) into a murder case that is over 40 years old. It involves a mysterious, wealthy family that's shrouded in secrecy, and Blomkvist wants to get to the bottom of why their daughter disappeared.
Like "Gone Girl," "The Girl With The Dragon Tattoo" ultimately succeeds because of the powerful performances from the two leads. Mara completely transforms into Lisbeth, and shows how her experience with trauma has affected the cases she chooses. By contrast, audiences may have been used to seeing Craig as the slick spy James Bond, but Blomkvist is far more cynical than 007, giving Craig a chance to show off his range.
Thoroughbreds (2017)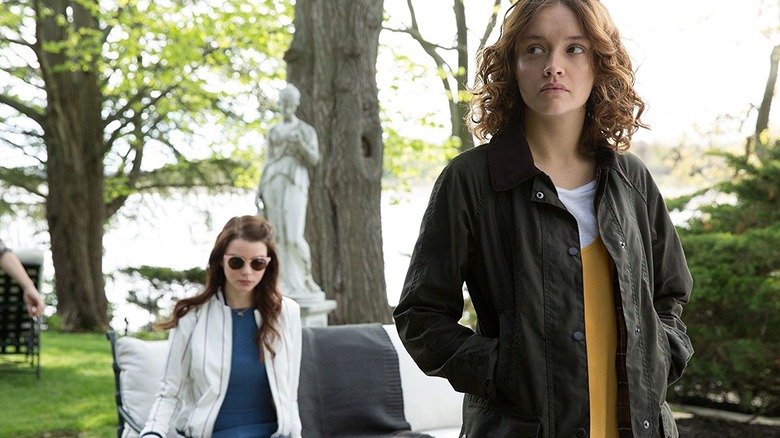 Focus Features
"Gone Girl" goes to some very dark places. However, it has an element of satire that makes the entire film more entertaining. "Gone Girl" examines the role that the media plays in shaping the narrative around kidnapping and murder cases, particularly those where the victim is a white woman. Nick finds himself painted as a villain in the public eye, and Affleck does a great job at showing why he is so uncomfortable around the press. You can laugh at "Gone Girl," but it'll make you second guess yourself for a moment. Can a movie that is this disturbing also be hilarious?
The film "Thoroughbreds" is another unusual crime comedy that mixes humor and thrills seamlessly. The film focuses on two teenage girls, who are basically polar opposites. Lily Reynolds (Anya Taylor-Joy) is highly emotional; she breaks down after enduring only a little bit of stress. By contrast, Amanda (Olivia Cooke) has seemingly cut herself off from emotions. Lily becomes Amanda's tutor, and over time, their friendship blossoms. When both girls grow irritated by the obnoxious behavior of Lily's stepfather, Mark (Paul Sparks), they hatch a plan to kill him.
Although it centers on a murder, "Thoroughbreds" finds humor in its central dynamic. Over time, Lily and Amanda begin to adopt each other's personalities, and their dynamic grows even more complicated when they decide to blackmail the drug dealer, Tim (Anton Yelchin), into helping them. Yelchin adds even more humor in one of his last performances before his tragic death.
Gone Baby Gone (2007)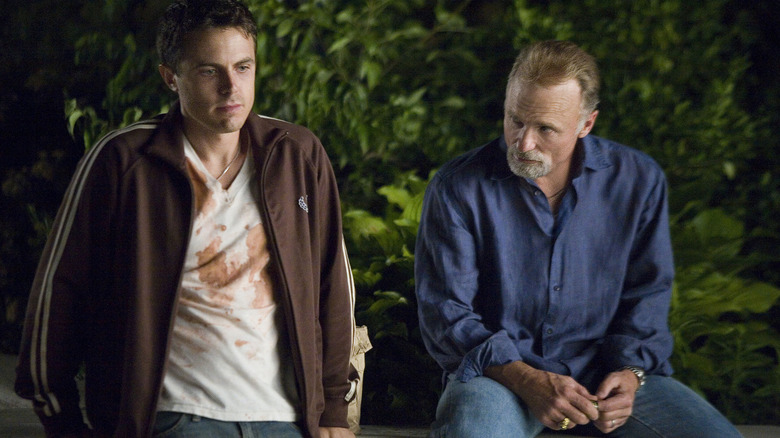 Miramax Films
Affleck gave one of the best performances of his career in "Gone Girl," but he's not just a great actor. Affleck has been directing lean, mean crime films that are similar to "Gone Girl" since 2007, when his feature film directorial debut "Gone Baby Gone" was first released. Like "Gone Girl," "Gone Baby Gone" centers around a kidnapping case that is not quite as cut and dry as it initially seems.
Based on Dennis Lehane's 1998 novel of the same name, "Gone Baby Gone" follows Boston detectives Patrick Kenzie (Casey Affleck) and Angie Gennaro (Michelle Monaghan) as they search for a young girl named Amanda McCready (Madeline O'Brien). Patrick has some trepidation about the case; Amanda's mother, Helene (Amy Ryan), is addicted to drugs, and he later discovers that Helene and her boyfriend Ray (Sean Malone) work with the Haitian crime boss Cheese (Edi Gathegi) as smugglers. Patrick questions what his investigation will actually accomplish: If he finds Amanda, will he have to return her to the cruel environment that she was living in before she was kidnapped?
This moral quandary elevates "Gone Baby Gone" above other mystery thrillers. There are various corrupt figures who seek to profit off of Amanda's disappearance, including Patrick's boss, Captain Jack Doyle (Morgan Freeman). Like "Gone Girl," "Gone Baby Gone" ends on a very dark note — as he watches Amanda and her mother together, Patrick reflects on how little things have actually changed.