'Star Trek' Star Anton Yelchin Dead In Car Crash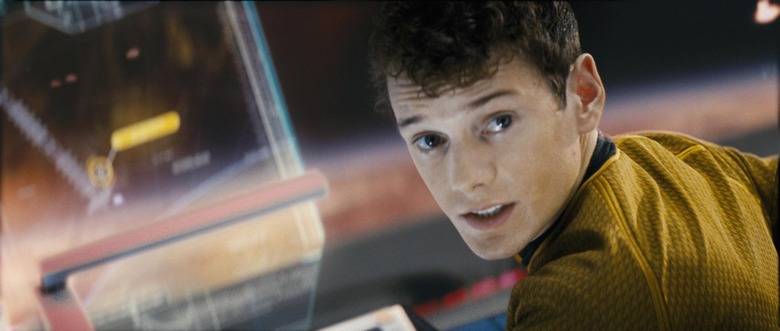 Actor Anton Yelchin, probably best known for his roles in the J.J. Abrams-produced Star Trek movies, was tragically killed early Sunday morning in a car crash.
TMZ broke the news that 27-year-old Yelchin died after getting pinned by his own car. The actor was supposed to meet friends at a rehearsal and they became alarmed when he didn't show up and wouldn't answer his phone. When they arrived at his San Fernando Valley home at around 1:00 AM, they found the actor "pinned between his car and a brick mailbox, which was attached to a security gate" with the engine still running and the car in neutral. Apparently the driveway was on a fairly steep incline, but that doesn't explain why he got out of the car. Right now the cops do not suspect foul play.
Yelchin began acting at the age of 9 in the independent film A Man is Mostly Water. Early roles for Yelchin included A Time for Dancing, Delivering Milo, House of D, and the miniseries Taken. His career began to really take off with a starring role in the television show Huff, which ran from 2004 to 2006. His film career was elevated by Alpha Dog, for which he received many great reviews. He played the title role in Charlie Bartlett, starred alongside the Russian music group t.A.T.u. in the movie You and I, and co-starred with Susan Sarandon and Justin Chatwin in Middle of Nowhere. His starring role in the Sundance romantic drama Like Crazy also earned him a lot of acclaim.
But most of you will know him because of his appearance in the J.J. Abrams-produced Star Trek films, in which he portrayed navigator Pavel Chekov. His Hollywood career was filled with other remakes, adaptations and sequels: he appeared as a teenage Kyle Reese in Terminator Salvation, portrayed Charley Brewster in the remake of Fright Night directed by Craig Gillespie, and voiced Clumsy Smurf in the film adaptation of The Smurfs.
The late actor will next appear in a reprisal of his role as Chekov in Justin Lin's Star Trek Beyond. He has two other movies that have already been filmed before his death: Mark Palansky's Rememory, which is about the "widow of a wise professor [who] stumbles upon one of his inventions that's able to record and play a person's memory"; and Cory Finley's Thoroughbred, also starring Olivia Cooke and Anya Taylor-Joy, a story of "two teenage girls in suburban Connecticut [who] rekindle their unlikely friendship after years of growing apart. In the process, they learn that neither is what she seems to be, and that a murder might solve both of their problems."
I've interviewed Yelchin many times over the years, but most recently on the set of Star Trek Beyond. He was always in great spirits and loved to joke around. On Beyond, many of the cast and crew were advised to reveal almost nothing to the press on set, so instead of playing the usual game of avoiding questions with vague answers, Yelchin just decided to make things up, including teasing his character's battle with alcoholism and sex addiction, an intense love scene with John Cho's character Sulu, and a hatred for his co-star Karl Urban who was getting his make-up done on the other side of the tent where we were conducting the interview. By the end of the interview Yelchin was talking about how he missed J.J. Abrams' hand jobs on set – it was that kind of interview. I didn't publish it in its entirety when I posted my set visit report because it didn't work as well in text, but you can now listen to it for the first time ever below:
He told me on set,
I feel like a kid playing make-believe. Except now someone has invested millions of dollars into making your make-believe really fucking awesome.
Rest in peace Anton.