Tragic Stranger Things Deaths We Still Haven't Recovered From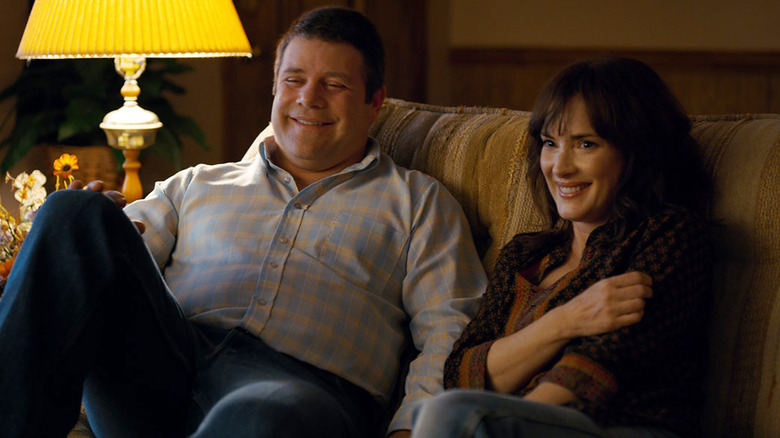 Netflix
"Stranger Things" is a popular culture hit and streaming giant for countless reasons. Everything from the perfectly-crafted '80s aesthetic to the soundtrack fires on all cylinders to transport viewers back 30-plus years to a time when shopping malls were still a thing and the worst trouble you could get into was video games. Naturally, the cast of characters has gotten themselves entangled in the Upside Down and all the darkness it has to offer, from head-ripping Demogorgons to the grand wizard Vecna — and it's made for must-see streaming TV.
While "Stranger Things" Season 4 has its ups and downs, it still offers plenty of powerful character moments along with nightmare fuel to keep you up at night. The show also excels with its tense, edge-of-your-seat action sequences and the overwhelming dread that any character could go at any moment. Throughout the duration of the series, "Stranger Things" has made fans cheer, scream, and bawl their eyes out. There are just some deaths from which you can never recover. Here are eight untimely demises from the show that will live in everyone's hearts forever.
Barb Holland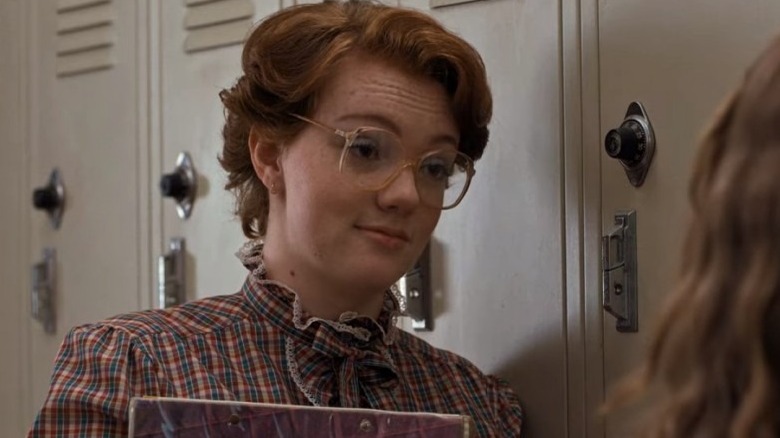 Netflix
Barb, played by Shannon Purser in her debut acting role, was the level-headed best friend everyone needs. Best friends with Nancy Wheeler (Natalia Dyer), Barb expressed concerns in Season 1 when Nancy began dating leading hunk Steve Harrington (Joe Keery). She felt her BFF could leave her behind, and those feelings are certainly justified during a party with the popular crowd. After a brief argument with Nancy, Barb heads out to the pool to soak her feet and her feelings. Earlier in the night, she accidentally cut her hand while shotgunning a beer, and a few droplets of blood dripped down into the pool's crystal clear waters. Little does Barb know that the creatures from the Upside Down have sought her out having smelled her blood, quickly capturing her and devouring her body.
For the rest of the show's inaugural season, the plot centered around the rescue of Will Byers, leaving any sort of justice for Barb totally up in the air. That is until social media fervor prompted show writers to include a subplot in Season 2 involving the Hawkins Lab finally owning up to their mistakes and holding a proper funeral for her. That still doesn't take away how traumatic her death was, as we see in Season 4 with Nancy still reeling from her own guilt. Long Live Barb.
Billy Hargrove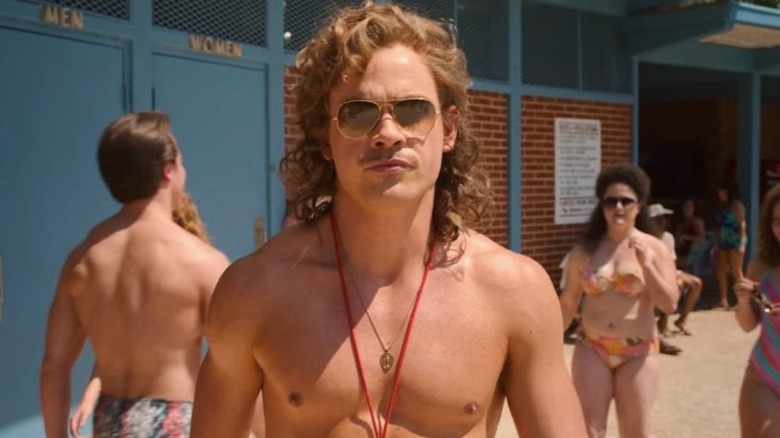 Netflix
Billy Hargrove (Dacre Montgomery) is among the show's most complex antagonists. Let's be clear from the start: he wasn't a good guy. Cycles of abuse endured at the hands of his father, who used physical and emotional intimidation, caused Billy to become the resident bad boy at Hawkins High School. He frequently bullied his younger sister, Max (Sadie Sink), and anyone else in the group who came across his path. In Season 3, Billy is given quite the redemption arc. Early on, The Mind Flayer inhabits his body and uses him throughout the season to create a much larger monster to attack the town. Instead of melting into the new creature, Billy is used to toy with Eleven (Millie Bobby Brown) and Max.
The epic season finale concludes at Starcourt Mall. In the show's most explosive battle yet, Eleven is able to penetrate The Mind Flayer's defenses and reach Billy's emotional center, which grants him the strength to hold the monster back to save his friends. Inevitably, he experiences a grave injury but is able to apologize to Max in his final moments. It's a perfectly, emotionally-crafted scene that will go down as one of the show's finest moments. As seen in Season 4, Max still hasn't recovered from his death, and neither have the fans.
If you or someone you know may be the victim of child abuse, please contact the Childhelp National Child Abuse Hotline at 1-800-4-A-Child (1-800-422-4453) or contact their live chat services.
Bob Newby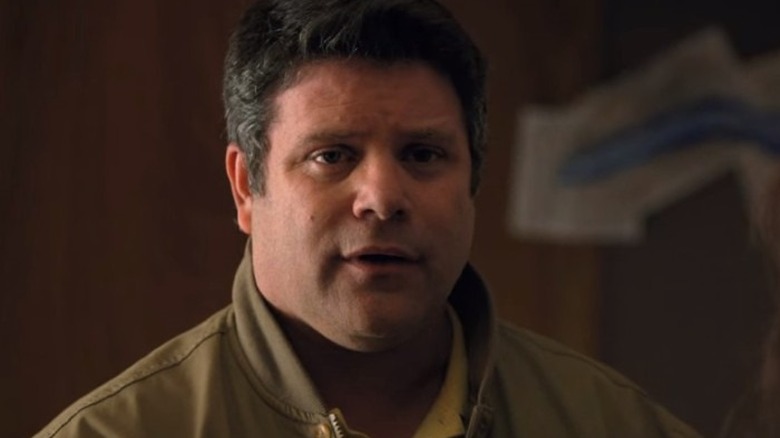 Netflix
Bob Newby (Sean Astin) was too good for this world. Audiences should know better than to get attached to love interests with Demodogs and a Mind Flayer running rampant. As the love interest for Joyce (Winona Rider) in Season 2, he was like a teddy bear with a gooey, lovable heart. There were even plans for the two to start a new life together somewhere other than Hawkins, along with Joyce's sons Will (Noah Schnapp) and Jonathan (Charlie Heaton), of course.
When Will begins having visions, and a seemingly telekinetic connection with The Mind Flayer, those plans are sidelined. Will is then taken to the Hawkins Lab to be studied and to heal. While there, a horde of Demodogs descend upon the facility and surround the group. Bob uses his computer skills to override the security system, giving Joyce and the others time to escape. In a devastating sequence, Bob is mauled by a hungry Demodog and ripped to shreds. Joyce can only look on in sheer terror before dashing away into the night. Bob Newby, you were the real MVP of Season 2, and you will forever be missed.
Benny Hammond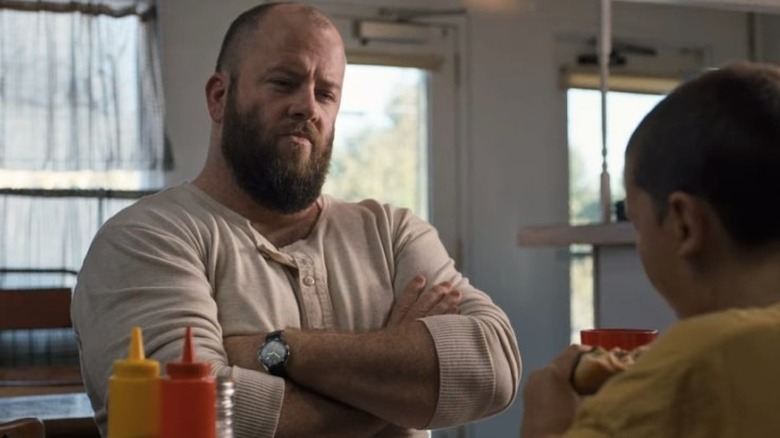 Netflix
Benny (Chris Sullivan) lived only a short time in the first season, but he left an indelible mark. When Eleven first escapes the Hawkins Lab, she sneaks into the backdoor of Benny's Burgers and nabs some of his french fries. Benny is taken back at first, unsure of who this little person with a shaved head is, possibly a delinquent. But he quickly realizes El is absolutely famished and feeds her a stack of greasy hot food.
Benny's good nature gets the best of him, naturally. He calls up social services to address the situation, but ends up with a bullet to the head thanks to a secret agent. His body is later discovered by local police, and they determine the cause of death as suicide; El is nowhere to be seen. Benny was El's first human interaction outside the facility, and he showed her nothing but compassion. What a gentleman he was.
If you or anyone you know is having suicidal thoughts, please call the National Suicide Prevention Lifeline​ at​ 1-800-273-TALK (8255)​.
Sara Hopper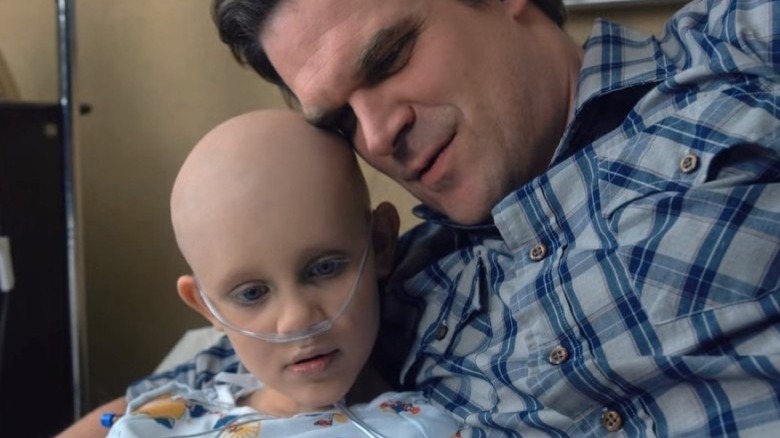 Netflix
The emotional foundation of Jim Hopper's (David Harbour) entire character is the death of his daughter, Sara. Only revealed in flashbacks, the tragedy causes Hopper to pull away from the world and crawl into a bottle. "We've discussed this. Mornings are for coffee and contemplation," a very hungover Hopper tells the police station secretary early one morning. In "The Upside Down" (Season 1, Episode 8), we get a glimpse into Hopper's relationship with Sara in the early stages of her cancer diagnosis. While dealing with Will's return and his own symptoms regarding The Mind Flayer, Hopper remembers various mile markers in his daughter's life, from first having trouble breathing to reading a storybook to Sara and finally the doctor's inability to resuscitate her.
Season 4 adds further backstory in Episode 5 titled "The Nina Project," in which Hopper reveals that he once served in the Army and came into contact with Agent Orange. Alongside his fellow comrades, he was told there were very few side effects but learned through having children that many who served either had offspring who were stillborn or had lasting health concerns. Thus, Sara's aggressive form of cancer was a direct result of combat. Through Harbour's potent, emotional performance, your heart is broken in the process, as well.
Dart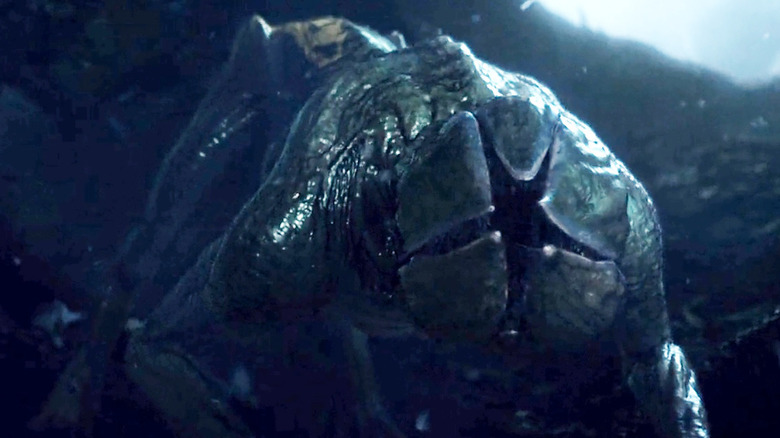 Netflix
Leave it to "Stranger Things" to make a Demodog absolutely adorable. In the second season, Dustin (Gaten Matarazzo) returns home from trick 'r treating on Halloween to discover a slimy, unidentified creature in a trash can. Against his better judgment, he decides to nurture it in his tortoise tank and feeds it Three Musketeers chocolate bars. Throughout the season, Dustin attempts to learn more about D'Artagnan (Dart, for short), named after one of the Three Musketeers. Dart begins growing at an exponential rate, and it becomes obvious it is part of the same species as the Demogorgon with similar physical features.
Dustin develops a close, emotional bond with the creature and does all he can to keep it alive, even when it becomes a clear threat to the group. The season finale, "The Gate," follows Dustin and company as they travel through underground tunnels weaving beneath Hawkins in an attempt to distract the army of Demogorgons. When confronted by Dart, Dustin gives him a Three Musketeers bar, igniting their connection, and Dart lets the group pass while distracting the other Demodogs. El then uses her powers to sever the connection, thus killing Dart in the process. 
Mews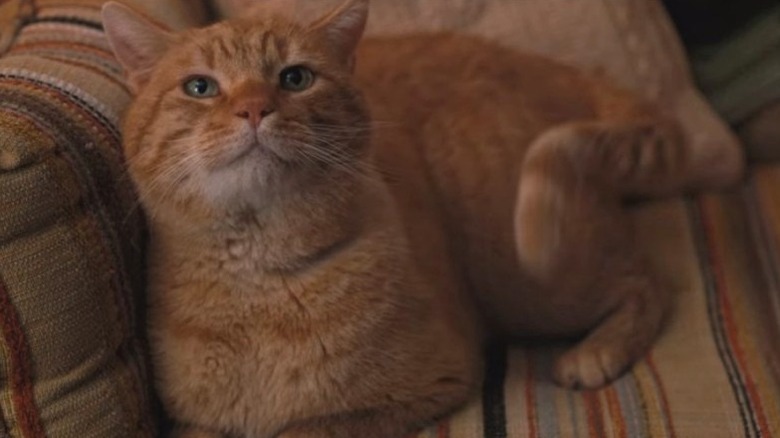 Netflix
Only Dustin would try to raise a Demodog as a pet. It's an ill-conceived decision that eventually pays off for the group in the Season 2 finale, but not without a heavy price. As Dart begins showing signs of having destructive behavior, Dustin all but ignores every single red flag. Upon returning home one afternoon from school, he discovers the once-adorable Dart has busted out of the tortoise tank and devoured the family cat, the fluffy and orange Mews.
In "Will the Wise" (Season 2, Episode 12) Dustin's mother Claudia is desperately searching all over their property for Mews. She's visibly shaken, but Dustin conceals the truth and instead covers up Mews' death, urging his mother to search for the cat in the next neighborhood. He later buries the corpse and finally reveals the news to his mother. Claudia is absolutely devastated, and rightfully so. Mews deserved better. Just like Barb, there was even a "Justice for Mews" Twitter campaign.
Alexei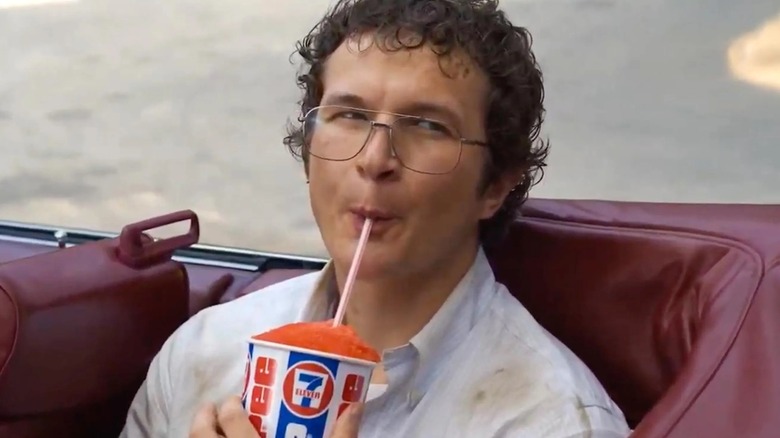 Netflix
Alexei (Alec Utgoff) was first introduced in Season 3 as a Russian scientist working below the Hess Farm on a machine called The Key. In Episode 5, "The Flayed," Hopper and Joyce travel out to the farm and discover the underground bunker before taking Alexei hostage. An unlikely trio, they forge through the wilderness after a car explodes, leaving them stranded. Murray Bauman (Brett Gelman) later joins the group and translates for Alexei, as he's also fluent in Russian. Together, Joyce and Hopper learn about the Russian mission to build a key to open multiple doors between worlds. 
The group then decides to head back to Hawkins, where the summer carnival is taking place. While searching for Will and the other teens, a hitman named Grigori sets his sights on the group and chases them through various side-show attractions and rides. Alexei and Murray attempt to give him the slip, but it ends with Grigori shooting Alexei in the stomach, mere moments after he finally wins a giant stuffed Woody Woodpecker (a running joke between him and Murray). Between the slow-motion sequence and the score, it's an undeniable gut punch in the show.