'Stranger Things' Season 2 Will Bring "Justice For Barb," Promise Showrunners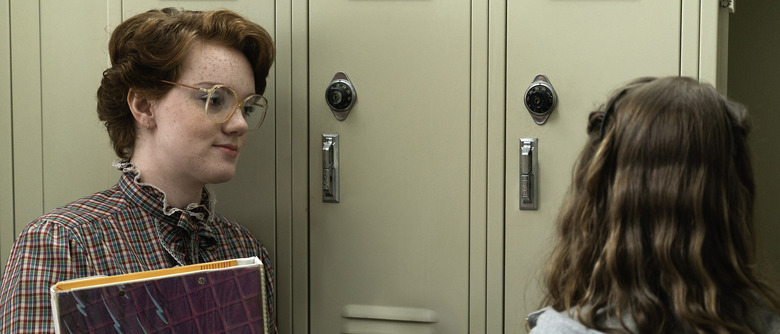 Netflix's Stranger Things is full of characters to love, and one of the biggest breakouts has been Shannon Purser's Barb. Spend a couple of minutes browsing the #StrangerThings hashtag on any social media site and you'll find all kinds of tributes to the shy high schooler, from think pieces to fan art to specialty pizzas (really). While the internet has been fawning over Barb, though, the actual show's treatment of her has been... somewhat less than loving.
But take heart, Barb fans: that will change in season two. Show creators Matt and Ross Duffer have taken note of the outpouring of Barb love among fans, and promised "justice for Barb" in the next run of episodes. Click through to read their Stranger Things Barb comments, but be warned there are MAJOR SPOILERS ahead for season one.
In the first season of Stranger Things, Barb was introduced as the bookish BFF of Nancy (Natalia Dyer). She disappears at the end of the second episode, and toward the end of the season, Eleven (Millie Bobby Brown) finds Barb's body in the Upside Down. Barb is pretty obviously dead, but — Stranger Things being a sci-fi story — fans have nevertheless held out hope that she could return in some shape or fashion.
Alas, while speaking with IGN, Matt Duffer squashed hopes of Barb's reappearance. "I can't see it happening," he said. However, he continued:
But Barb will not be forgotten. We'll make sure there's some justice for Barb. People get very frustrated, understandably, that the town doesn't seem to be really dealing with Barb. That stuff is all happening. We're just not spending any screen time on it.
It's not like her parents are like 'Oh Barb left. She died!' Season One actually takes place over the course of six or seven days – it's a really short period of time. So part of what we want to do with hypothetical Season 2 is to explore the repercussions of everything that happened.
The thirst for "justice" for Barb arguably has less to do with her death, and more to do with the show's treatment of her. Much of Stranger Things' first season revolved around the search for Will Byers (Noah Schnapp), but the show spent almost no time on the equally mysterious, equally supernatural disappearance of Barb. Aside from Nancy, almost none of the major characters even seem to notice Barb has vanished; the cops seem convinced Barb's just run away and Barb's family barely figures into the show at all.
The Duffers' explanation isn't completely satisfying — sure, only a week or so has passed, but you'd think Barb's family would have spent that week freaking out and demanding help from law enforcement, the way Will's family and friends have — but it sounds like they're trying to course correct in season two. Which sounds all well and good, but has the ship sailed on justice for Barb? Will anyone care about Barb's family in season two, when they seemed completely irrelevant to the goings-on in season one? Or is justice better late than never?
In further evidence that we live in an unjust world, although sweet, gentle Barb won't be back for season two, one of the show's nastiest characters will. Matt Duffer confirmed that we'll see more of the evil Dr. Martin Brenner, played by Matthew Modine.
I would say that if we were going to kill Brenner... as an audience member watching the show, if that was his death, that would be very unsatisfying to me – when the monster jumps on him and we cut away. He would deserve much more than that as an ending. So yes, there's a possibility of seeing him again.
Fingers crossed this "justice for Barb" somehow involves very bad things happening to Brenner.