Jaume Collett-Serra's Black Adam Is The Dirty Harry Of Superhero Movies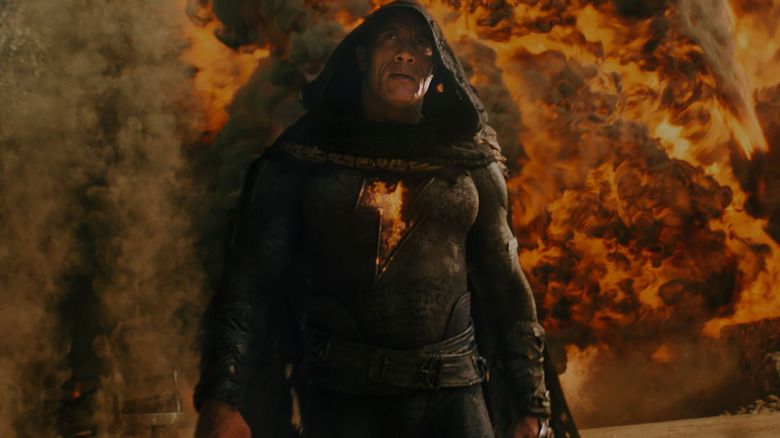 Warner Bros. Pictures
Now that we have so many of them, it's up to new superhero entries to distinguish themselves from all the rest. When it comes to Dwayne Johnson's upcoming "Black Adam," he's already got a great archetype in the clutch: he considers the character to be the "Dirty Harry" of superheroes.
During a Q&A at the press day for "Black Adam," Johnson explained where the comparison came from: "Very early, one of the things that Jaume had said was, what's your favorite Clint Eastwood movie? [Johnson replied] Probably 'Dirty Harry' or 'Unforgiven.' And he goes, well, that makes sense because Black Adam is unforgiving. But also, we should make the 'Dirty Harry' of superheroes and supervillains."
Director Jaume Collet-Serra — who is perhaps best known for his work on 2005's "House of Wax," 2009's "Orphan," and 2016's "The Shallows" — elaborated on Johnson's comparisons to the tone of the 1971 neo-noir classic. "We wanted to, like, strike a tone that — in a world where [everything is] black and white, not everything is black and white," Collet-Serra explained. "You need to kind of operate in that gray area. And that's what we tried to do."
Black Adam is coming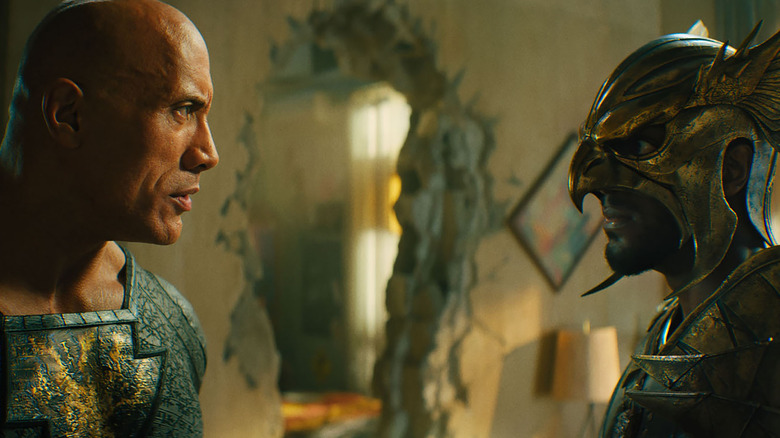 Warner Bros. Pictures
The film, which has been in the works for several years at this point, finally got its first trailer on June 8 — so it stands to reason that we're going to hear a lot more about the character's noir-like style and hard-hitting action in the coming months. Official stills were also released Wednesday morning, showing Adam's gold and black costume in more detail along with some intense action shots.
The day prior, Johnson revealed the film's first poster, which is, all things considered, a bit bland in comparison to other superhero posters. Additionally, Johnson noted in his Twitter caption when posting the image that "the hierarchy of power in the DC universe will change," seemingly from the inclusion of Black Adam as a character.
Collet-Serra directs from a script by Adam Sztykiel, Rory Haines, and Sohrab Noshirvani. In addition to Johnson in the title role, Noah Centineo, Aldis Hodge, Sarah Shahi, Quintessa Swindell, and Pierce Brosnan round out the supporting cast. The film is based on the comic series of the same name and will serve as a spin-off from 2019's "Shazam!" starring Zachary Levi, as Black Adam is Shazam's nemesis. That said, Levi's character is not set to appear in the movie. Adam will instead be pit against a group called the Justice Society of America.
"Black Adam" will be released in the United States on October 21, 2022.