The Ballad Of Songbirds & Snakes Teaser Invites You Back To The Hunger Games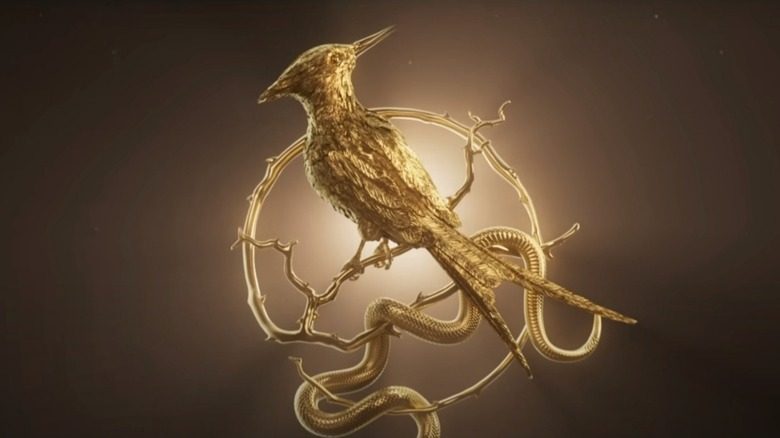 Lionsgate
That didn't take very long. It hasn't even been three years since we first learned that Lionsgate wanted to get back into the business of "The Hunger Games" alongside original author Suzanne Collins — a development that had absolutely nothing to do with studios around the industry desperately scrounging around for whatever blockbuster-ready IPs they happen to have under their control in order to stay relevant, I'm sure. Either way, they've wasted no time at all in moving forward with restarting the franchise all over again to recapture that lightning-in-a-bottle magic.
A little over six years since the conclusion of the Jennifer Lawrence-starring series with "Mockingjay Part 2," I'm honestly not sure how much hunger (heh) remains among general audiences for more stories set in this world. Add in the fact that "The Ballad of Songbirds and Snakes" will serve as an adaptation of Collins' recent prequel novel, telling the origins of the villainous Coriolanus Snow who would eventually become the power-hungry president (played by Donald Sutherland), and I have to wonder if we're setting ourselves up for another redux of the "Fantastic Beasts" franchise.
But hey, I've been wrong before! Lionsgate is ignoring all my cynicism and pulling out all the stops for this film, as proven by the recent casting of Rachel Zegler as the lead. Now, we have a nifty logo reveal teasing all sorts of familiar franchise iconography until we get some proper footage to overanalyze. Check out the teaser below!
The Hunger Games: The Ballad of Songbirds and Snakes teaser
In retrospect, I probably should've expected that our first look at the prequel about a young Coriolanus Snow would feature plenty of, well, snow. Fans of the originals are already well familiar with the striking bird imagery and its eventual significance as a symbol of freedom from the oppressive, dystopian Hunger Games. Despite the teaser attempting to play coy, it wouldn't appear to take much guesswork to figure out whether the lead Lucy Gray Baird is the "songbird" of the title and Snow is the "snake." But, again, I could be wrong!
"The Hunger Games: The Ballad of Songbirds and Snakes" will feature the return of filmmaker Francis Lawrence (director of the previous 3 "Hunger Games" films) and star Rachel Zegler and Tom Blyth. The prequel will hit theaters on November 17, 2023.
Years before he would become the tyrannical President of Panem, 18-year-old Coriolanus Snow (Tom Blyth) is the last hope for his fading lineage, a once-proud family that has fallen from grace in a post-war Capitol. With the 10th annual Hunger Games fast approaching, the young Snow is alarmed when he is assigned to mentor Lucy Gray Baird (Rachel Zegler), the girl tribute from impoverished District 12. But, after Lucy Gray commands all of Panem's attention by defiantly singing during the reaping ceremony, Snow thinks he might be able to turn the odds in their favor. Uniting their instincts for showmanship and newfound political savvy, Snow and Lucy Gray's race against time to survive will ultimately reveal who is a songbird, and who is a snake.