Hunger Games Prequel The Ballad Of Songbirds And Snakes Casts Rachel Zegler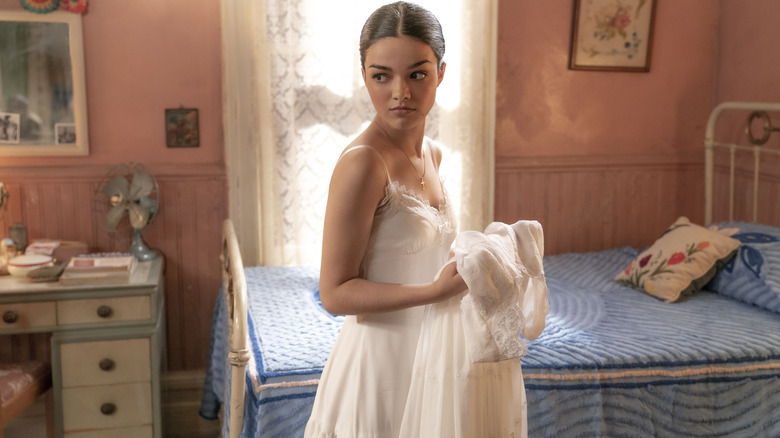 20th Century Studios
Well, this is certainly one way to quickly get audiences interested in yet another installment of "The Hunger Games" franchise, though we're now years removed from the heights of the series' immensely popular heyday. Casting for the prequel film titled "The Hunger Games: The Ballad of Songbirds and Snakes" is starting to round into shape with the announcement of its lead actor — none other than the rapidly rising "West Side Story" star, Rachel Zegler.
Lionsgate announced the news, revealing that Zegler will play the character of Lucy Gray Baird, the protagonist of author Suzanne Collins' 2020 prequel novel. She'll star alongside the recently announced casting of actor Tom Blyth, who'll take over for Donald Sutherland as the much younger version of the villainous President Coriolanus Snow from the original "The Hunger Games" movies.
In a neat little development, this news was actually teased by Zegler herself on social media in recent days. As the actor pointed out in a follow-up tweet earlier today, her previous cryptic message actually spelled out (quite literally!) the name of Lucy Gray Baird, strongly hinting at her eventual casting announcement. This is great news for internet obsessives who'll likely spend untold hours overanalyzing every single thing that Zegler tweets from now on, but I suppose those are just the inevitabilities of being one of the most in-demand young actors in the business right now with a hilarious and intuitive grasp of social media.
Rachel Zegler joins The Hunger Games
"The Ballad of Songbirds and Snakes" is set decades before the events of the original "The Hunger Games" storyline, meaning that star Jennifer Lawrence won't be suiting up with her arrow and quiver this time around. But similar to at least one stand-out moment featuring Katniss Everdeen in "The Hunger Games: Mockingjay Part 1," Zegler will likely take full advantage of her singing prowess on display in Steven Spielberg's "West Side Story" remake. As described by Lionsgate in the synopsis for the upcoming movie:
Years before he would become the tyrannical President of Panem, 18-year-old Coriolanus Snow is the last hope for his fading lineage, a once-proud family that has fallen from grace in a post-war Capitol. With the 10th annual Hunger Games fast approaching, the young Snow is alarmed when he is assigned to mentor Lucy Gray Baird, the girl tribute from impoverished District 12. But, after Lucy Gray commands all of Panem's attention by defiantly singing during the reaping ceremony, Snow thinks he might be able to turn the odds in their favor. Uniting their instincts for showmanship and newfound political savvy, Snow and Lucy's race against time to survive will ultimately reveal who is a songbird, and who is a snake.
As director Francis Lawrence put it, "Like everybody, I first saw Rachel Zegler in 'West Side Story,' and like everybody, I knew I was watching a star who would command the screen for a generation. Lucy Gray is a perfect match for her as an actress: the character is bold, independent, and defiant, but also vulnerable, emotional, and loving. Rachel will make this character unforgettable." 
Lawrence previously directed previous franchise installments "Catching Fire" and both "Mockingjay" films before returning for this prequel, which will also be written by Michael Lesslie.