Paddington Bear Shares A Marmalade Sandwich With The Queen In Jubilee Short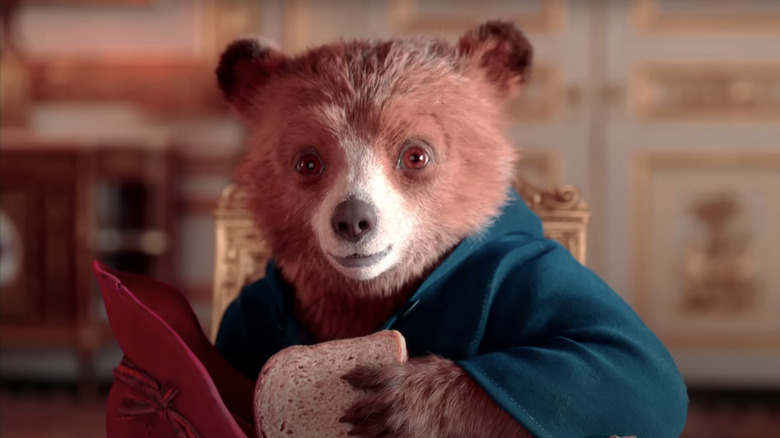 The Royal Family
The Queen of England and Paddington Bear share a love for marmalade sandwiches, apparently. This weekend was a four-day bank holiday in the U.K., as Queen Elizabeth II became the first British monarch in history to celebrate a Platinum Jubilee, marking a full 70 years since she took the throne. As part of the celebration, Paddington dropped by Buckingham Palace for a tea party with the queen.
The Royal Family may shut down Netflix's "The Crown" whenever they can, but only a heartless blue blood would be able to turn Paddington away. He's just so darn polite and lovable. Seriously, everyone loves Paddington; when his last movie hit, it became only the fourth film with over 100 reviews to score a 100% "Fresh" rating on Rotten Tomatoes. "Paddington 2" was actually the site's best-reviewed movie of all time, though its reign as such came to an untimely end last year, rather like that of a marmalade-mouthed monarch.
Leave it to a couple of contrarian critics (believe me, I know a thing or two about being one of those) to play the party poopers and drag the movie's score down to a paltry 99%, as if it could only ever hope to be practically perfect, like Mary Poppins. At any rate, unless my ears deceive me, it's Ben Whishaw reprising his voice role as the kind-hearted bear from "Paddington" and "Paddington 2" in the video below.
'Perhaps you would like a marmalade sandwich...'
As you can see, the Queen keeps an emergency marmalade sandwich on hand, just like Paddington. Whereas he's got his stored right in his hat, she keeps hers tucked away in her purse "for later." (I prefer mine pressed, so I keep it in my back pocket.) Neither of them bother to carry their sandwiches in Ziplock bags or anything like that, because why stand on ceremony and add the extra step of fussing with a plastic bag? When you're hungry, you want to go right for the sandwich.
In live-action, Whishaw is known for playing Q in the James Bond films, of course, and this isn't the first time the queen has traded dialogue with a 007 alum. In 2012, the year of her Diamond Jubilee, as well as the London Summer Olympics and the movie "Skyfall," the Queen jumped out of a helicopter with Daniel Craig. She's 10 years older now, though, and such death-defying stunts are better left to movie stars like Tom Cruise.
This is your daily reminder that actor-turned-president Volodymyr Zelensky played Paddington in the Ukrainian dub of the bear's two recent films, which means that — as terrible and surreal as it might be — Russia is currently waging war on the voice of Paddington and his country even as the queen's posh Platinum Jubilee plays out parallel in the news. At least the queen is a better sport about things than Vladimir Putin? Happy 70th anniversary, Your Majesty.