'Paddington 2' Is The Fourth Film To Score 100% On Rotten Tomatoes With Over 100 Reviews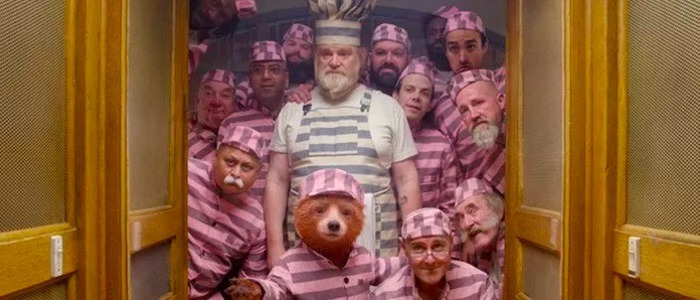 The year has just begun, but one film has already netted the coveted "best reviewed film of the year" classification: Paddington 2. The film currently has a 100% rating on Rotten Tomatoes with 196 positive reviews. This makes Paddington 2 the second family film in history, and the fourth film overall, to remain at 100% with over 100 reviews. Find more details on the Paddington 2 Rotten Tomatoes score below.
Look out, Lady Bird – Paddington 2 is gunning for you. The sequel to the utterly enchanting 2015 family film is sitting pretty with 196 positive, or "Fresh," reviews on Rotten Tomatoes. This distinction makes Paddington 2 the first critically acclaimed film of 2018, and also the second family film in history to remain at 100% with over 100 reviews and the fourth film currently at 100% with that many reviews. The first film to hold the title was 1999's Toy Story 2, another sequel. The only other films to have a 100% rating with over 100 reviews are 2008's Man on Wire (157 reviews) and 2016's Things to Come (130 reviews).
This news likely won't come as much of a surprise to those who have seen and loved the first Paddington, a lovely, charming, heartfelt movie that also featured Nicole Kidman trying to murder a friendly bear. Paddington 2 appears to be more of the same, in the best possible way. In his review for /Film, Josh Spiegel wrote of Paddington 2:
"Any film critic worth his or her salt will tell you that January is a pretty rough month for new releases. It's a month marked by high-profile films from the previous year expanding around the country as they aim to get awards attention. Rare is the January release that rises above the status of being forgettable. But rare too is the sequel that improves upon its predecessor, and yet, here we are with the North American release of the utterly delightful Paddington 2. Bringing together many of the key players from the delightful 2015 original, Paddington 2 doubles down on the previous film's many charms, introduces a cheeky new villain, and is thoroughly giddy fun."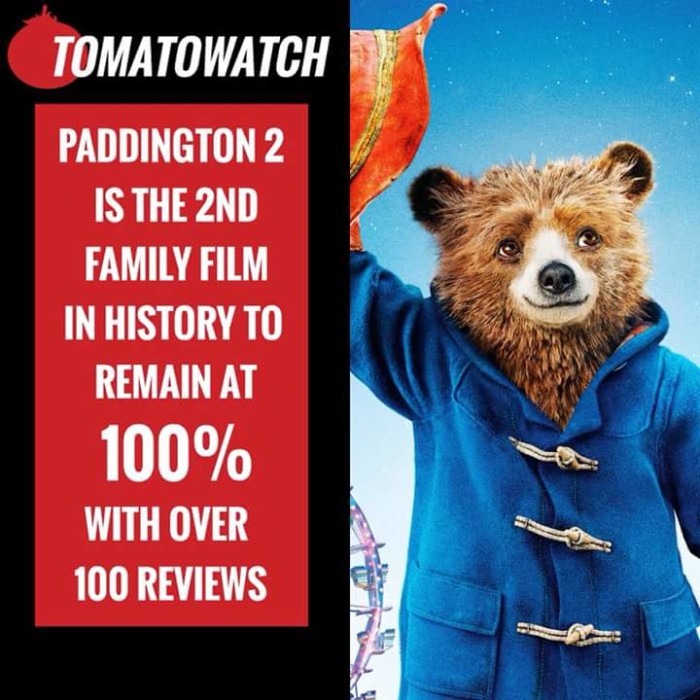 Here's the obligatory section of this story where I have to remind readers that there's a lot more to movie reviews than a Rotten Tomatoes number. At the end of last year, a mini-controversy broke out when Greta Gerwig's acclaimed coming-of-age film Lady Bird had its perfect 100% rating tarnished by a single reviewer's "Rotten" review. The reviewer, who I'm not even going to bother to name here, was clearly on a trolling mission to bring the film's score down – he admitted as much on Twitter. That said, his act of Rotten Tomatoes sabotage does not make Lady Bird any less-good if you personally enjoy it. Rotten Tomatoes is a review aggregator, and should be used as a guide, not a definitive statement on a film's quality.
Still, it's nice to see critics taking so well to Paddington 2. Sadly, this high critical praise doesn't seem to be translating to box office dollars: the film is underperforming slightly at the box office, which might stall any future Paddington sequels. This would be a true shame, since this series is proving to be a real gem. In other words, go out there and see Paddington 2, folks.