That '70s Show's Central Characters Weren't Exactly Works Of Fiction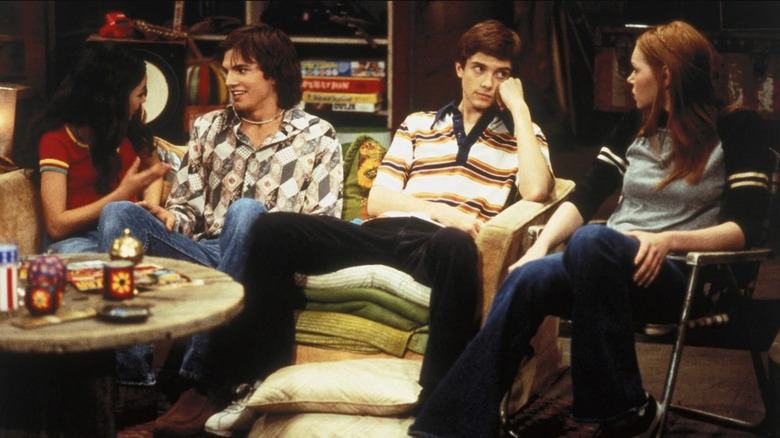 20th Century Fox Television
It's normal to have regrets when looking back on life. Adolescence, that delicate space between childhood and adulthood, is primed for mistakes because most don't know who they are or what they want yet. It's a time of insecurity and confusion, which often leads to missteps and errors, which is exactly what makes it interesting.
Humiliating high school years are often the setting of popular books, movies, and television shows because it's a time full of universal experiences. Every one of us makes mistakes during these years, but only a select few get the chance to correct them.
Those were exactly the experiences that husband and wife writing team, Bonnie and Terry Turner drew from when penning "That '70s Show." Bonnie and Terry Turner weren't new to the game when they were approached to create the series, having previously written for "Saturday Night Live" and created "3rd Rock from the Sun," where they met producer Mark Brazill. In an interview with Variety, the three discussed coming together to create another series that was more personal.
When Bonnie and Terry Turner, along with Mark Brazill, were asked to create a comedy set in the '70s, they each used bits of their real teenage experiences to rewrite their lives and create the main characters of "That '70s Show."
Real life inspiration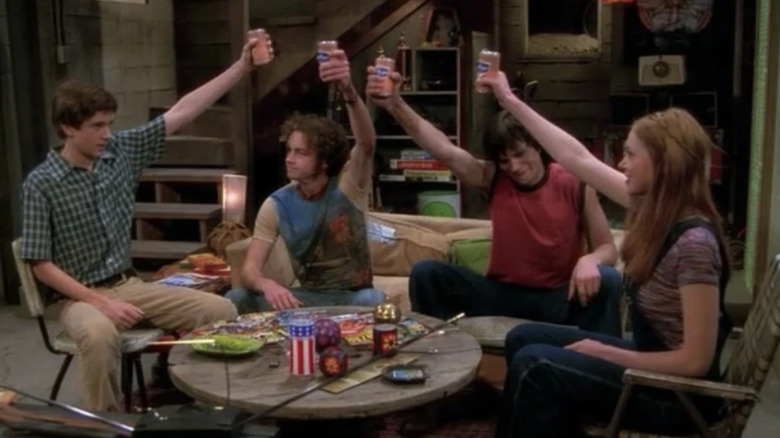 20th Century Fox Television
Young writers are often told to write what they know, and the creators of "That '70s Show" fully embraced that advice.
As reported in Variety, Eric Forman's (Topher Grace) hometown of Point Place, Wisconsin, was modeled after a small Ohio harbor town near Toledo, where Bonnie grew up. Some of the characters inhabiting that town are also based on the creator's real life. Fez (Wilmer Valderrama) is based on one of Bonnie's high school classmates, Bonnie and Brazill both grew up with no-nonsense fathers who were the inspiration for Red Forman (Kurtwood Smith), and Eric is the alter ego of Brazill.
In an interview with The LA Times, the producer revealed the character is based on himself as a teen:
"I had big hair and I was skinny and kind of sarcastic. It's funny–you think you have an unremarkable life and then these people come together and write about it. That's what these [episodes] are–I'm rewriting my life better."
Not all of Brazill's life needed improving, because he actually had a beautiful neighbor like Donna (Laura Prepon) and an airhead friend like Kelso (Ashton Kutcher), both of whom are included in the series main cast. Hyde (Danny Masterson) and Jackie (Mila Kunis) were based on stereotypical archetypes of the stoner and the stuck-up preppy that seem to populate every high school hallway.
Through these characters, "That '70s Show" portrayed realistic, and universal adolescent experiences.
Universal teenage experiences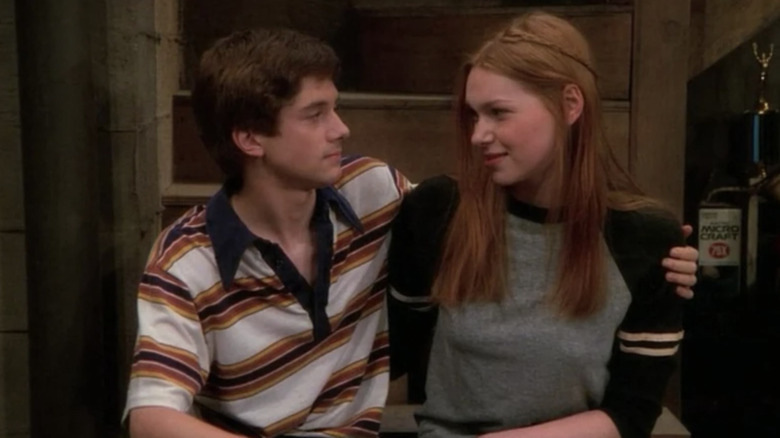 20th Century Fox Television
Initially, the writers wanted to take advantage of the nostalgic setting of the show, and focused on political issues of the '70s. A presidential speech from Gerald Ford and the pardoning of Nixon, are big moments in one of the first season episodes, but the creators realized that '70s issues weren't the interesting themes of their show. It's always handy to use nostalgia to draw an audience in, but it isn't enough to keep them interested for the long haul, unless it's paired with common experiences.
It's the issues associated with our adolescence that make teen sitcoms interesting, and that's what made "That '70s Show" so popular. Later in the first season, first love, birth control, and heartbreak became the focus of episodes, which allowed the show to appeal to audiences of every decade.
In her discussions with Variety, Bonnie Turner discussed the universal appeal of the series:
"This show is really timeless. I don't think kids change that much. Eight-tracks may become iPods, but there's always the rite of passage to sneak a beer and bond with your friends."
Despite the focus of the title, "That '70s Show" is actually about the shrapnel-filled journey through adolescents and the characters we meet along the way. In the end, adolescence, a time when we feel most alienated from one another, is an experience that binds us all together.