Legal Troubles Had That '70s Show Scrambling To Find A Title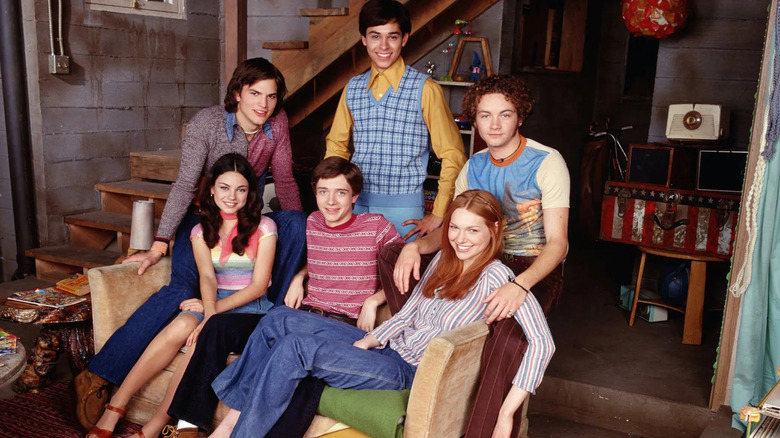 Fox
Did you know that "The Good Wife" was, at one point, titled "Leave the Bastard"? Titles can be funny things; they've got to sum up the vibe of the production's storytelling, while being grabby enough to linger on the memory and stay on the palette for word-of-mouth purposes. You also have to avoid getting sued to oblivion, a hurdle that producer Tom Werner talked about clearing in the process of bringing the Fox period sitcom "That 70's Show" to fruition.
In a sprawling collection of showrunner anecdotes with The Hollywood Reporter, everyone from writers to development heads weighed in on the titling challenge. Some series, like the J.J. Abrams/Damon Lindelof survival series "Lost," had the title from the jump and resisted any amendments to the name — to be fair, naming the show "Nowhere" would have led to similar jokes being cracked at the writers' expense during the later seasons as some fans grew frustrated with loose plot threads. Other series titles went through more changes than Spinal Tap drummers. Werner revealed to THR that early efforts to name the '70s-set series, which follows a group of Wisconsin teens and their incredibly un-hip parents hanging out in the latter end of the Me Decade, were foiled by a rock star who didn't like them talkin' 'bout his generation.
That's what everyone is going to end up calling it anyway.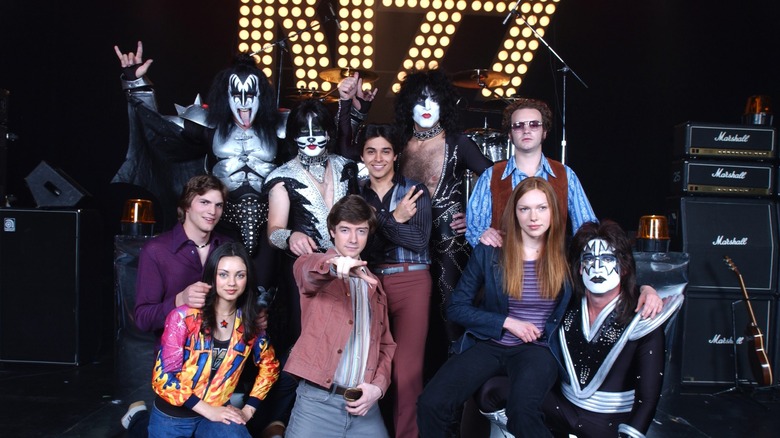 Fox
As cool as it would have been to see Eric (Topher Grace), Donna (Laura Prepon), Fez (Wilmer Valderrama), Jackie (Mila Kunis), Kelso (Ashton Kutcher), and Hyde (Danny Masterson) riding to the sweet sounds of The Who during the show's main theme, Pete Townshend was having none of it. Tom Werner told The Hollywood Reporter:
"'Teenage Wasteland' was our tentative title. It was on the first draft, but we couldn't get the rights to it from The Who. So we went back to the drawing board and came up with 30 titles. [Among them was "The Kids Are Alright," another Who song, which songwriter Pete Townshend shot down as well.] Eventually, we came up with "Feelin' All Right." As we got closer, the network decided that wasn't memorable enough. And frankly, it wouldn't have been. Finally, [co-creator] Bonnie Turner says, 'You know, why don't we just call it "That '70s Show"? Because that's what everyone is going to end up calling it anyway. No matter what we come up with, they'll say, "Did you see that '70s show?'"' We all looked at her and said, 'You're right.' It was inspired.'"
The series ended in 2006, but fans can rejoice at the recent news that the bulk of that '70s cast (and co-creators Bonnie and Terry Turner, in executive producing roles) will be returning for something newer and grungier. "That 90's Show" doesn't yet have a release date yet, but maybe Temple of the Dog will approve the rights to "Say Hello 2 Heaven" as a title.