Every Easter Egg In Stranger Things Season 4 Episode 7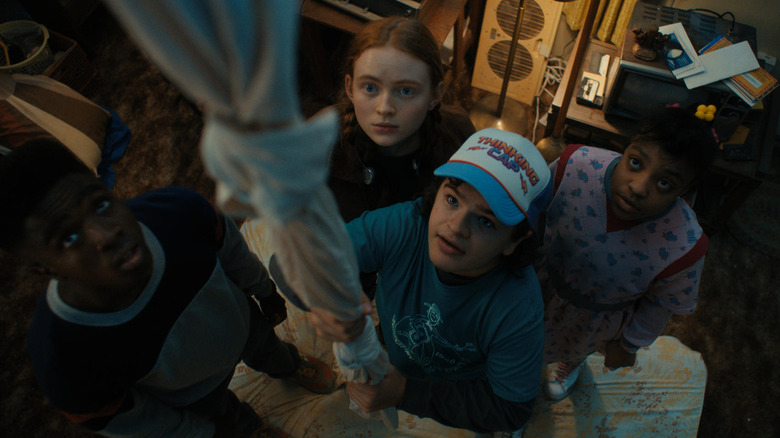 Netflix
The first part of the fourth season of "Stranger Things" is at its end with episode 7, as fans will have to wait until July 1, 2022 for the massive two-part finale. Until then, they're likely to go back and re-watch the season for clues and hints about what's the come, and maybe catch some more of the fun Easter eggs planted throughout. The previous six episodes have contained tons of fun pop-culture Easter eggs, and while episode 7, "The Massacre at Hawkins Lab," is centered more squarely in the series' own canon, there are still a few neat little nods. Grab your walkie-talkie and flashlight, because we're going in. 
Spoilers for season 4, episode 7 of "Stranger Things" ahead!
Rockin' like Ozzy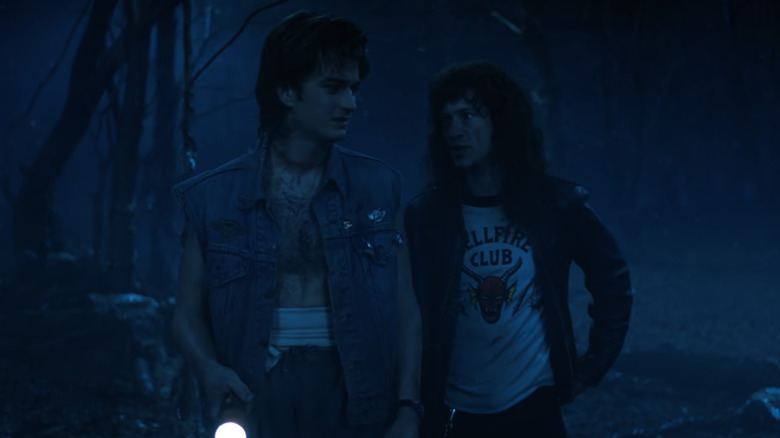 Netflix
High school senior/Dungeonmaster Eddie (Joseph Quinn) and recent graduate/video store clerk Steve (Joe Keery) have plenty of reasons to not like one another, based purely on their social status and lived experiences, but they get a moment to bond in the Upside Down. After Steve fights off some nasty bat-demons, Eddie compliments him by saying what he did was pretty "Ozzy-like," because the lead singer of Black Sabbath, Ozzy Osbourne, once bit the head off a bat onstage. Steve doesn't understand the reference and Eddie tries to explain, but Steve doesn't even recognize "Black Sabbath." Thankfully that doesn't slow down Eddie's appreciative one-on-one with Steve, as he reassures the handsome dork that what he did was "metal," and that's a good thing. One of the best things about this season has been the show pairing up characters that normally wouldn't get a chance to interact, and Eddie and Steve's relationship is pure excellence. 
Be kind, rewind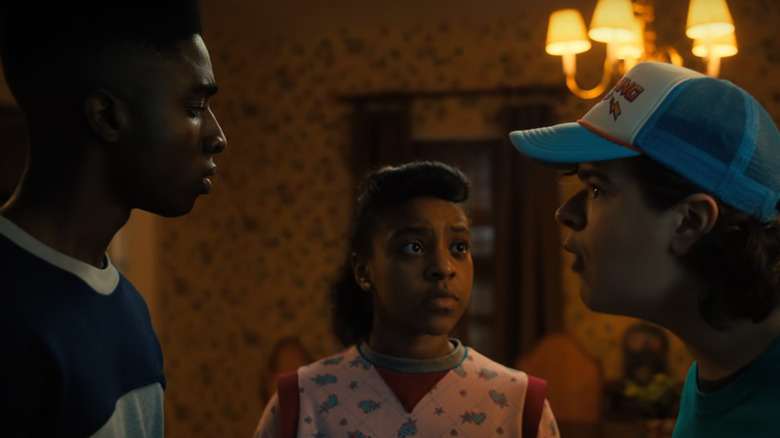 Netflix
After the older teens set off in the boat to look for the door to the Upside Down in Lovers' Lake, younger teens Lucas (Caleb McLaughlin), Dustin (Gaten Matarazzo), and Max (Sadie Sink) head back to the Wheelers' house to check in with their parents and look for more clues about how to defeat Vecna. Dustin figures out that Vecna is the champion of the Upside Down, sort of its main bogeyman, and tries to explain it to Dustin and Erica (Priah Ferguson). Erica doesn't quite understand what he's going on about, so she asks him to "be kind, rewind." She's referring to the phrase that was often put on rental VHS tapes to remind borrowers to rewind the tape before it went back on the shelf. Steve and Robin (Maya Hawke), who both work at Family Video, would probably appreciate her use of the phrase if they weren't, you know, fighting demon bats in the Upside Down. 
It's Lite Brite!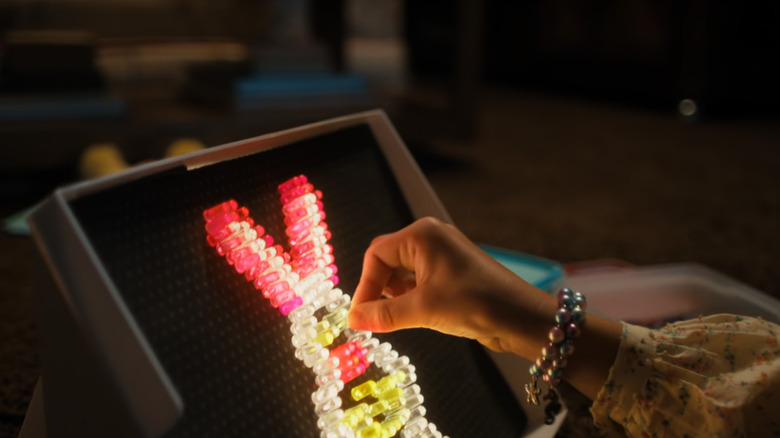 Netflix
Once Dustin, Lucas, and Erica figure out that the teens in the Upside Down are trying to communicate with them by using the lights to spell out "S.O.S." in Morse code, they run to steal young Holly Wheelers' Lite-Brite toy. The toy was originally released in 1967 and featured a black board with holes in it that kids could put colored pegs into and create illuminated images. The toy stayed popular all the way through the 1990s, in part because of the creative element. Kids love making stuff, and being able to create designs that lit up was really cool. This was before cell phones or tablets or even most people having a computer in their homes, so Lite-Brite was the coolest.
The teens manage to communicate with Nancy through the Lite-Brite in one of the season's coolest scenes. It's a lot like Joyce's (Winona Ryder) alphabet of Christmas lights for Will (Noah Schnapp) all the way back in season 1, when he was trapped in the Upside Down and could only reach out by making lights turn on and off. Nancy gets to actually draw with light, and it's gorgeous.  
A gate that's underwater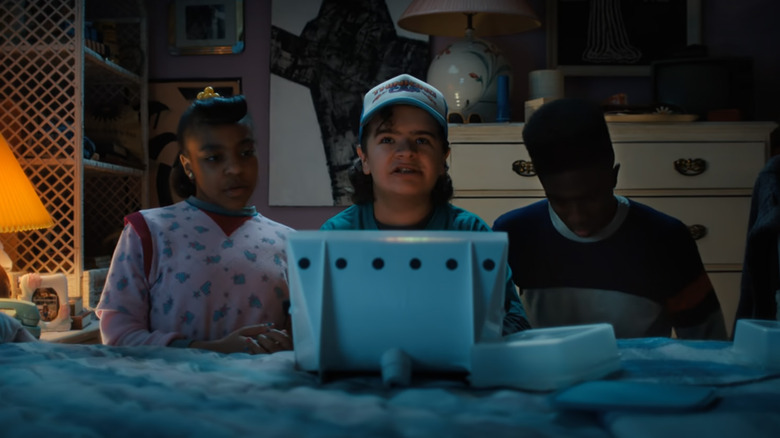 Netflix
Dustin comes up with a name for the portal to the Upside Down in Lovers' Lake: Watergate. When he discovers that the elder teens have gone through the gate and are trapped in the other version of Hawkins, he complains about them going through the "Watergate," which confuses the older crew. After all, to them, Watergate represents the 1972 Watergate scandal, which eventually led to the impeachment and resignation of President Nixon. Robin figures it out, explaining "because it's in water, and it's a gate," and the other teens chuckle. Eddie even gives Dustin a tiny bit of credit, saying, "that's cute." Dustin may not have the best choice of names for things, but he is on the right track with finding more gates, so maybe the older kids should listen. 
Justice for Barb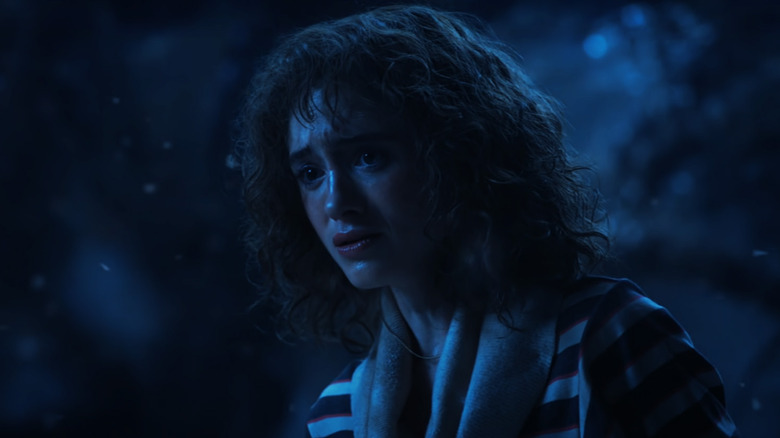 Netflix
Sometimes "Stranger Things" gets so caught up in its many, many characters that it doesn't quite do right by some of them. One character was Shannon Purser's Barb back in season 1, who was killed in a supernatural swimming pool murder and then seemingly forgotten. While the Duffers rectified some of that in season 2, they also let some of the characters move on without mentioning her at any point. When Nancy falls into Vecna's clutches, he blames her for the death of Barb, because Nancy was off having sex with Steve while Barb died. While that's not Nancy's fault the same way it's not Max's fault that Billy died, both clearly have some survivor's guilt. It will be interesting to see where the second half of season 4 takes the characters, and if anyone else has hidden wounds to pry open. 
"Stranger Things" season 4, part 1 is now streaming on Netflix.