Stranger Things 4 Volume 2 Teaser Breakdown: Looking Ahead To The Super-Sized Second Part Of The Season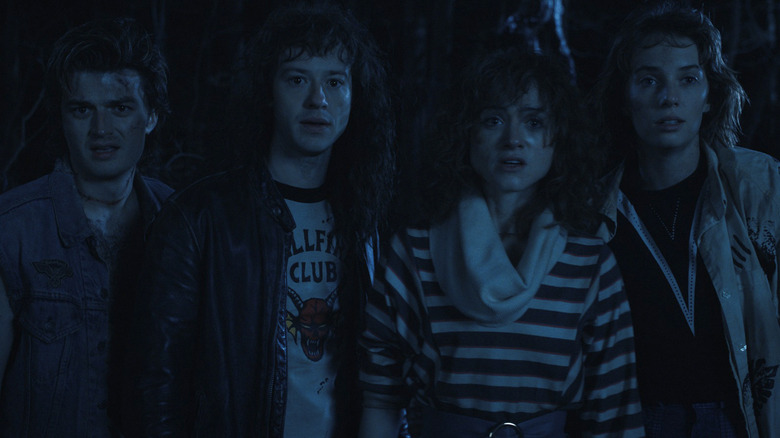 Netflix
Fans who raced through the first seven episodes of "Stranger Things" season 4 today got a special surprise at the end. The ultra-intense seventh episode ended with a teaser for Volume 2 of the new season, which will drop on July 1, 2022. The back half of the season will actually only consist of two episodes, but they're both super-sized, totaling about four hours back-to-back.
There's a whole lot jammed into this 30-second preview, so let's unpack some of these shots and take a guess at what it all might mean for the future of Hawkins and our favorite '80s kids.
'It's over, Eleven'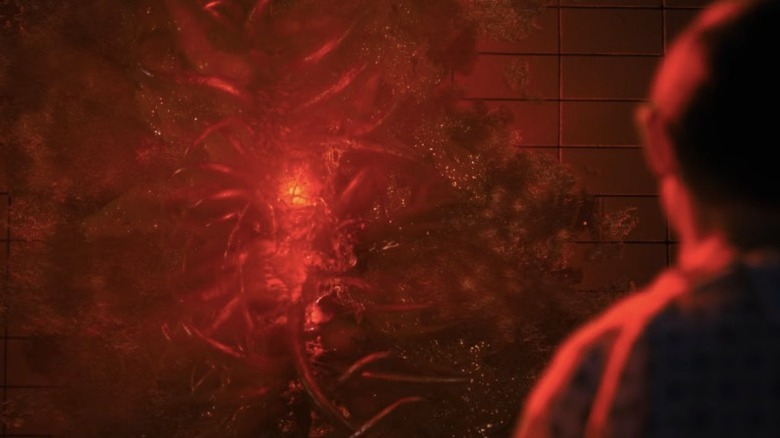 Netflix
The action seems to pick up immediately after where we left off, with little Eleven (Millie Bobby Brown) watching the Upside Down close after she sent One (Jamie Campbell Bower) through a portal. It looks like a super-freaky variation of the same nightmare imagery we've seen in Upside Down gates before, only this time everything is soaked in blood-red light and there are some freaky tendrils sliding back in as the door closes.
"It is over, Eleven," we hear what appears to be Vecna's voice saying over a shot of blood-soaked baby El. "You have freed me."
At the same time, we get this familiar shot of Brenner, meaning there's likely more to see involving the sketchy doctor's response to finding El at the center of a massacre.
While Vecna/One is talking, we see Robin (Maya Hawke), Nancy (Natalia Dyer), and Steve (Joe Keery) turn around when a clock ominously chimes in the Upside Down. It seems that now that everyone understands Vecna's origin, the clock has run out on his slasher games, and he might be taking his tyranny to a new level. That's bad news for anyone still stuck in the Upside Down — which, right now, is Nancy.
Stranger Things goes full Alien: Resurrection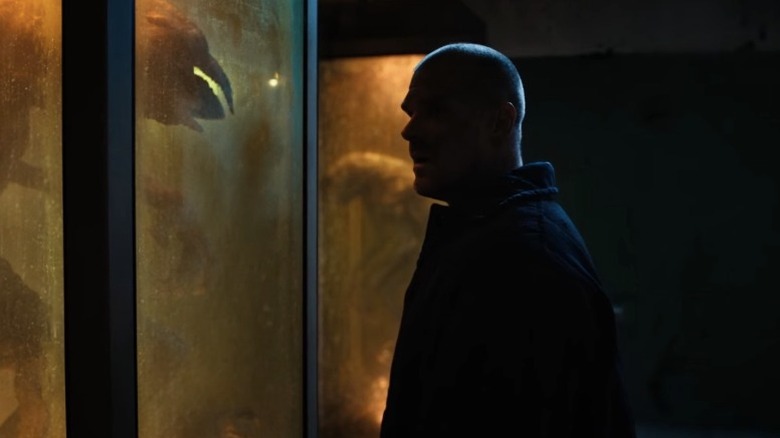 Netflix
In one of the most intriguing shots in the teaser, Hopper (David Harbour) looks at what appears to be a dusty, museum-like display featuring creatures from the Upside Down. Are these prototypes for something scientists or government officials hoped to create? Or taxidermied versions of Demogorgon-like creatures that have been taken down by some Upside Down expert? Either way, this shot gives off major "Alien: Resurrection" vibes, which is awesome, because that movie stars Joyce Byers herself, Winona Ryder.
Next up, we see Dustin (Gaten Matarazzo) back to back with a figure I'd guess is Eddie (Joseph Quinn). The pair are dressed in decidedly geeky garb, as if they're acting out Dungeons & Dragons in real life. "Stranger Things" has a knack for making its '80s geekery essential to saving the world, so it wouldn't be surprising if that played a factor. The tied rope from the last episode is also in the background, meaning the pair likely leapt into the Upside Down from Eddie's trailer. They could well be using makeshift armor they grabbed from whatever was handy.
Now, back to Hopper. We see him and Murray (Brett Gelman) with one of the containment cells/display cases behind them, and a gross-looking rubber partition. If the gang is still in Russia, they're likely getting a peek behind the (Iron) curtain to see exactly what the Upside Down has to do with global politics.
While we don't get a clear answer, we do get a very cool shot of Hopper watching aggressively swirling, seemingly sentient dust move on the other side of some glass. While this at first seems odd, we've actually witnessed some magical dusty stuff twice before: First, when the team captured part of the Mind Flayer that escaped Will Byers (Noah Schnapp) in season 2, and second, when One's body got pretty crumbly when El pushed him through to the Upside Down. "You can't stop this now," Vecna says in voiceover at this point, which makes me think the dust is some malevolent part of him that's lost corporeal form.
The clock is ticking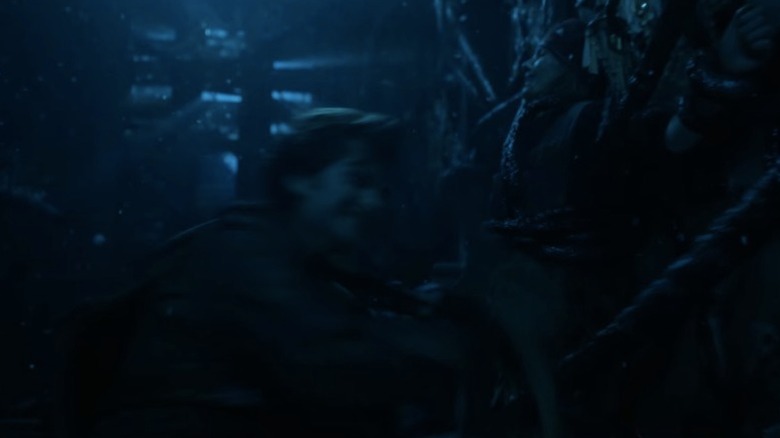 Remember how I said the ticking clock probably means Venca isn't playing by his own seven-day-timeline rules anymore? Yeah, that seems pretty clear from these next few shots. First, we see Steve trying to free Robin from what appear to be Upside Down-style vines. No offense to every other lovely character, but if Robin dies, this show will be dead to me.
Next up, the return of action hero Hopper. Covered in dirt and grime and inexplicably wearing a Hulk Hogan T-shirt (hey, you take what you can get in a Russian torture camp), he seems to be running full-force down a hallway with a gun in hand. All of these shots of what seems to be Russia make me think Hopper may not make it back to the U.S. this season, unless he's able to hop back through the same gate that brought him there in the season 3 finale.
Now, back to Hawkins, where Max (Sadie Sink) seems to be looking for an exit and only finding boarded up windows. These boards look a lot like the ones Chrissy (Grace Van Dien) runs into when she faces off with Vecna seconds before her death. They're also visible in the shot above, meaning Max might be right by Steve as he fights to free Robin.
Cool girls do look at explosions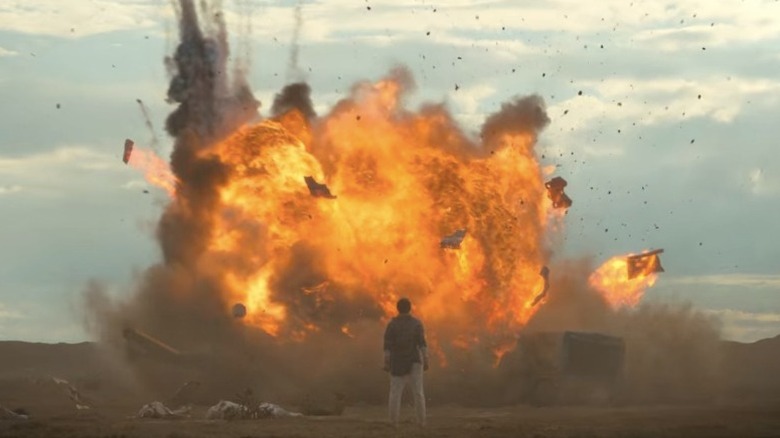 Netflix
Next up, things start exploding. I'm a little annoyed that this shot, which also appeared in the full season trailer, keeps popping up ahead of air time because it seems to give a lot away. As far as I can tell, it's modern-day Eleven outside the underground facility where Brenner was keeping her, watching the whole godforsaken place go kaboom. There may or may not be bodies on the ground around her, and there's definitely a truck of some sort parked next to the explosion. It looks like El makes it out of her recovered memory sessions/possible kidnapping in the most dramatic way possible, then.
The interesting thing, though, is that everyone seems to be experiencing some kind of explosion. The shot of El is paired with three more shots, first of Murray, then of Steve, Nancy, and (I think) Robin, then of Lucas. My guess is that some of these are fake-outs. While the glow reflected in Murray's glasses during what looks like a last hurrah battle cry shot seems decidedly explosive, the other two shots might just be our heroes witnessing an Upside Down portal. Since this entire season has been bathed in red light, it's a little tough to tell the difference.
El versus Vecna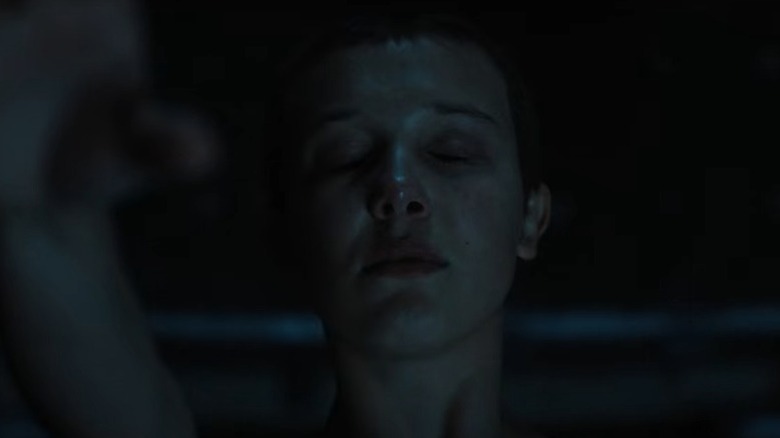 Netflix
Finally, we get one of those great image matches that "Stranger Things" employs so deftly. This time, it's a shot of Eleven raising her hand to use her powers matched to a shot of Vecna doing the same.
This is a great play on the season-long "is Eleven a killer?" arc, but we already know the answer to that: Vecna's the baddie, not El, unless you count assault with a roller skate a felony offense (which ... maybe it is). While Vecna is shrouded in darkness, we see El's face clearly, and she looks like she's focusing hard on finding some internal calm. I'd wager this is what she looks like right before her powers come rushing back, stronger than ever.
All in all, this is a juicy trailer full of intriguing moments. I'm also extremely curious what's going on with Mike (Finn Wolfhard), Will, Jonathan (Charlie Heaton), and Argyle (Eduardo Franco), who are noticeably absent from all this footage. We'll find out soon enough. The last two mega-sized episodes of "Stranger Things" season 4 drop on July 1, 2022.