Stranger Things Season 4 Will Feature Several Movie-Length Episodes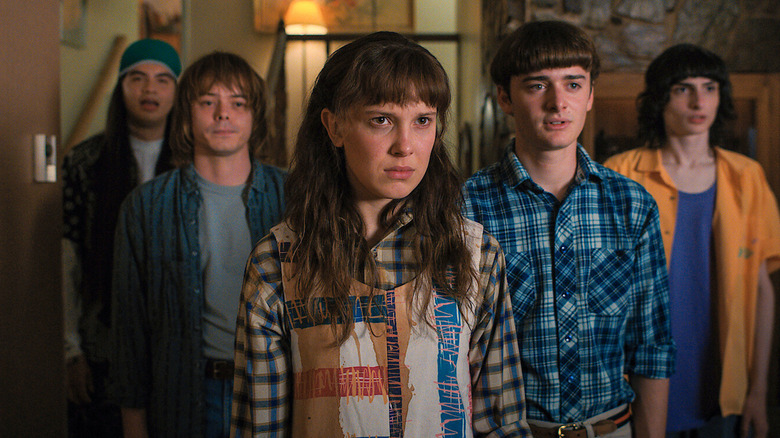 Netflix
I guess if you're going to spend $30 million per episode on season 4 of "Stranger Things," it's good that some of the episodes are long ones. According to an interview The Wrap did with the Duffer Brothers, two of the new episodes are going to be over two hours each. That's the length of most movies. It's interesting to me to see how these things work. We used to have shows on network TV with over 20 episodes. Then the trend became between six and 13 on streaming services. Now we're trying to get the entire season into nine episodes here, with next season being the final one, but we're supersizing some of them? For some reason, the season is being split up into part one and part two (four and five episodes respectively). While I'm very excited to see what's coming, I do wonder why we're doing two-hour episodes and splitting up nine into two parts, and what the heck the $30 million an episode went to. This is just me wondering about the way stories are split up these days since streaming turned things into the wild west. I'm just glad it's finally almost here. 
In the interview, Matt Duffer explains, "A lot of it had to do with the fact that we had characters spread out in three locations and we had a lot more plot. It must be quadruple the plot we had in season 3. That was our fun blockbuster season. This season we knew season 5 was going to be our last, we had to start revealing a lot." 
Separate ways
Those locations will likely include the Russian prison that Hopper (David Harbour) was revealed to be in at the end of season 3, the California suburb that Will (Noah Schnapp), Jonathan (Charlie Heaton), and Eleven (Millie Bobby Brown) have moved to, and Hawkins where the rest of the gang still lives. Oh, and the Upside Down, of course. 
Matt Duffer continued, "The more we were writing, the more we realized we need more time in order for these reveals to land, in order for these storylines to work. Partway through we knew we needed to ask Netflix for nine episodes instead of eight and as we started shooting we realized, Oh these are mega-long episodes." Ross Duffer added that the final episode is "over two hours." That's a whole lot of Vecna and friends! 
Season 4 of "Stranger Things" stars Millie Bobby Brown, David Harbour, Finn Wolfhard, Gaten Matarazzo, Caleb McLaughlin, Noah Schnapp, Winona Ryder, Sadie Sink, Natalia Dyer, Charlie Heaton, Joe Keery, Priah Ferguson, Maya Hawke, Cara Buono, Brett Gelman, Amybeth McNulty, Jamie Campbell Bower, Eduardo Franco, Regina Ting Chen, Myles Truitt, Grace Van Dien, Joseph Quinn, Sherman Augustus, Mason Dye, Tom Wlaschiha, Nikola Djuricko, and Robert Englund.
Volume 1 of "Stranger Things" season 4 makes its debut on Netflix on May 27, 2022, with Volume 2 following on July 1, 2022.