The Duffer Brothers Compared Stranger Things Season 4 To This Polarizing Series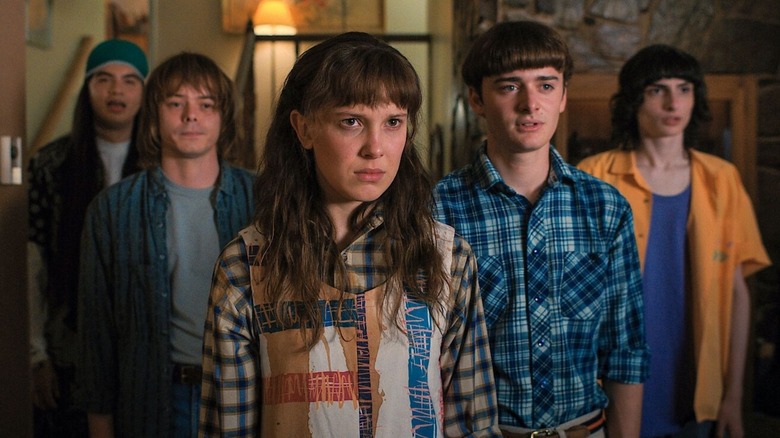 Netflix
"Stranger Things" season 4 is easily the year's most anticipated Netflix release. After a three-year hiatus, the beloved sci-fi horror drama will return to the streaming service in two volumes — with the first releasing on May 27 next month. This time around, the Duffer Brothers are leaning hard into the show's horror themes, promising a season that is expansive in its storyline and offers a scary new take on the Hawkins gang and their adventures.
At the end of season 3, most characters' futures appear to be uncertain. The gang presumes Jim Hopper (David Harbour) to be dead, which drives Joyce (Winona Ryder), her family, and Eleven (Millie Bobby Brown) to move away from the mysterious town of Hawkins while the rest stay put. The season 4 teaser and trailer have already revealed that Hopper is alive but not necessarily well (he's being held captive in a Russian prison that also contains a demogorgon), and the upside-down business in Hawkins is a lot more alarming than it seems. With the addition of a new big bad, characters living in different places from each other, and the Upside Down posing more menacing threats than ever, season 4 promises to be the show's biggest season yet. In fact, The Duffer Brothers have compared the season to another epic fantasy series, at least in terms of its vast, ambitious storyline.
It's their version of Game of Thrones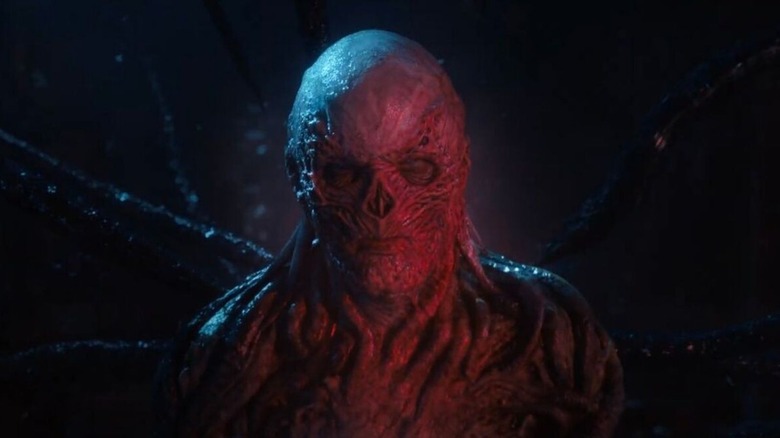 Netflix
Fans had plenty of conflicting feelings about"Game of Thrones," particularly its ending. Some will tell you Daenerys deserved better. Some will say Jon Snow should have been king. Many will tell you that season 8 should've never existed. Honestly, if a "Game of Thrones" fan tells you that season 8 was good, run as fast as you can and never look back.
Even if we acknowledge that season 8 terrible, that it doesn't mean "Game of Thrones" didn't make history. The adaptation of George R.R. Martin's novels was one of a kind and united a legion of fans from across the world. The Duffer Brothers believe that "Stranger Things" season 4 is similar to "Game of Thrones," especially with the characters in the sci-fi series spread across an expansive landscape with three different storylines unfolding. 
"We kind of jokingly call it our 'Game of Thrones' season because it's so spread out, so I think that's what's unique or most unique about the season," revealed Matt Duffer during Deadline's Contenders Television panel. Duffer was accompanied by his twin brother Ross and "Stranger Things" star Winona Ryder at the panel. Matt continued:
"Joyce and Byers family to have left at the end of Season 3 ... they are in California – we've always wanted to have that like 'E.T'.-esque suburb aesthetic, which we finally got to do this year in the desert; and then we have Hopper in Russia; and then of course we have a group remaining in Hawkins. So we have these three storylines, are all connected and kind of interwoven together, but it's just very different tones."
A season of revelations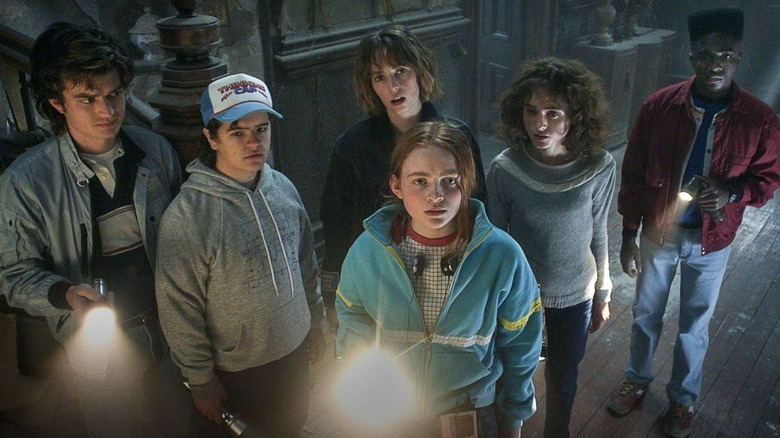 Netflix
Ross Duffer further mentioned that while finishing season 3, the brothers knew the show's next chapter would follow their characters in different locations. What they weren't prepared for, however, was how big the season would get in terms of revealing the mysterious circumstances brewing in Hawkins. Season 4 is for revelations, much like the progressing seasons of "Game of Thrones," the co-creator shared.
"... We didn't know how big the season was going to get, and we didn't even realize until we were about halfway through, just in terms of how much story that we wanted to tell this season. Game of Thrones is one thing we've referenced, but also for us really what it's about is revelations, in that we really wanted to start giving the audience some answers."
The Duffer brothers have made one promise this season: Longtime "Stranger Things" fans will finally obtain some clarity about the supernatural occurrences that have haunted the Byers family and their friends since the show's very beginning. The demogorgon may have been the primary supernatural antagonist so far, but the actual otherworldly entity making the town its home for the past few years will finally make an appearance. If there's anything you can expect to see in season 4, it is the root of Hawkins' secrets!