Charlie Cox Didn't Have Much Time To Get Into Shape For MCU's Daredevil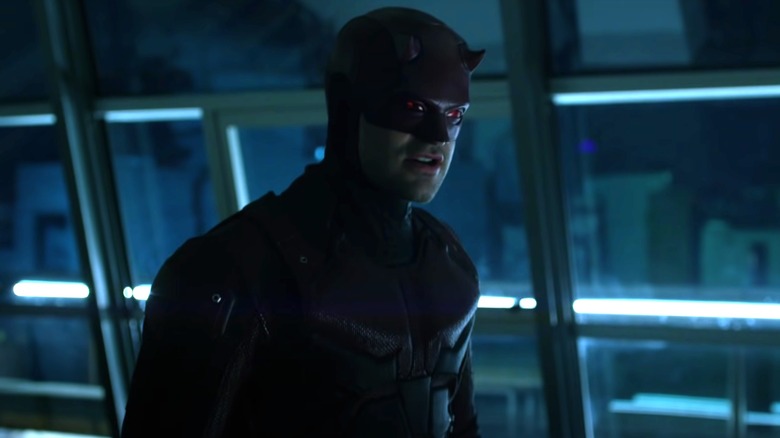 Marvel Television
Before he landed the role of the titular superhero in Netflix's "Daredevil," Charlie Cox was already known to some stateside viewers for his appearance in the second and third season of HBO's "Boardwalk Empire." In that series, Cox played Owen Sleater, the Irish immigrant who became a bodyguard for Steve Buscemi's character, Nucky Thompson, only to wind up having an affair with his wife Margaret (Kelly Macdonald).
When Marvel Television came calling for "Daredevil," however, Cox suddenly faced the need to get in superhero fighting shape — and fast. For one thing, he was going to be engaging in an epic hallway fight right from the second episode, and there was also just a certain comic book muscle standard to uphold.
In an interview with GQ back in 2015, not long after the first season of "Daredevil" hit Netflix, the actor discussed how he only had a month to get in shape before production on the series began. Cox explained:
"They set me up with a trainer everyday and I just ate what I was told to eat and worked out in the way I was shown. There was a lot of focus on the upper body because obviously the shirt's going to come off and I wanted to represent those iconic muscle-bound panels in the graphic novels. They draw them for a reason, so it was important to me to do my best at least."
Playing a blind man was tricky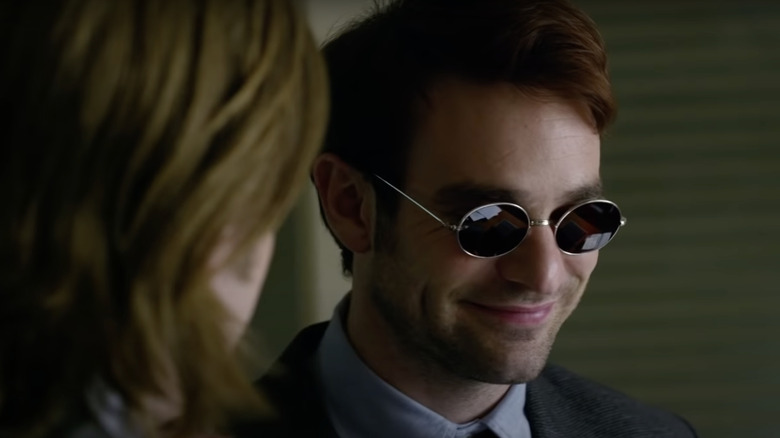 Marvel Television
In March 2022, "Daredevil" and Netflix's other street-level Marvel superhero shows moved to Disney+, and now there is a new "Daredevil" series in development. After years of having their adventures play out on the streaming sidelines — with little to no acknowledgement of the Netflix shows in Marvel Studios films — both Cox and his old "Daredevil" co-star, Vincent D'Onofrio, also made their entry into the more official canon of the Marvel Cinematic Universe in late 2021. D'onofrio showed up as Kingpin in "Hawkeye," while Cox showed up on the big screen as Peter Parker's blind lawyer, Matt Murdock, in "Spider-Man: No Way Home."
Cox's "No Way Home" appearance required his character to catch a brick that someone had hurled through Parker's window, and of course he did it without looking. This is something he was already used to from his days on "Daredevil." Playing a blind man took some getting used to, however. He told GQ:
"It was much trickier than I anticipated. As an actor, you use your eyes to convey emotions so not having them available was a challenge. Also I couldn't look at anything I wanted to pick up. There was a cool moment when another character throws me a shirt and I grab it without looking, which took three or four takes of someone shouting 'Now!' to get it right."
Cox also revealed that he initially wore a special pair of contact lenses that looked more natural than the "washed out white lenses" Ben Affleck wore in the 2003 "Daredevil" movie. However, they "became a nuisance on set" and he ultimately decided to forego that method-acting approach. All the same, his performance as Daredevil was a highlight, and we can only hope to see more of him in the MCU's future.