Guillermo Del Toro Wanted Blade 2 To Feel Like A Comic Book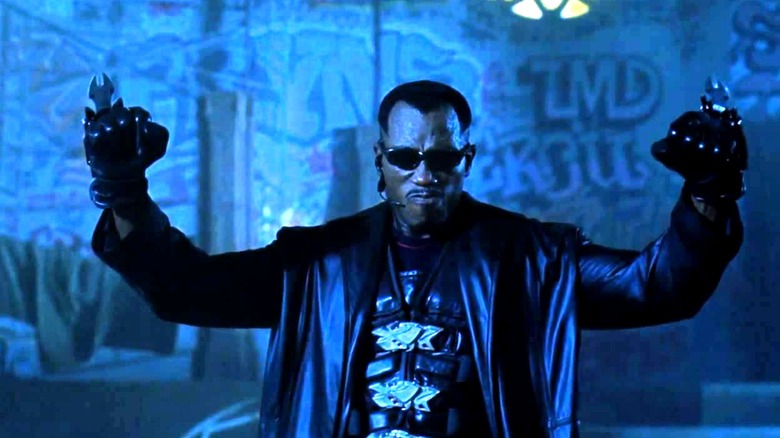 New Line Cinema
Guillermo del Toro is a critically beloved filmmaker known for his sharply detail-ridden directing style that speaks with a visual language of its own. The Mexican director gained prominence with his Spanish-language dark fantasy dramas like "Pan's Labyrinth" and "The Devil's Backbone," while his two most recent English-language works, "The Shape of Water" and "Nightmare Alley," have gained heaps of recognition at the Academy Awards. However, del Toro's earlier American productions have embraced a less serious, more cartoonishly crazy tone to them, and there's perhaps no better example of this than "Blade II."
"Blade II" was one of the first sequels to a modern comic book superhero movie, though both entries differ in tone from today's Marvel Cinematic Universe and even its then-contemporary films in the same genre like "Spider-Man" and "X-Men." In contrast, "Blade" was a violent, R-rated romp into horror territory, in which the protagonist behaves more like a gritty antihero than a traditional, morally centered superhero. Del Toro upped the highly stylized action of the original "Blade" to an even more extravagant degree, while also using his signature obsession with monsters to include more overt horror elements.
A gore-drenched cartoon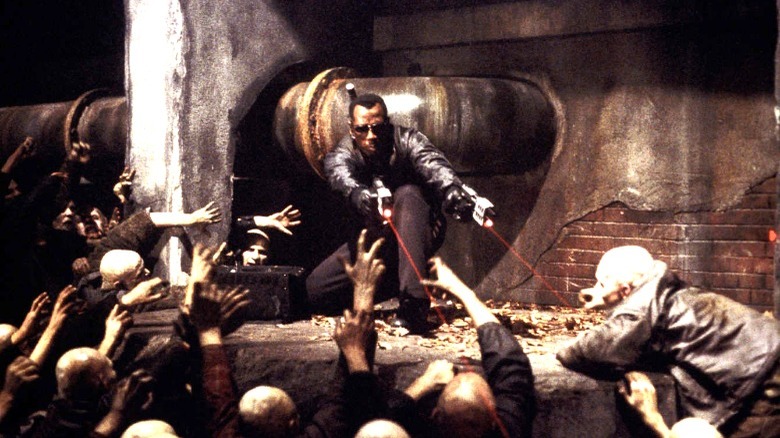 New Line Cinema
Del Toro himself has expressed his love for "Blade," excitedly expressing in an interview posted on Dailymotion that the opening scene made him "crap his pants." However, he also stated that he wanted his contribution to be different from what he calls the "James Cameron sensibility" of the first film. Whereas del Toro described director Stephen Norrington's style as "techno," "urban," and "vibrant," he likens his own work on "Blade II" as closer to an anime or a comic book with more gothic horror influences, calling it a "gore-drenched cartoon."
In order to achieve this effect, del Toro hired illustrators Mike Mignola (of "Hellboy" fame), Wayne Barlowe, and Tim Bradshaw as concept artists. The director cited Mignola as a particularly strong influence on the visual style, showing director of photography Gabriel Beristain a "Hellboy" collection to express to him what he wanted the visual style to look like. In effect, Beristain reversed colors that are typically associated with night and day, turning the palette blue during daylight hours and cranking up the amber tones in the evening. Del Toro also utilized quick and actively moving camera movements to exaggerate the action and distance "Blade II" from the much slower and subdued style of "The Devil's Backbone."
Those who enjoy the quiet artistry of the latter may not be too keen on the hyperactivity of the former, but the contrast reveals just how much range del Toro has a filmmaker. As much of an intellectual and cinematic scholar the man is, he loves the pulpy, the whacky, and the extreme as much as he has a fondness for what could be deemed "high art." As he states in the interview, "The Devil's Backbone" may be a deeper film, but "Blade II" is "like a toy, like a childish joy ... in a way that is very liberating."