Jon Hamm Didn't Need To See A Script To Know He Wanted A Role In Top Gun: Maverick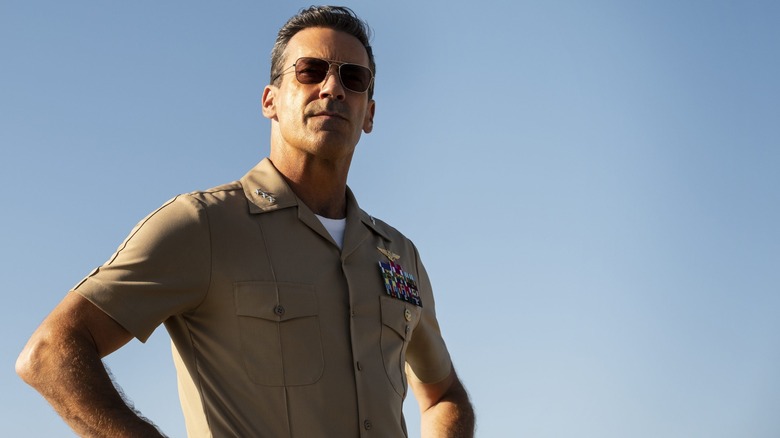 Paramount Pictures
Every movie fan has a story about coming of age at just the right time for a smash-hit, pop culture-defining movie to sweep them away and light their imaginations on fire. Now, imagine that one of those fans grows up to become an actor in their own right — a wildly successful one, at that, with their own once-in-a-lifetime project that they'll forever be associated with — and is given the opportunity to actually appear in the legacy sequel to that original movie. For many, that influential and game-changing experience happened to be the 1986 "Top Gun." And for actor Jon Hamm, the chance to sign onto "Top Gun: Maverick" was simply too good to turn down.
Everybody knows about the various motivating factors from the star of the show, with Tom Cruise practically willing this sequel into existence and putting his life on the line (what else is new!) to make "Top Gun: Maverick" as thrilling as humanly possible. But when it came to the experience of joining the project, Hamm didn't hesitate for even a second. One might be tempted to believe that the star of "Mad Men," "Baby Driver," and "Bad Times at the El Royale" would've developed a healthy distance from even the most high-profile job offers that came across his desk. Think of talented athletes giving up their lifelong fandom the second they initially sign with a professional team, for instance.
According to Jon Hamm, however, he never even needed to look at the script before saying yes.
'Tell them, yes. We'll work all that s*** out later'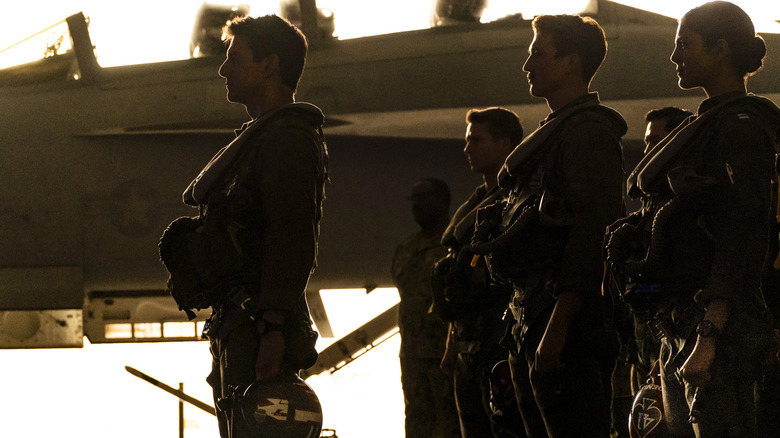 Paramount Pictures
"Top Gun: Maverick" is flying high ahead of its release, boosted by tremendously favorable reviews and solid early tracking numbers that suggest the best opening of any Tom Cruise-led film in his career. In retrospect, it feels like an absolute no-brainer for any of the actors involved to jump at the chance to participate in an action movie of this caliber. Years back when this long-delayed sequel first entered production, however, there were any number of ways a legacy sequel to a movie as influential as "Top Gun" could turn out badly.
Don't try to tell that to Jon Hamm, though. In a recent interview with Uproxx, Hamm spilled the details on how exactly he first found himself joining the production of "Top Gun: Maverick." Spoiler alert: it didn't exactly take much strenuous negotiations, to say the least. According to the actor:
"I got a call. I remember I was in my car and the phone rang. And I picked it up, hands-free of course. They said, 'They're looking at you for this 'Top Gun' sequel.' And I was like, 'What? Hell yes.' They said, 'We haven't seen a script.' I said, 'Tell them yes.'
'Well, we don't know what we're getting paid.' 'I don't care. Tell them, yes. We'll work all that s*** out later.' And I had a meeting with Chris McQuarrie and everybody, and a phone call with Jerry Bruckheimer, and everybody seemed very excited.'"
Talk about decisive. Hamm plays a humorless admiral named Cyclone in the movie who, in an amusing twist that couldn't be further from actual truth, Hamm's character is no fan of Maverick. Fiction doesn't always follow reality, but Jon Hamm's excitement to star in "Top Gun: Maverick" is certainly genuine.