Top Gun: Maverick Is On Track To Give Tom Cruise The Biggest Opening Weekend Of His Career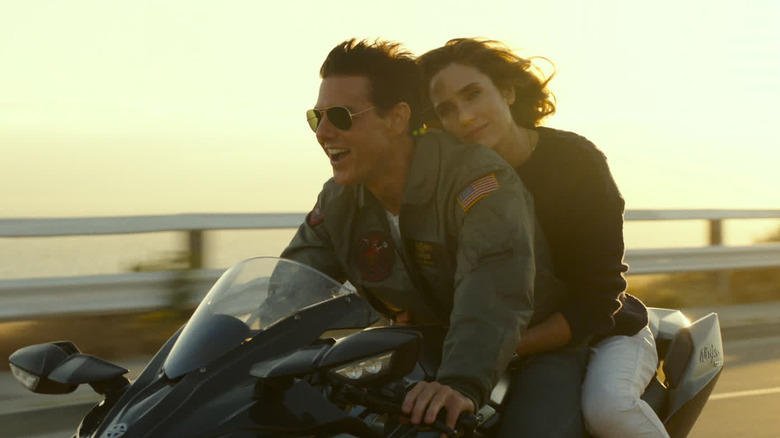 Paramount Pictures
Tom Cruise is making his return to the big screen this weekend with "Top Gun: Maverick." This is not just any movie from one of the biggest stars in the world, mind you, as this is a sequel to one of the biggest hits of his illustrious career. Not only that, it's riding a wave of critical buzz that is frankly shocking, given that this is a sequel to a cheesy '80s action flick decades after the fact. Well, it turns out moviegoers have the need for speed, as it appears this is going to end up being the biggest opening of Cruise's four-decade career in the business.
As reported by Variety, "Top Gun: Maverick" is expected to bring in between $85 and $100 million through the weekend, and could reach $130 million by the end of Memorial Day on Monday. This means Cruise, a man whose movies have generated more than $10 billion at the global box office, could be seeing his first-ever $100 million opening weekend, which does seem a bit hard to believe. But what's even more amazing is that, even on the low end, it's still going to be his biggest domestic opening by a considerable margin.
To date, Cruise's biggest domestic opening came in 2005 with "War of the Worlds," which opened to $64.8 million. Even adjusted for inflation, that still gets you to around $95 million, which wouldn't eclipse the $100 million mark. Next up would be "Mission: Impossible – Fallout" with $61.2 million in 2018. In terms of raw dollars, Cruise has never come close to what is expected to happen this weekend, and that is pretty remarkable given his staying power as a bankable superstar since the mid-'80s.
Nostalgia and star power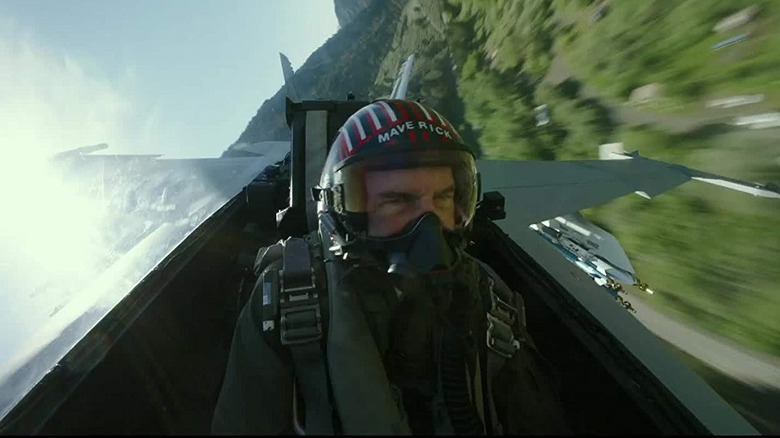 Paramount Pictures
It took a very long time for a sequel to 1986's "Top Gun" to happen, and it kind of seems like it came at the perfect time in many ways. Audiences are eager to return to theaters for the right movies as we continue to emerge from the pandemic. Nostalgia continues to be a gigantic driver of commerce when it comes to entertainment. And, perhaps most importantly, Cruise brings with him a great deal of star power that can put butts in seats. The stars have aligned and, amazingly enough, this is now poised to be one of the biggest movies of the year.
Joseph Kosinski ("Oblivion") is in the director's chair. The stacked ensemble includes Miles Teller, Jennifer Connelly, Jon Hamm, Glen Powell, Lewis Pullman, Charles Parnell, Bashir Salahuddin, Monica Barbaro, Jay Ellis, Danny Ramirez, Greg Tarzan Davis, Ed Harris, and Val Kilmer. Ehren Kruger, Eric Warren Singer, and frequent Cruise collaborator Christopher McQuarrie penned the screenplay.
"Top Gun: Maverick" hits theaters this Friday.
After more than thirty years of service as one of the Navy's top aviators, Pete "Maverick" Mitchell (Tom Cruise) is where he belongs, pushing the envelope as a courageous test pilot and dodging the advancement in rank that would ground him. When he finds himself training a detachment of TOP GUN graduates for a specialized mission the likes of which no living pilot has ever seen, Maverick encounters Lt. Bradley Bradshaw (Miles Teller), call sign: "Rooster," the son of Maverick's late friend and Radar Intercept Officer Lt. Nick Bradshaw, aka "Goose."

Facing an uncertain future and confronting the ghosts of his past, Maverick is drawn into a confrontation with his own deepest fears, culminating in a mission that demands the ultimate sacrifice from those who will be chosen to fly it.