One Of Ong Bak's Most Memorable Scenes Was Three Years In The Making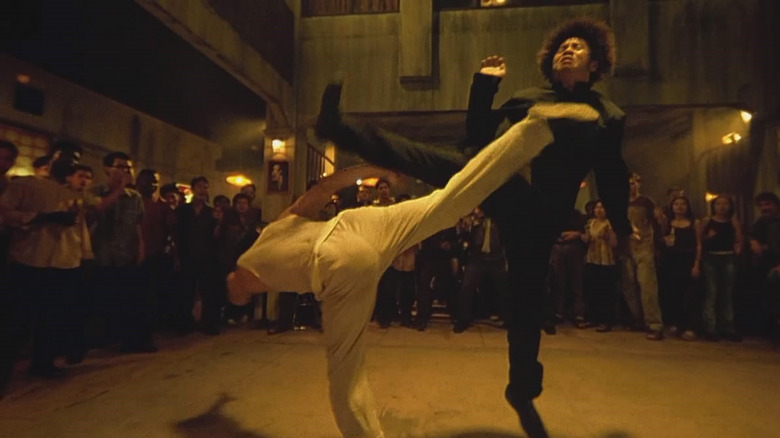 EuropaCorp
Nearly every action sequence in Prachya Pinkaew's "Ong Bak: Muay Thai Warrior" stuns the viewer with acrobatic stuntwork and intricate choreography, but one scene stands out from the rest. The 2003 martial arts action film has its star Tony Jaa, playing the humble but deadly Muay Thai fighter Ting, going toe-to-toe with a series of towering, formidable opponents in an underground fight tournament. He knocks the champion's lights out with a single, powerful kick, but eventually must return to the Bangkok bar to square up with three more maniacs. The latter scene is known as the "Circle of Death" scene due to the crowd that keeps him entrapped in the violence like a human-bound cage match, and it was a long time in the making.
First of all, no Tony Jaa action scene comes without intense preparation. Speaking with Firecracker Magazine, the Thai martial artist and player in the upcoming "The Expendables 4" sequel had this to say:
"Me and my master would choreograph the scenes, and the director would tell us how he wanted the scene to be, then they would talk about it. The stunts we did took a long time because we would write them out as a storyboard first, and then we did test shots to see how they looked before we did the actual filming. So it took a really long time."
The outlining pays off in a series of unreal action scenes, including one where Ting eliminates armed assailants while his legs are on fire. But for the Circle of Death moments, the groundwork was much more prolonged.
Note to self: Don't get into the ring with Tony Jaa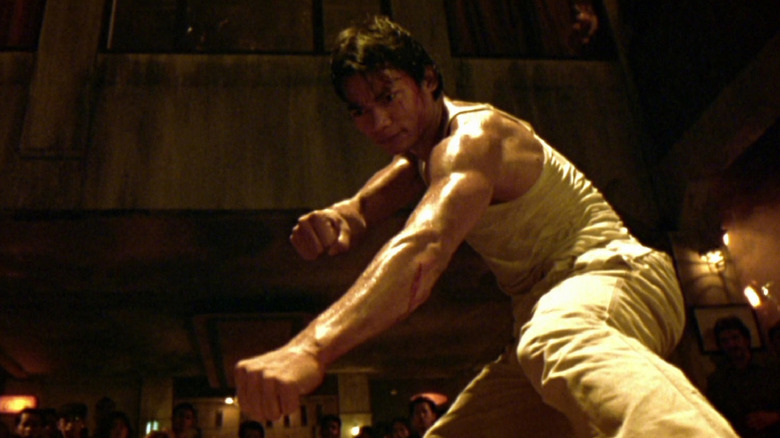 EuropaCorp
With bloodthirsty onlookers cheering on every elbow thrown and each kick landed, Ting succeeds in surviving the Circle of Death, pinging on the radar of a nasty crime lord in the process. Shooting the scene wasn't as cut-and-dry as it seems, however: An interview with director Prachya Pinkaew reveals that production ran into issues that delayed shooting for years. He told Rave Magazine:
It took a long time, and in the preparation for the film we had several problems, and it took us three years to start to shoot the scene. So we used those three years to adjust and review...
Three years. For scale, the first lab-recorded instance of a Covid-19 case in the United States was only about two and a half years ago as of this printing; that's a long time to storyboard.
Pinkaew elaborates that his team used the "old technique from Hong Kong movies" as guidance to show off Tony Jaa's martial arts skill, shooting from a handful of angles and slowing down footage of the most impressive feats of strength. It was enough to impress filmmaker Luc Besson ("The Fifth Element"), whose production-distribution company EuropaCorp picked up "Ong Bak: Muay Thai Warrior" and re-edited it along with a fresh score for dissemination outside Asia. Pinkaew gives Rave nothing but kind words about Besson: "Luc is a very good producer of action films, and he has a very good understanding of martial arts."
Pinkaew's latest has showdowns of its own; "Sisters" (2019) is a horror-fantasy featuring a pair of siblings, one of whom protects the other by training as a demon hunter.