5 Great Martial Arts Movies To Stream After Shang-Chi And The Legend Of The Ten Rings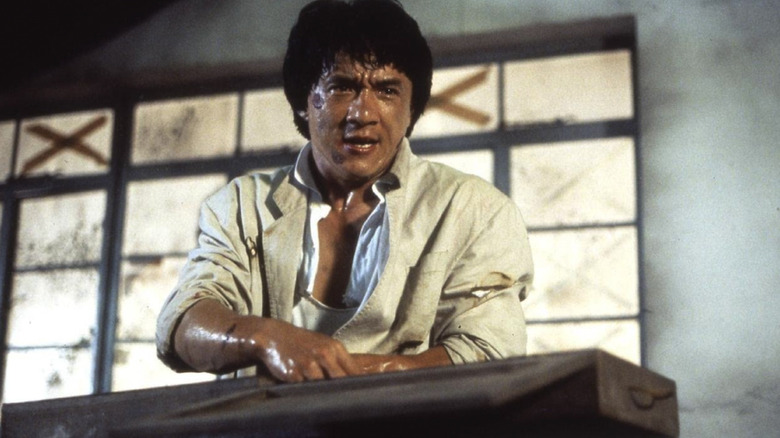 Golden Harvest
Marvel Studios' "Shang-Chi and the Legend of the Ten Rings" is the first martial arts film in the Marvel Cinematic Universe. If you're new to that genre of film, welcome! We're here to lay a few more stepping stones to guide you along your path of discovery. If you're a veteran, you've probably already seen these films — but hey, is there ever a bad time to rewatch a Jackie Chan classic? (That was rhetorical, but the answer is no.)
Furie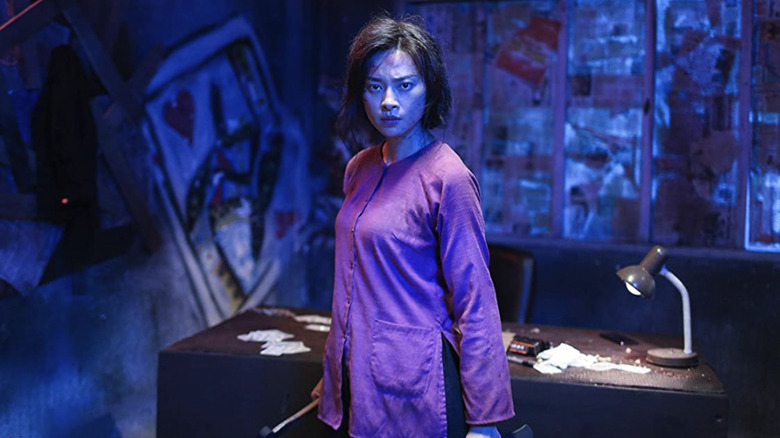 Netflix
Where to stream: Netflix
In a genre often dominated by men, let's kick things off (pun intended) with a female-led entry. Veronica Ngo absolutely rules in "Furie," in which she plays a mother whose daughter is kidnapped, forcing her to fight her way through a bunch of guys in order to get her child back. Think of it as sort of a Vietnamese version of "Taken," but with an ass-kicking mom at the center of the story — and as much as I enjoyed "Taken" in its day, the fact that Veronica Ngo is the focal point gives this film a much greater sense of pathos and desperation in the moments between the plentiful fight sequences.
Police Story 2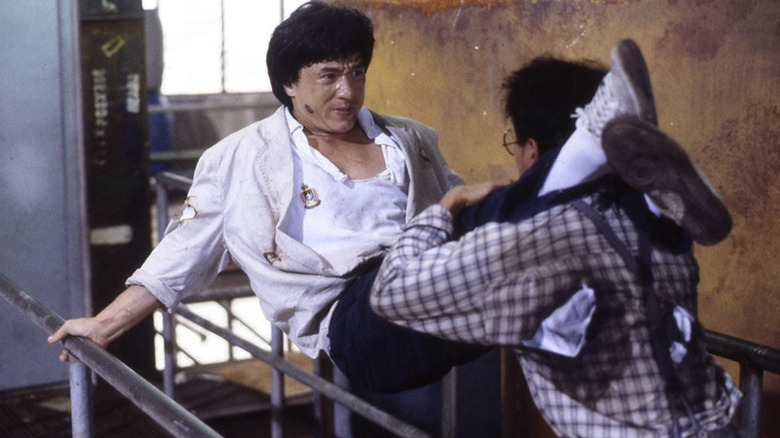 Golden Harvest
Where to stream: The Criterion Channel
The only reason I'm suggesting this sequel instead of the first movie in this franchise is because "Police Story 2" opens with a highlight reel of the best action scenes from the first film, which feels like a nice bonus. While the plotting in the first movie feels a bit more organic than it does here, this second movie is top-notch when it comes to the fight sequences, ending with a spectacular climax at an abandoned warehouse where all manner of magnificent action set-pieces take place. This film is relentless in the best way.
The Grandmaster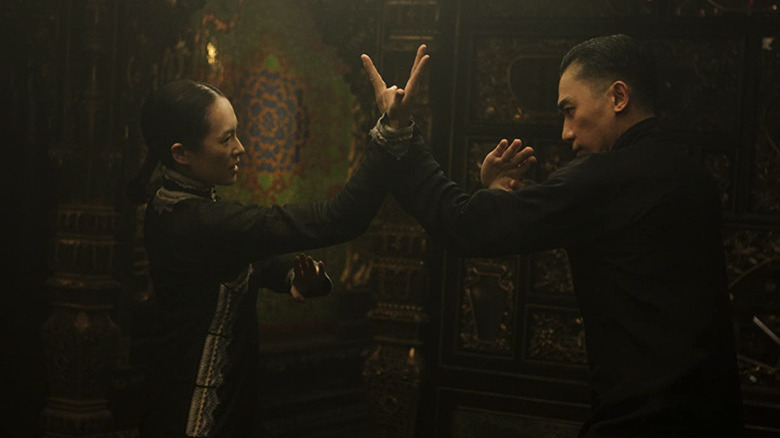 Lark Films
Where to stream: Netflix (until September 26, 2021)
Wong Kar-Wai's beautiful, decades-spanning story centers on Ip Man, the real-life figure best known as the Chinese martial arts guru who would eventually train superstar Bruce Lee. (Bonus recommendation: Donnie Yen plays Ip Man in a separate series of martial arts movies, all of which are currently streaming on Netflix.) "The Grandmaster" combines Wong's celebrated ability to convey longing on screen with several excellent action sequences. Two stand-outs: the gorgeous opening scene which features Ip Man fighting in slow motion in the rain, and a sexually charged face-off between Ip Man and a woman named Gong Er (Zhang Ziyi) that serves as the centerpiece of the film.
Tony Leung, who plays Wenwu in "Shang-Chi," stars as Ip Man here, so if you were as enamored by his performance in "Shang-Chi" as everyone else seems to be, this would be a good follow-up.
Ong-Bak: Muay Thai Warrior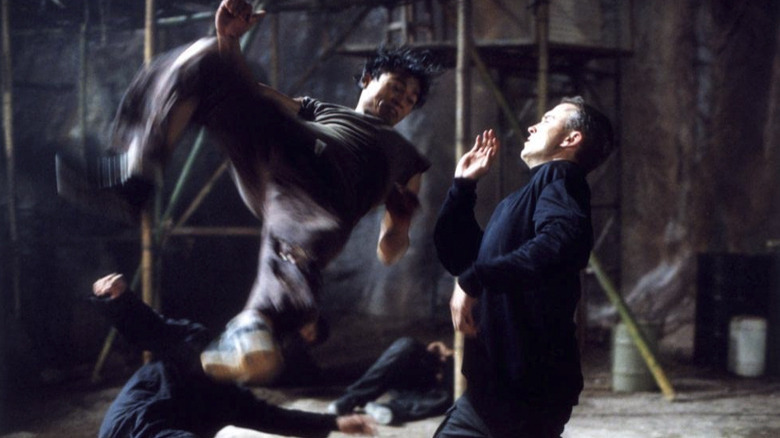 Sahamongkol Film International
Where to stream: Tubi
For several years in the early 2000s, Tony Jaa was the heir apparent to Jackie Chan. The waters have muddied a little since then (I'd argue "The Raid" star Iko Uwais is another current contender, and a few others have popped up in the past few years), but in Jaa's heyday, there was no one on screen doing the stuff he did. His mastery of the muay thai fighting style lends itself to beautiful cinematic moments — you've gotta love it when he dishes out flying elbows directly to the top of the skull, which happens constantly in this movie.
Kung Fu Hustle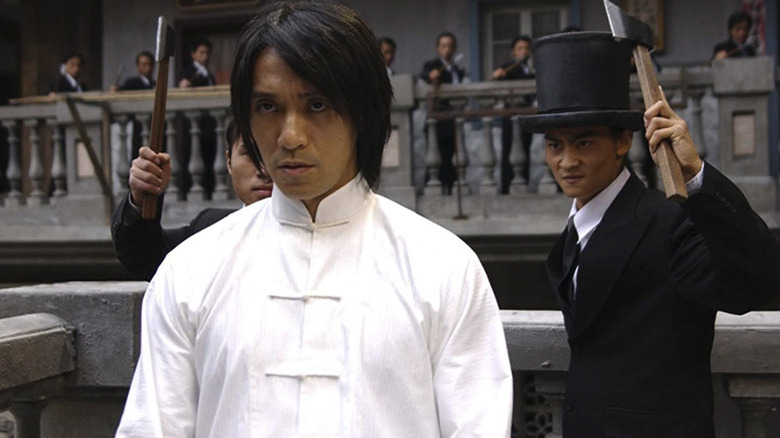 Columbia TriStar
Where to stream: The Roku Channel, Pluto TV
The most fantastical and outrageous movie on this list (by a long shot), "Kung Fu Hustle" is the type of movie where a guy shoots swords out of a harp, another guy steps on people's toes so hard that he flattens them like he's Bugs Bunny, and yet another turns into a bizarre frog-man — and that's not even the half of it. It's also a film that helped inspire "Shang-Chi," because as producer Jonathan Schwartz told me earlier this week:
"I think my favorite creative decision is probably the change from Wenwu's finger rings to the kung fu, hung gar-inflected iron rings around his wrists. It came from a day when we were in the writers' room – me and Destin [Daniel Cretton] and Dave Callaham – and we kind of hit a wall when it came to the writing and needed a refresher, and we put on a kung fu movie called "The 36th Chamber of Shaolin," which starts with a big kung fu training montage that includes the iron rings. Destin pointed at the iron rings and said, "We should just do that!" and he was totally right. It's the coolest thing. It took me all the way back to watching "Kung Fu Hustle," where those rings are very prominent and very cool."
(I know this list is only supposed to include five movies, but do yourselves a favor and add "The 36th Chamber of Shaolin" to this list as another bonus recommendation — it is most definitely one of the best kung fu movies out there.)
These selections provide a good sample of several different styles of martial arts films. If you find that you're drawn to one particular style over another, each of these movies can serve as a branch that can lead you toward more of that style. This is a varied genre with tons of major players and a rich and vibrant history, and I hope "Shang-Chi and the Legend of the Ten Rings" helps shine a light on this amazing collection of jaw-dropping cinema.