Erin Moriarty's Scariest Scene In The Boys Had Nothing To Do With Superpowers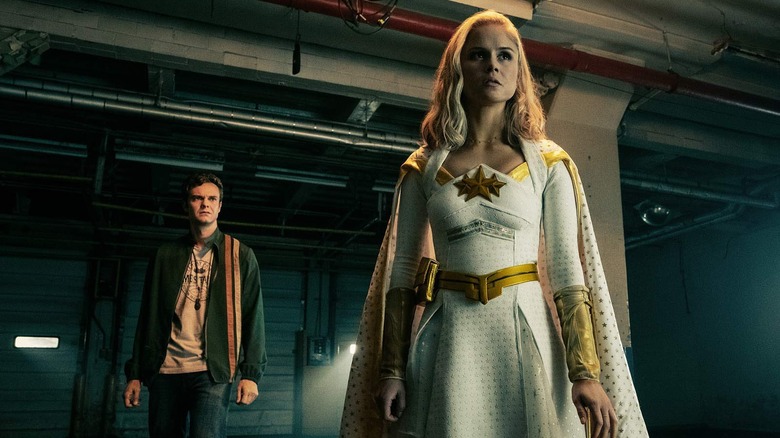 Prime Video
Even for those viewers wholly unfamiliar with the original comic source material, "The Boys" didn't take long at all to quickly establish exactly the kind of no-holds-barred series that it would be. Under creator Eric Kripke's steady guidance and over the course of two seasons, viewers have been subjected to dozens of gruesome kills, a blown-up whale carcass, the massacre of countless innocents, highly disturbing implications surrounding The Deep and his, ah, intimacy with aquatic animals, and plenty of unflinching commentary on the most bigoted views that have become sadly normalized in modern society.
With all of this unquestionably adult material at the forefront of the violent and unapologetic Prime Video series, which is set to debut its highly anticipated third season in June of 2022, it would stand to reason that such scenes would be just as difficult for the actors to perform as it can be for viewers to actually watch. Starring Jack Quaid as Hughie Campbell, Karl Urban as Billy Butcher, Erin Moriarty as Annie January/Starlight, and the rest of the cast making up the heroic Boys, the sinister superhero group known as the Seven, and everyone caught in between their fierce conflict, there can be no doubt that the ensemble have plenty of stories to tell about their time together on set.
But for one cast member, their most memorably terrifying moment had nothing to do with those shocking sequences. For Erin Moriarty, her scariest stunt was far more relatable than any amount of superheroics could be. It had to do with a scene that required some extensive singing, of course.
'As Celine Dion-esque as possible'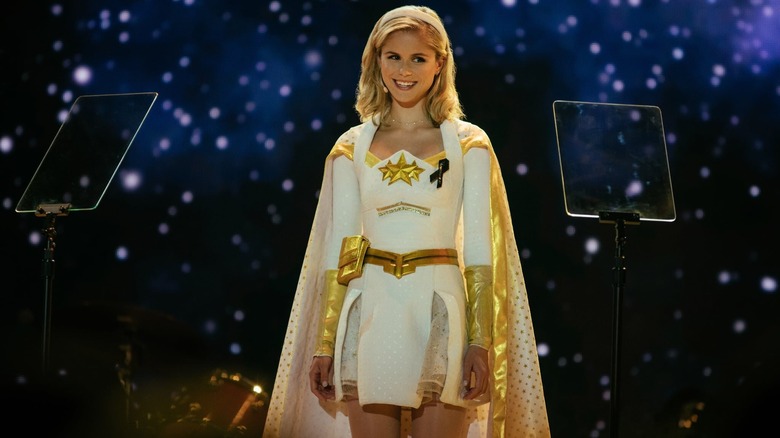 Prime Video
Season 2 of "The Boys" kicks off with a pageant-esque funeral for the late superhero known as Translucent (Alex Hassell), killed by Hughie with a bomb while under captivity by the Boys in season 1. In order to use this setback to their advantage, the Seven stage a farcical public funeral in memory of their fallen comrade — all of which is only possible because, thanks to his translucent superpower, they're able to have an open casket with absolutely nothing inside. "The Boys" is a show that simply operates on a whole other level, folks.
More to the point, this display involves Starlight making use of her Christian pop star background to put on a stirring musical performance. For Erin Moriarty, however, this was far more nerve-wracking than anything else she'd done on the show to this point. In an interview with Entertainment Tonight soon after the 2020 premiere of season 2, the actor opened up about the fact that, yes, that was indeed her own actual singing in the scene:
"It is me singing. My introduction into the world of performing was singing, but that was when I was much younger and that was what I initially wanted to do. I wanted to be a singer and then it turned into acting, so it was cool. When Eric Kripke, our showrunner, approached me, he was like, 'Listen, you're going to sing a power ballad in episode 1 of season 2 and we're going to go for it. We want it to be as Celine Dion-esque as possible. We're going to lean into the cheese factor.' I was like, 'I am in.'"
Superheroes have insecurities, too!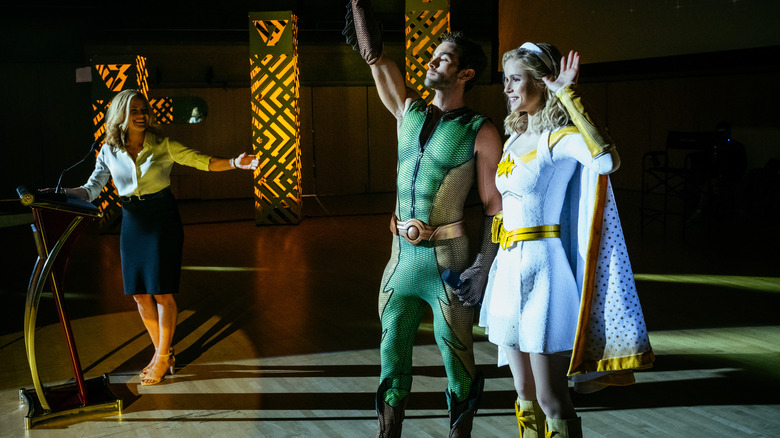 Prime Video
Starlight's journey has involved transforming from a victimized and complicit member of the Seven to a rebellious force working alongside the Boys to take down the Seven from within, along with their corporate overlords, Vought International. Brought to life with incredible nuance and complexity by Erin Moriarty, the character stands out as one of the clear highlights of the entire series. But for the actor herself, this one singing scene became more of an ordeal than many others. As she admitted in the same interview with ET:
"I was nervous. Singing gives me stage fright more than anything else, but luckily I got to record it before, and then on the day it was more like lip-syncing. It was such a perfect [scene] when I read [it]. I found out that that was the first moment you were going to see me [in] the most cheesy situation possible, with Homelander and that going on in the background with Translucent. I was gung-ho about it."
How well did it go over, when all was said and done? Well, look no further than the fact that the playfully in-character Vought International Twitter account went ahead and tweeted out a full music video of the performance, with Moriarty hamming it up even more in thoroughly entertaining fashion. As dark and dire as the series gets at times, who says "The Boys" doesn't provide ample room for gleeful fun at the same time! 
A super Star is born! Watch the WORLD PREMIERE of the new #Starlight music video "Never Truly Vanish" now. pic.twitter.com/VB90ItCPFB

— Vought International (@VoughtIntl) June 3, 2021
Season 3 of "The Boys" will premiere on Prime Video on June 3, 2022.