The Boys Created A Brand-New Language To Let Kimiko Communicate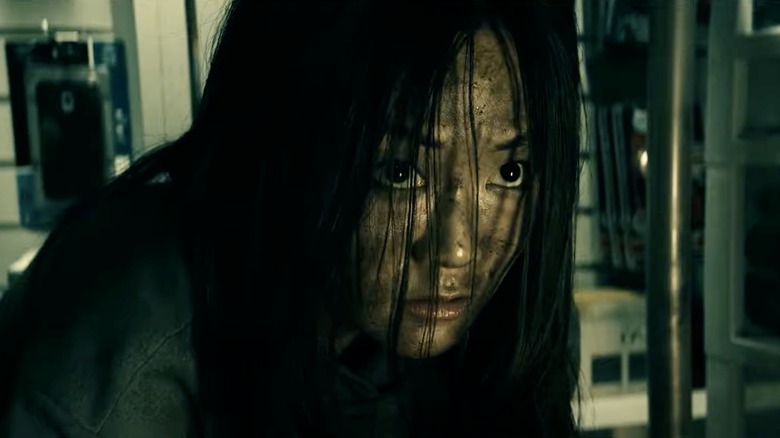 Amazon Studios
In "The Boys," Karen Fukuhara's role as the regenerative, super-strong Kimiko initially drew some criticism for how it seemed to relegate another Japanese actress to a non-speaking part, rendering her non-verbal in the manner of Rinko Kikuchi's character in both "Babel" and "The Brothers Bloom." This was not helped by scenes like the one where a white guy (Simon Pegg's Hugh Sr.) turns to another white guy (Jack Quaid's Hugh Jr.) and says, "Does the Oriental girl not talk?" (leading Jr. to correct Sr. and say "Dad ... Asian.")
Kimiko first appears in "The Boys," season 1, episode 4, "The Female of the Species," where she prefers to communicate with her hands: gouging eyes out, breaking necks, and punching straight through men who have held her captive. As she develops a rapport with Frenchie (Tomer Capon) through the rest of the season, he does most of the talking. However, season 2 of "The Boys" would peel back more layers of Kimiko's character, introducing her brother Kenji (Abraham Lim) and letting her communicate with him through an invented sign language. Fukuhara told Insider:
"I got to work with Amanda Richer, who was the sign language coach for Sally [Hawkins] on 'The Shape of Water,' and she is phenomenal because she's the one who's creating the language. [...] We have a whole vocabulary list, if you will, of Kimiko and Kenji's language."
After "The Boys" season 2 began airing on Prime Video in September 2020, the show's official Twitter account confirmed, "Some of you might notice that Kimiko is not using ASL or any known sign language. Karen Fukuhara worked with a sign language expert to create her own unique sign language."
'I didn't think that signing could be as powerful as it is'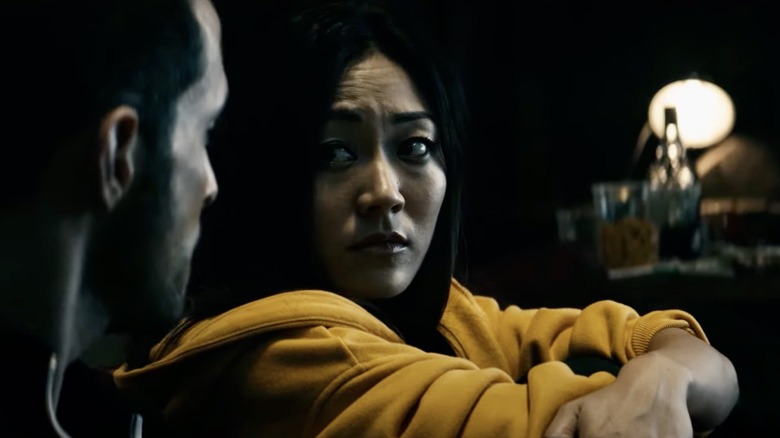 Amazon Studios
ASL is American Sign Language, which was used in "Coda," the Apple TV+ film that became both the first streaming movie and the first Sundance premiere to win the Academy Award for Best Picture in 2022. Recent years have brought greater strides for deaf representation in films like that and Prime Video's own "Sound of Metal" (which itself earned multiple Oscar nominations) or even superhero properties like Marvel's "Eternals" and its upcoming "Hawkeye" spin-off series, "Echo."
"The Boys" inhabits a more violent corner of the same superhero space, but for Fukuhara, the experience of working with Richer and learning to communicate via sign language proved to be a powerful one. She continued to Insider:
"Going into it, I didn't think that signing could be as powerful as it is. When Kimiko's trying to get the point across to Kenji in episodes two and three, she's really pouring her heart out and it's through signing, because she can't speak, and it's so powerful. [...] I think what helped is Amanda sharing her own experiences with me. That helped me gain insight on what it's like to live in this society that doesn't really cater to people that have disabilities and feeling like the 'other' person."
Fukuhara added, "Those stories really fueled Kimiko's psyche and my preparation for the character this season. It really meant a lot for me to be able to work with her."
The first two seasons of "The Boys" are currently streaming on Prime Video, with season 3 set to premiere on June 3, 2022.