Even Millie Bobby Brown Thinks The Stranger Things 4 Cast Is Too Big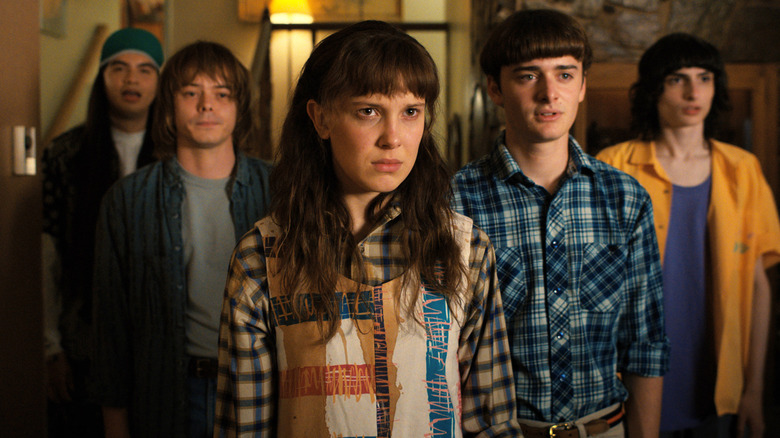 Netflix
If there's one thing the marketing for "Stranger Things" season 4 has been keen to impress upon viewers, it's that this is by far the Netflix series' biggest outing yet. That's particularly the case when it comes to the cast, which has only grown by leaps and bounds since the Duffer brothers' show got its humble start back in the summer of 2016.
With mild spoilers steadily pouring in thanks to reviews dropping and, of all things, board game tie-ins, it's becoming clearer how the many, many new additions fit into the greater puzzle that is "Stranger Things" season 4. In his own review, /Film's Chris Evangelista noted the ways this affects the storytelling on the show:
There's a breathlessness to the pacing as the season jumps around to various places and various groups of characters, all of whom are connected in one way or another.
Sounds like "Game of Thrones," no? HBO's fantasy juggernaut was similarly (in)famous for hopping relentlessly from one batch of characters to another early on during its run, at least until the War of the Five Kings took its toll on the population and Daenerys Targaryen made her way to Westeros. "Stranger Things" star Millie Bobby Brown, whose character Eleven came perilously close to dying herself back in season 1, feels it's high-time the show emulated that example, especially on the heels of Jim Hopper's (David Harbour) not-at-all-convincing fake-out death at the end of season 3.
As Brown told The Wrap (via IndieWire):
"We need to have the mindset of 'Game of Thrones.' Kill me off! They tried killing David [Harbour] off and they brought him back! It's ridiculous...The Duffer brothers are sensitive Sallies who don't want to kill anybody off."
Unleash the demogorgons!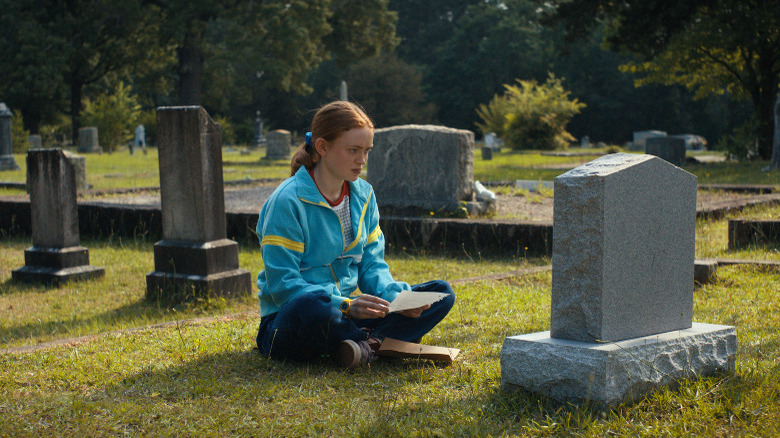 Netflix
For those who could use a reminder or haven't been keeping up (no judgment! There's a whole lot of pop culture news these days), the "Stranger Things" season 4 cast includes such newcomers as horror icon Robert Englund, Amybeth McNulty ("Anne with an E"), Jamie Campbell Bower ("The Mortal Instruments: City of Bones"), Regina Ting Chen ("The Falcon and the Winter Soldier"), Eduardo Franco ("Booksmart"), Myles Truitt ("Queen Sugar"), Joseph Quinn ("Catherine the Great"), Grace Van Dien ("The Rookie"), Sherman Augustus ("Westworld"), Tom Wlaschiha ("Game of Thrones"), Mason Dye ("Bosch"), and Nikola Djuricko ("In The Land of Blood and Honey"). Then there are all the returning cast members from seasons past, including Millie Bobby Brown, David Harbour, Winona Ryder, Finn Wolfhard, Caleb McLaughlin, Sadie Sink, Noah Schnapp, Gaten Matarazzo, and many, many more.
"I am scared to vocalize anything that I want because it always turns into 'Millie Bobby Brown demands this storyline.' I'm just going to say I trust the Duffer brothers and their creative process," Brown added before turning to Schnapp and saying, "You want [your character] Will [Byers] to die."
Obviously, Brown is having a bit of a fun, and nobody actually enjoys watching their favorite characters die, but she also raises a valid point. Whenever a series goes out of its way to avoid confronting the inevitability of death like "Stranger Things" sometimes has (see again Hopper's faux-demise), all it does is make the danger seem less genuine and damage its creative integrity. With only one more chapter to go after "Stranger Things" season 4, the Duffers have run out of excuses to avoid unleashing the demogorgons (literally, if needs be).
"Stranger Things" season 4 Vol. 1 premieres on Netflix on May 27, 2022, with Vol. 2 arriving on July 1, 2022.