Kevin Feige Cast Chris Evans As Captain America Thanks To Two Pop Culture Icons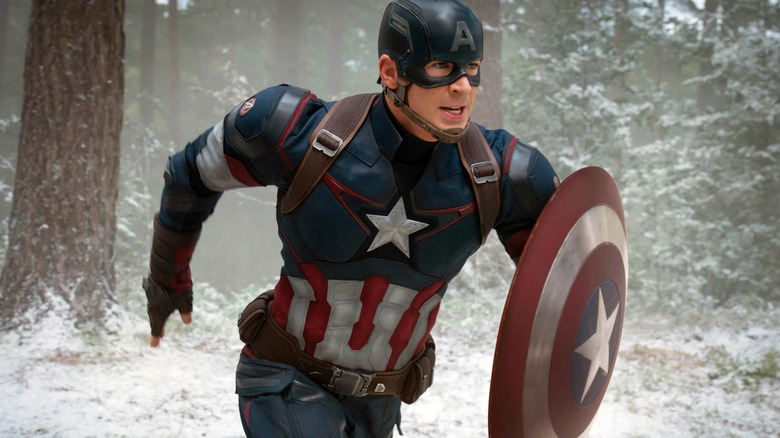 Disney
While at this point it's impossible to imagine anyone else playing Steve Rogers, there was a time when Chris Evans' MCU casting was actually quite controversial. He had portrayed Johnny Storm, aka the Human Torch, in two less than stellar "Fantastic Four" movies for Fox, and many thought that would be the extent of the actor's Marvel legacy. In fact, Evans was not even originally in contention for the role because he was so strongly associated with the other character. An actor playing two pop culture icons has now become more commonplace as Marvel and DC attempt to enlist every great actor they possibly can, but when casting "Captain America" began in 2010, Evans' time as the Human Torch seemed like a major roadblock.
In terms of overall quality, the "Captain America" films probably have the strongest three-movie arc in the Marvel Cinematic Universe. While much of the credit goes to the tremendous team behind the camera, a lot of what makes the films succeed is how wholly Evans embodies the character. Whether he's playing that skinny kid from Brooklyn or one of Earth's Mightiest Heroes, Evans' performance is pretty incredible. It's easy to see why the Avengers would rally behind him. Moviegoers certainly did, too!
It was always going to be difficult when this first wave of Marvel heroes left the scene. Thus far, it does feel like something is missing from the MCU, and it might be the presence of Steve Rogers. It's wild to imagine how close Evans came to not being Captain America at all. What made Kevin Feige realize the actor was the man for the job?
'Well, he's that character'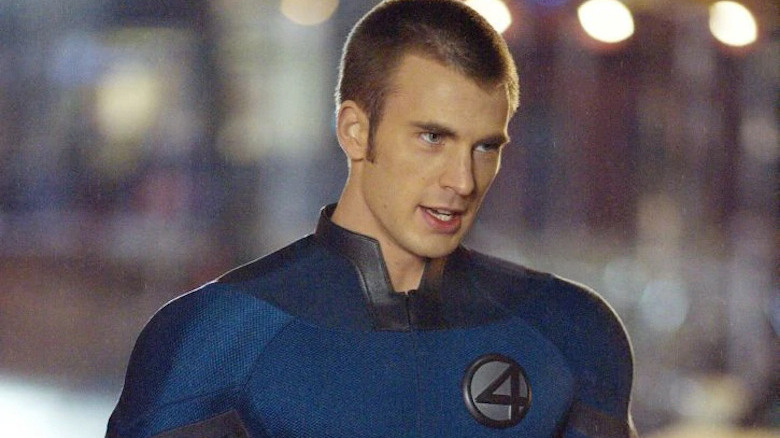 20th Century Fox
Understandably, the search for Captain America wasn't easy. The character isn't a representation of America as it is, but instead stands for everything it should be. Finding someone who could portray that ideal onscreen is a tall order. Kevin Feige told The Hollywood Reporter that the studio was determined to cast an American in the role when they began their search. He also said Evans wasn't initially considered due to his past as Johnny Storm. However, Feige rethought the decision after an unsuccessful search for the hero. He explained:
"We thought, OK, well, he's that character. Let's keep looking. And as we [continued] not finding people, we went back to the initial lists. And that brought us back to Chris. And I thought, well, Patrick Stewart played Jean-Luc Picard and Charles Xavier. Harrison Ford played Han Solo and Indiana Jones. Who cares?"
Evans told THR he'd been experiencing panic attacks surrounding acting and was remembering how much he'd wanted to be a Disney animator as a kid. The actor had even begun to wonder if he'd chosen the wrong profession altogether. Evans was struggling so much that he turned Marvel down — twice. He said:
"Getting the [Captain America] offer felt to me like the epitome of temptation. The ultimate job offer, on the biggest scale. I'm supposed to say no to this thing. It felt like the right thing to do."
Not only did Evans turn down the nine-film deal and then the six-film one, but he also felt good about his decision. However, Marvel persisted, now sure they'd found their Cap. Evans eventually agreed, a decision that brought him into therapy — which is a development he's still grateful for. Seriously, can't we all benefit from a good therapist? I know I do!
Why can't he be both?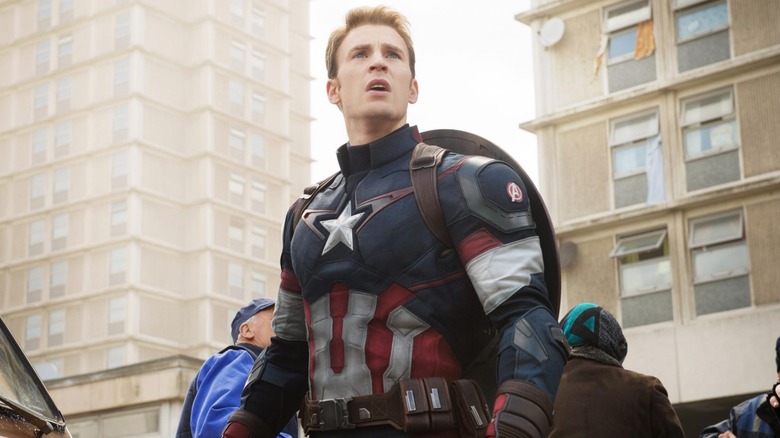 Disney
Of course, it's true that both Patrick Stewart and Harrison Ford each played two major pop culture icons. Not only does no one complain, but who could imagine anyone else in those parts? Stewart portrayed Jean-Luc Picard beginning in 1987 and probably never could've predicted how many different projects he would reprise the role for, let alone that he'd still be playing the part now in "Star Trek: Picard." Similarly, when the actor took on the role of Professor X in "X-Men" back in 2000, how could he have known that his version of the character would continue to endure for this long, even popping back up in 2022?
As for Ford, he'll always be Han Solo in the eyes of pretty much everyone, not only famously portraying the character in the original "Star Wars" trilogy, but returning for the new trilogy years later. Indiana Jones also isn't going anywhere. Ford debuted as the character in 1981, but there is a fifth "Indiana Jones" film due to hit theaters in 2023.
For the time being, Evans appears to be done with the MCU, but I'm sure Stewart and Ford both felt the same about their major roles at various points throughout their careers. That is not to say Evans will ever step back into Cap's boots, but he'll certainly be immortalized by the iconic character. The Human Torch wasn't so lucky, but that's okay. There is still plenty to be excited about where Captain America is concerned. After all, we will eventually have a fourth Cap movie with Sam Wilson (Anthony Mackie) wielding the shield as he did in the comics. At least we've got that to look forward to!