If You Watch Just One Love Death + Robots Short, Make It Jibaro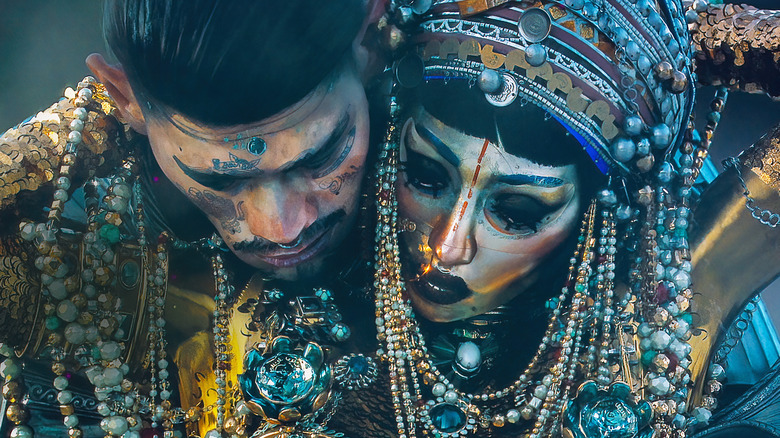 Netflix
"Love Death + Robots" is a beautiful experiment in short-form storytelling, allowing each short to explore its ideas as fully as possible. Over three seasons, the shorts have been incredible tech displays, hilarious satires, heart-pounding works of art, and more. In season 1, Alberto Mielgo's "The Witness" showed viewers the kind of rich storytelling that could be done with minimal dialogue and a combination of animation techniques. Hand-drawn words and textures over computer-generated figures simply look cool, and it's really no surprise that Mielgo was a visual consultant on "Into the Spider-Verse," as you can still see hints of his influence in the final film. For season 3 of "Love Death + Robots," Mielgo wanted to deliver something completely different. His vision was audacious and featured multiple elements that are notoriously difficult to animate, but executive producers Tim Miller and Jennifer Yuh Nelson put their faith in him, and Mielgo delivered.
"Jibaro" is a dialogue-free short story about a deaf warrior and a beautiful siren who lives in a forest river. It's a true work of art, a stunning and heart-pounding tale that uses multiple techniques to create a world that's not trying to mimic our own, but is instead like a painting come to life. It's worth noting that "Jibaro" is not the kind of animated story for everyone, and there are some moments of explicit violence and terror, so viewer discretion is advised. 
A dance of death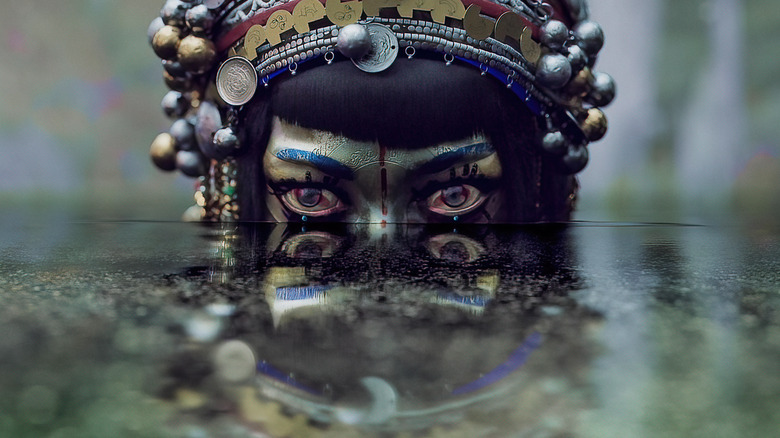 Netflix
The first thing you'll notice about "Jibaro" is the texture. Mielgo and his animation studio Pinkman.tv combined hand-drawn images with computer-generated ones, layering a variety of textures on top of one another. The result is reminiscent of medieval illuminated paintings, where bits of precious metals were used to add to the decoration. The natural tones and textures of the forest are a stark contrast to the metal of the soldier's armor as they move through the trees, and the siren's metallic design similarly stands out. "Jibaro" is a love letter to texture that is as close to a living, breathing painting as I've ever seen. 
The sound design has the same level of attention to detail, as the soldier's experience is different from the rest of his battalion's. When we're with him, the forest is eerily silent, with only muffled rumbles on occasion. Contrasted with the siren's song and the screams of the dying men and their horses, it's clear he lives in an unusual world. When he meets the siren and they realize their unique circumstances, it turns into mutually assured destruction for them both. In press notes for the series Mielgo spoke of the story as a "toxic romance," and the allegory is evident, though it's beautiful and surreal enough to stand on its own. 
Every single art that you can imagine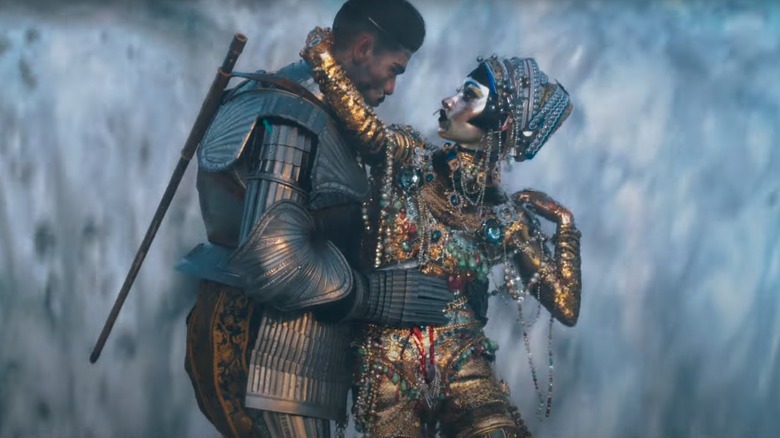 Netflix
At the Oscars ceremony this year, Mielgo begged audiences to stop seeing animation as a medium only for families and children. He won the Academy Award for Best Animated Short for his film "The Windshield Wiper," and called upon everyone watching to open their minds to adult animation:
"Animation is an art that includes every single art that you can imagine. Animation for adults is a fact – it's happening, let's call it cinema."
"Jibaro" is cinema. Inspired by a multitude of cultures and works of art, it's a timeless story told with new technology, and it's absolutely worth checking out. All of the "Love Death + Robots" season 3 shorts are now available to stream on Netflix.